Earth Day really should be every day. Earth Day activities work especially well with a study of the earth. It's helpful for children to understand the earth and their place on it if they are going to help care for the earth.
I already had a post with Montessori-Inspired Earth Day Activities. Today, I have links to some continent activities that would add to a study of the earth in preparation for Earth Day (or any time). The Montessori world (continent) map is an important part of the Montessori geography curriculum.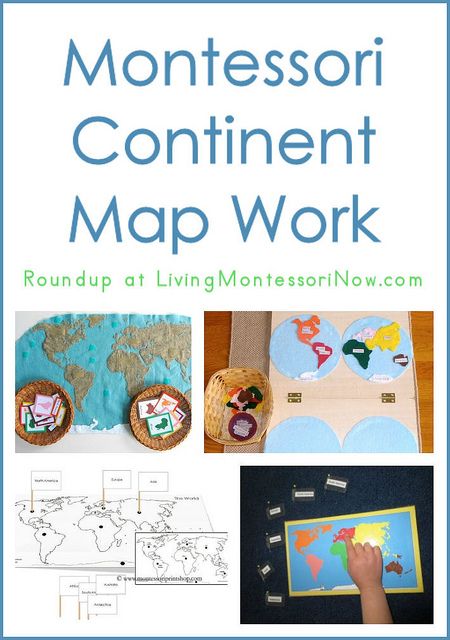 Although there are beautiful continent map materials available for purchase, many teachers as well as homeschoolers prefer to make their own. Fortunately, there are some great DIY continent map tutorials available online. I'm going to share links to some continent map tutorials, presentation ideas, and extensions.
Making a Continent Map
The Felt Continents Map in the photo is from United Montessori Association. This activity is a DIY version of the Montessori continent map. It can be made with wool felt and doesn't require carpentry skills. It could be mounted on a wooden board. Foam board would work well also.
Imagine Our Life has free patterns and downloads for making a continents wall map and quietbook.
The Homeschool Den has a free printable world map.
Child and Me also has directions for making a Felt Continent Map.
Montessori Print Shop has a number of inexpensive and attractive materials for learning about the world. Montessori Print Shop also has a free printable of Globe, Continent & Ocean Labels as well as World Continents – Pin Map Flags and Maps.
If you want a large map, you could print out one from Your Child Learns. The map can be printed out in whatever size you wish and the continents cut out to use as patterns.
Instructions for Introducing the Continents
If you sign up for my mailing list (in my right sidebar), you'll receive a free copy of the wonderful Montessori geography album from Karen Tyler at Worldwide Montessori Online. The 177-page geography album gives detailed directions for using the Montessori world map along with the entire Montessori geography curriculum for ages 2½-early elementary.
You can find some basic instructions for introducing a puzzle map of the hemispheres from Monteaco.
Wikisori also has some basic instructions for introducing the names of the continents.
More Extensions of the Continent Map Work
A popular Montessori work is to punch out the continent shapes with a tool like Montessori Services' wood handled puncher.
Carrots Are Orange has continent coloring work.
Another extension would be to add animals of the continents to the felt continents map as in this photo by Amy Kuhl Cox.
Does your child have a favorite activity to help learn about the earth?
May be linked to Afterschool Express, Thoughtful Spot, Tuesday Tots, The Mommy Club Resources and Solutions at Milk and Cuddles and Crystal & Co., Mom's Library, It's Playtime, The Weekly Kid's Co-op, Hearts for Home Blog Hop, Ultimate Mom Resources, Learn & Link, TGIF Linky Party, Preschool Corner, Ultimate Homeschool Pinterest Party, Sharing Saturday, Saturday Show & Tell, Share It Saturday, Show-and-Share Saturday, The Sunday Showcase, Link & Learn