It'll be Father's Day on Sunday! Again this year, there are lots of great Father's Day ideas available online! Today, I'll share my previously published Father's Day posts along with some new ideas for 2012.
You'll notice that a number of Montessori schools have Father's Day breakfasts and activities that involve the children serving meals or desserts to their fathers. This would be a great week to review grace and courtesy if you'd like your child to serve breakfast or another meal to his or her father.
Here's my post on "How to Teach Your Preschooler Manners Using Montessori Principles." "Grace and Courtesy Games at Home or School" also has ideas for teaching many types of manners. And here's a post with lots of ideas for helping your child work on food-preparation skills: "Montessori-Inspired Food Preparation for Preschoolers."
Montessori-Inspired Ideas for Father's Day
Last year, I had a "Montessori-Inspired Father's Day" post with ideas such as the Montessori-inspired card-making materials my children used to enjoy.
Last week, I had a post on "Talking with Children about Death: Creating an 'I Remember' Book" for children who've experienced the death of a special male relative. It includes suggestions for helping children cope with death and a free printable for an "I Remember" book about any special relative or pet who died. There are also free printables for an "I Miss You" book and an "I Love You" book for military families and other families separated by distance on Father's Day (or any day).
Parenting in the Moment has a post on "Art Meets Practical Life: Easy Father's Day Gift" with an idea for creating sand art decorative paperweights.
Alexander Montessori School has a "Ludlam Road Father's Day Breakfast." Whether you're at home or have a school, you could always do a variation of the Father's Day breakfast to honor a special dad or dads and give extra practice in grace and courtesy for your child or students.
Montessori Way has "Father's Day Games" with dessert served by the child.
Inside INLY has a "Father's Day Lunch: A Kindergarten Tradition of Pizza and Kite-Making."
The Nature Explore Classroom at CA Montessori Children's Center has a Father's Day Picnic.
Father's Day Ideas Pinterest Board
I have a Father's Day Ideas Pinterest board with ideas of all types that I'll be adding to throughout the week (and after Father's Day, too).
Have a wonderful Father's Day!

Montessori Monday Link-Up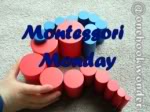 If you have some Montessori activity trays/lessons to share, please link up below. It's fine to link up a post from your archives – and you may link up anytime during the week! Your post may be any Montessori-inspired activity or idea. It doesn't need to be related to my Montessori Monday post. I publish the Montessori Monday post and linky at 6:00 a.m. EST each Monday and keep the linky open throughout the week.
Please place the Montessori Monday button (using the code from the right sidebar) in your post or put a link back to this post. Let's use Montessori Monday to gain inspiration/ideas and to encourage each other! If you would leave an encouraging comment on the post linked up ahead of you (along with any other posts you're drawn to), that would be awesome! Thanks for participating!
Note: If you have a giveaway on your blog, please add it to my Family-Friendly Giveaway Linky Page! If you enjoy entering giveaways, you'll always find some great giveaways there!



Linked to The Mommy Club Resources and Solutions at Milk and Cuddles and Crystal & Co. , The Weekly Kid's Co-op, Fun Stuff Fridays, Living Life Intentionally Linky Party, Preschool Corner, Saturday Show & Tell, Show-and-Share Saturday, The Sunday Showcase at Mom to 2 Posh Lil Divas and Classified: Mom, and Link & Learn.
For some of my most popular homeschooling posts and more information about Top 25 Homeschooling Moms, see Vote for the Top 25 Homeschooling Moms 2012. Thanks so much for voting and for encouraging me!