I'm excited to be an Ambassador for award-winning Little Passports, a Global Adventure! I'm an affiliate for Little Passports and, as an ambassador, I received a year's subscription to the World Edition of Little Passports. Once a month, I'll be sharing some Montessori-inspired activities featuring Little Passports. Of course, all opinions are my own. (Note my Little Passports posts will contain affiliate links at no cost to you.)
I love Montessori geography activities, and I think Little Passports can add to a Montessori-inspired curriculum. It could work especially well in a Montessori-inspired homeschool with children of multiple ages. The World Edition is a monthly subscription recommended for ages 5-10. (There's also a USA Edition recommended for ages 7-12.) Every month, the fictional Little Passports characters Sam and Sofia visit a new country and send your child a package in the mail which includes a letter, souvenirs, stickers, photos, an activity sheet, and access to online games/activities. A total of 24 different adventures are available in the series. Little Passports wasn't available when I was homeschooling my now-adult children, but I'm sure I would have subscribed to it if it would have been available. We had a few monthly subscriptions for our homeschool, and they added variety and interest each month. I think the story of Sam and Sofia along with the excitement of receiving a package in the mail each month adds interest to the study of geography. Whether you homeschool or not, this would be a great idea for summer or to help your child/ren learn more about geography in a fun way at any time.
I just received the first package, which arrives in a suitcase and contains materials that are used to get started: a letter from Sam and Sofia, a world map, passport, stickers, and a boarding pass with access to online games and activities. Even though the recommended ages are 5-10, Little Passports can be adapted so that a number of the activities can work for younger preschoolers. Here are some suggestions on how you can make Little Passports Montessori-inspired and have it work for a number of ages. If you sign up for a subscription, I'd recommend reviewing the Montessori continent map work (and continents globe if your child is still working on that) while you're waiting for the first package to arrive. Once the first package arrives, you could do activities related to the package and then focus on the continent box for the continent of the next package's country.
Here are some activities related to the first package, which has a focus on continents and world travel:
Continent Map Activity
You could do any sort of continent map work. I designed a continent map tray that was very easy to put together using free printables.
For the continent map and labels, I used the free Montessori world map from The Homeschool Den. I used the Globe, Continent, and Ocean Labels and labels from the World Continents – Pin Map Flags and Maps from the Free Printable Montessori Materials from Montessori Print Shop. I reduced the size of the Montessori Print Shop labels to fit better on the world map from The Homeschool Den. I also like the size of the mini labels as a nice practical-life component to the activity. Montessori Print Shop has a number of labels ranging from color-coded labels to plain labels with words only. I used the labels with color-coded pictures of the continents and color-coded labels for the continents and oceans. That way, even a 3 year old could match the continent images, and a non-reader who could match letters/words could match the color-coded continent and ocean labels.
Sam and Sofia Flag Counting Activity
The activity sheet has a flag identification activity for 5-10 year olds that helps the child determine Sam and Sofia's age. I just used some small foam numerals for this, but you could use small numerals from a free printable or whatever type of numerals you choose. Younger children could line up the numerals from 1-10 and then put a numeral on each flag they see on the page. All the numerals will be used up when each flag is identified. For children who are unable to line up the numerals from 1-10, you could help your child line them up and count out the numbers together.
Map Unfolding and Folding and Country Matching Activity
Map unfolding and folding would be a great Montessori-inspired practical life activity. I'd recommend showing your child how to carefully unfold and fold the world map that comes with the first package. (Note: If you feel that would be too difficult for your child, you could always laminate the map and put it up on the wall. That will work better for many homeschools.)
There's an activity for older kids on the activity sheet to determine the country featured in the next month's package. After an older child determines the next country, you could put out an activity tray with the world map and a matching country. Brazil is the first country on the world tour, so I traced Brazil on the map and cut out the country piece from a foam sheet. Your child could place the matching foam piece on the world map, maybe using Velcro if your map is laminated and hung up. Then you could focus on the South America continent box until the Brazil package arrives in a month.
Optional Montessori-Inspired Little Passports Activities for Each Country (added as I publish them)
Montessori-Inspired Little Passports Activities – Brazil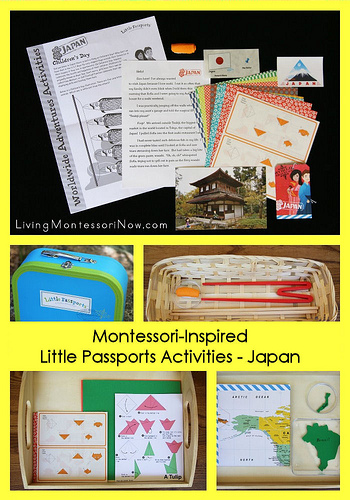 Montessori-Inspired Little Passports Activities – Japan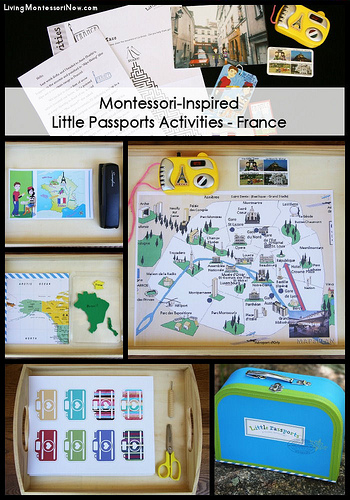 Montessori-Inspired Little Passports Activities – France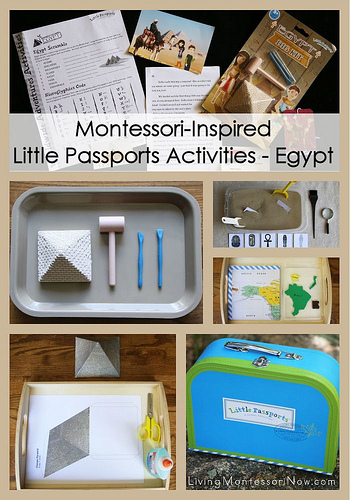 Montessori-Inspired Little Passports Activities – Egypt
Montessori-Inspired Little Passports Activities – Australia
Montessori-Inspired Little Passports Activities – Mexico
Montessori-Inspired Little Passports Activities – South Africa
Montessori-Inspired Little Passports Activities – India
Montessori-Inspired Little Passports Activities – England
Montessori-Inspired Little Passports Activities – China
Montessori-Inspired Little Passports Activities – Argentina
Montessori-Inspired Little Passports Activities – Russia
Montessori-Inspired Global Adventure Pinterest Board and Related Continent Resource Boards
Follow Deb @ Living Montessori Now's board Montessori-Inspired Global Adventure on Pinterest.
South America Educational Resources
Asia Educational Resources
Europe Educational Resources
Africa Educational Resources
Australia Educational Resources
North America Educational Resources
Antarctica Educational Resources
More about Little Passports
You can sign up for 3 months ($13.95/month with a one-time payment of $41.85), 6 months ($13.95/month with a one-time payment of $83.70), 12 months ($10.95/month with a one-time payment of $131.40), or monthly ($11.95/month, billed monthly and can be cancelled any time). The USA Edition for 7-12 year olds has the same payment plans and prices as the World Edition. For the first month, the USA Edition subscription starts with the Discovery Kit which comes in a custom Sam and Sofia USA Portfolio and includes:
An introductory letter from Sam and Sofia USA Field Guide USA Scratch Book USA Wall Map Disposable Camera and Photo Scavenger Hunt Every month after the first month, your child will visit 2 new states and receive: A 32-page activity-packed journal covering 2 states Stickers Pop-out Models Postcards Access to more information and activities online
Little Passports has a wonderful new program for preschoolers, called Early Explorers. Children ages 3 to 5 can experience the joy of learning about new cultures. Each month, your child will be introduced to a new theme like animals, music, and landmarks. Early Explorers is designed with preschoolers in mind and provides fun and educational activities, souvenirs and stickers. During the first month, a Traveler's Kit arrives in a fun orange suitcase. It holds everything a child needs to start learning about the world: An activity book introducing new characters Max, Mia, and their dog Toby A wall-sized world map Stickers and a wall decal A luggage tag After the first month, a monthly World Theme Kit arrives, which contains: An activity booklet Souvenirs Flashlight Adventures Stickers and wall decals You can find out more and subscribe at Little Passports.
Montessori Monday Link-Up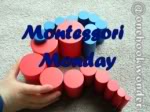 If you have some Montessori activity trays/lessons to share, please link up below. It's fine to link up a post from your archives – and you may link up anytime during the week! Your post may be any Montessori-inspired activity or idea. It doesn't need to be related to my Montessori Monday post. Link up your exact post URL so that we can find your activity if we return to the linky at a later date (which I often do when I'm looking for activities for a roundup post). I publish the Montessori Monday post and linky at 6:00 a.m. EST each Monday and keep the linky open throughout the week. Please place the Montessori Monday button (using the code from the right sidebar) in your post or put a link back to this post. Let's use Montessori Monday to gain inspiration/ideas and to encourage each other! If you would leave an encouraging comment on the post linked up ahead of you (along with any other posts you're drawn to), that would be awesome! Thanks for participating! Notes:   For community discussions, please join us at the Living Montessori Now Facebook page, We Teach Montessori Group, and/or Google+ Montessori Community. The We Teach Montessori group has a Member Resources Sharing (for resources such as freebies and series) as well as a Linky Party for We Teach Montessori. We Teach Montessori has a linky just like the one here except that it's continuous where you may add your Montessori-inspired activities and ideas to the same linky. New links will go to the top of the linky. I'd love to see us build up a great collection of Montessori-inspired ideas there, too. After you link up here, why not hop over to the We Teach Montessori Group and link up there?! And don't forget the Saturday/Sunday Parent/Teacher Preparation Days share where you may share a kid-related activity of any kind at the Living Montessori Now Facebook page! If you have a giveaway on your blog, please add it to my Family-Friendly Giveaway Linky Page! If you enjoy entering giveaways, you'll always find some great giveaways there. Also, if you've ever been linked to in one of my roundup posts, please feel free to grab the "Featured on" badge.
Have you added the Montessori Monday button or a text link? Please be sure you've done one or the other so that others can find the link-up, too! Thank you! If this is your first time visiting Living Montessori Now, welcome! If you haven't already, please join us on our Living Montessori Now Facebook page where you'll find a Free Printable of the Day and lots of inspiration and ideas for parenting and teaching! Linked to Tuesday Tots, Tactile Tuesday, The Mommy Club Resources and Solutions at Milk and Cuddles and Crystal & Co., The Weekly Kid's Co-op, Ultimate Mom Resources, Hearts for Home Blog Hop, Virtual Montessori Sharing Fair, Learn & Link, TGIF Linky Party, Preschool Corner, Sharing Saturday, Saturday Show & Tell, Share It Saturday, Show-and-Share Saturday, The Sunday Showcase, Link & Learn, and Afterschool Express