I had a lot of fun putting together some activities in a number of curriculum areas using materials from the Building and Blocks Toolbox from Montessori By Mom. To go along with the building and blocks materials, there's also a versatile free shape punching printable for my readers.
Disclosure: I'm a Montessori By Mom affiliate. I was given the Building and Blocks Toolbox for this review/activity post. This post contains affiliate links (at no cost to you).
Montessori By Mom
Montessori By Mom is a small business started by Nathan and Teresa Hadsall, two teachers who wanted to empower parents to teach their own children using Montessori principles and activities. Nathan and Teresa offer a subscription service, sending a box of themed Montessori materials and activities for 3-5 year olds each month. Everything you need for teaching your child with the materials is included in the monthly subscription. With each box, you'll get
Video instruction for 6-8 activities (The videos are wonderful! Parents with no Montessori experience can feel comfortable introducing the Montessori activities after watching the video instructions.)
Video instruction about basic Montessori principles and teaching techniques
All the materials needed for the 6-8 activities
Bonus activities and ideas for more activities using materials at home
Access to an online forum where you can ask questions and connect with other parents
Montessori By Mom now has a Montessori By Mom store where you can buy single toolboxes, activity sets, single items and refills, and printables and videos.
Building and Blocks Toolbox and Activities
The Building and Blocks Toolbox will be available just in time for the holiday season! It'll ship to subscribers on December 3 and will be available in the store on December 6. I was amazed to realize how many activities can be prepared easily using the Building and Blocks Toolbox.
Teresa and Nathan give many ideas for various ages and levels of difficulty. Each material can be used in multiple ways, and the extensions ensure that the activities can grow with your child. The instructional videos and online resources give you all the information you need to start using Montessori at home. This is like a mini Montessori training course to help you get started comfortably … and with all the materials included. The Building and Blocks Toolbox will continue to be available in the Montessori By Mom store after the December shipment. In the Building and Blocks Toolbox, you'll receive:
Bag of Blocks
Block Pattern Cards
Nuts and Bolts Set 
Bag of Letters and Numbers
Tin with Tacks and Nails
Cork Board
Child-Sized Hammer
Paper Punch Stylus
"Made By Me" Car Kit
How to Make a Fort Book
Instructional Videos
Building and Blocks Toolbox Guide
Building and Blocks Activities Using the Montessori By Mom Materials
These are just a few of the activities you can prepare using the Building and Blocks Toolbox materials. There are additional ideas in the videos and online parent resources that are included with the toolbox.
Hammering, Block Counting, and Tower Building Activity
For this activity, I used the hammer (which is a nice-quality child-sized hammer), 10 blocks (cubes), cork board, numbers, nails, and drawstring bag from the Building and Blocks Toolbox. You could put the numbers in the tin with the nails or add them to the drawstring bag. The child could either choose a number from the tin or draw a number from the bag. The child would hammer the number to the cork board or use one of the included pins to attach the number (for a younger child). Then the child would count the correct number of cubes and build the block tower.
Hammering and Counting Activity
This activity works well for seasonal or interest-based variations. For this activity, I used 55 shells and the shell dish from the Shells and Starfish Toolbox. You could change the objects according to your theme, your child's interest, the season, or whatever small objects you have available. I added the numbers to the tin with the nails (or pins for a younger child). You'll find more number activities along with letter activities in the videos for the Building and Blocks Toolbox.
Free Shape Punch Printable from Montessori By Mom
In the Montessori By Mom Store, you'll find a very versatile Punch Shapes Printable that's free to Living Montessori Now readers with the code cork23 at checkout. In addition to the pictured shapes, the printable also includes square, circle, rectangle, oval, different types of triangles, continents, and some fun shapes.
Punching activities are very popular in Montessori schools, and they're both a great preparation for writing and a way for preschoolers to develop concentration skills.
Shape Punching and Booklet Making
I printed out the geometric shapes on blue printer paper, although you could use whatever paper you prefer. After punching out the geometric shapes, the child could make a booklet by gluing the shapes to letter-sized paper (or cardstock) cut in quarters. The booklet could be stapled or hole punched and tied with a ribbon.
Map Punching Activity
This is a fun way for preschoolers to create a world map. I printed out the map printables on light blue cardstock. After the continents are punched out, your child could place each one in the correct place on the control map.
Nuts and Bolts
Washers are included in the nuts and bolts bag, but I'm just showing a simple size-sorting activity. The video will show a number of activities: grading items by size, sorting by type (all washers, all bolts, etc.), washer patterns, sorting by type and size, and disassembling and then assembling.
Block Patterns The block pattern cards included with the blocks are very cool. There are 15 different activities. The activity pictured is a color-matching activity. I just added tape to the basket (I used the basket from the Helping Hands Toolbox.) Your child could tape the animal together after creating it so that it could stand up.
"Made By Me" Car
This could be a fun way for your child to create a Christmas present for a sibling … or a fun way to create a toy for him- or herself. Your child could decorate the parts with acrylic paint, markers, or crayons (art supplies not included) before attaching the wheels.
There's also a Build the Fort book in the toolbox and included in the video!
Previous Montessori By Mom Reviews and Activities
Shells and Starfish Activities + Free Printable from Montessori By Mom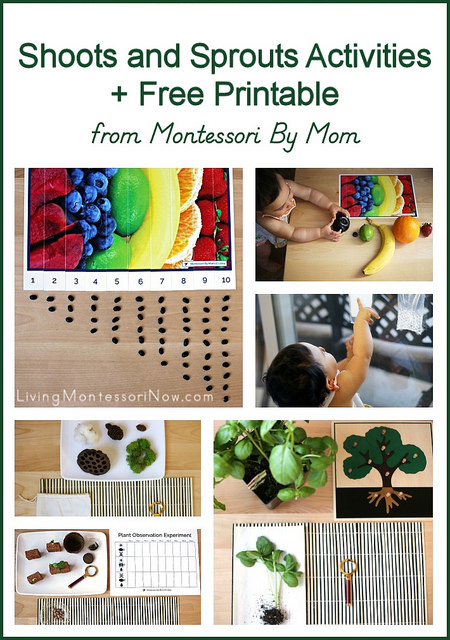 Shoots and Sprouts Activities + Free Printable from Montessori By Mom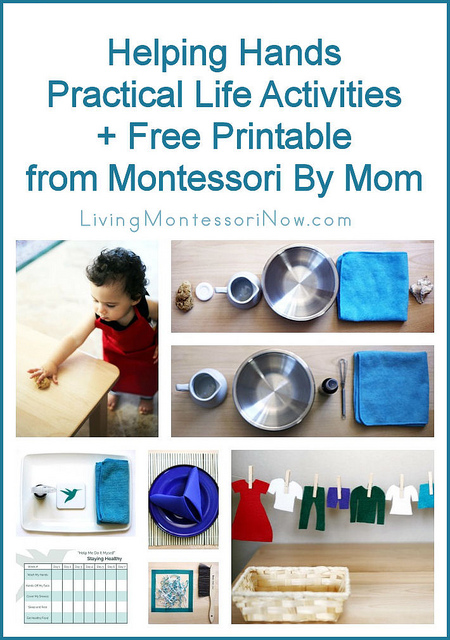 Helping Hands Practical Life Activities + Free Printable from Montessori By Mom
Montessori By Mom Special Offer for New Subscribers!
I really love the Montessori By Mom materials and curriculum. I definitely recommend Montessori By Mom for parents looking for a simple and fun way to start using Montessori at home.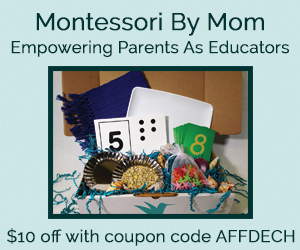 Montessori By Mom is offering $10 off to new subscribers with the coupon code AFFDECH! Montessori By Mom is based in the U.S., but there's even international shipping! Montessori By Mom also has a Montessori By Mom store where you can buy single toolboxes, activity sets, single items and refills, and printables and videos! You can connect with Nathan and Teresa on Facebook, Twitter, Google +, and YouTube (where you can see their public videos, including a Montessori By Mom subscription sample). They also have a blog with more helpful information.
Montessori Monday Link-Up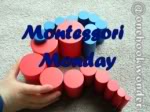 If you have some Montessori activity trays/lessons to share, please link up below. It's fine to link up a post from your archives – and you may link up anytime during the week! Your post may be any Montessori-inspired activity or idea. It doesn't need to be related to my Montessori Monday post. If you're wondering what's considered "Montessori inspired" and what to link up (or not link up), check out my "What Is Montessori Inspired?" post. Link up your exact post URL so that we can find your activity if we return to the linky at a later date (which I often do when I'm looking for activities for a roundup post).
I publish the Montessori Monday post and linky each Monday morning and keep the linky open throughout the week. Please place the Montessori Monday button (using the code from the right sidebar) in your post or put a link back to this post.
I'm not able to comment on every post, but I do a lot of pinning on Pinterest and sharing on the Living Montessori Now Facebook page from the Montessori Monday link-up. Thanks for participating!
Notes For community discussions, please join us at the Living Montessori Now Facebook page and/or Google+ Montessori Community.
And don't forget the Saturday/Sunday weekend sharing days where you may share a kid-related activity of any kind at the Living Montessori Now Facebook page! It's also Motivational Monday on Mondays now! I invite you to share something positive on the Bits of Positivity Facebook page (Bits of Positivity is my other blog) to help us all get a good start on the work/school week. You might share an inspirational or motivational quote, positive graphic, or post about finding balance or simplifying your life. Or you might share a post on organizing, an encouraging post, a post about making a difference in the world, or a positive parenting post. Just go ahead and share on the Bits of Positivity wall any time today! (Please "like" the Bits of Positivity Facebook page if you haven't already.) I'll be pinning a number of ideas to my regular Pinterest boards.
If you'd like a special gift for a preschooler and live in the U.S., Canada, UK, or Australia, Don't miss my giveaway of the new Little Passports Early Explorers Edition (3-month subscription)! The giveaway ends on Saturday at 9pm PST.
If you have a giveaway on your blog, please add it to my Family-Friendly Giveaway Linky Page! If you enjoy entering giveaways, you'll always find some great giveaways there.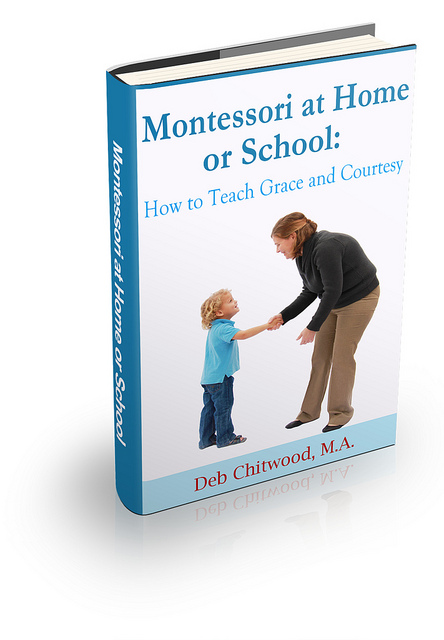 Learn more about my eBook Montessori at Home or School: How to Teach Grace and Courtesy!
Also, if you've ever been linked to in one of my roundup posts, please feel free to grab the "Featured on" badge.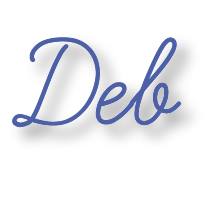 Have you added the Montessori Monday button or a text link? Please be sure you've done one or the other so that others can find the link-up, too! If this is your first time visiting Living Montessori Now, welcome! If you haven't already, please join us on our Living Montessori Now Facebook page where you'll find a Free Printable of the Day and lots of inspiration and ideas for parenting and teaching! And please follow me on Pinterest (lots of Montessori-, holiday-, and theme-related boards), Twitter (blog posts by me and others along with the Parent/Teacher Daily and other interesting information), and Google+ (post updates and Montessori Community). You can find me on bloglovin' now, too. Thank you for following me there. And don't forget one of the best ways to follow me by signing up for my weekly newsletter in the right sidebar. You'll get two awesome freebies in the process!
May be linked to Afterschool Express, Thoughtful Spot, The Mommy Club Resources and Solutions, Mom's Library, A Little Bird Told Me Linky Party, The Weekly Kid's Co-op, Homeschool Link-up, TGIF Linky Party, Preschool Corner, Ultimate Homeschool Pinterest Party, Sharing Saturday, Share It Saturday, Show-and-Share Saturday, The Sunday Showcase, Link & Learn, KLP Linky Party.