We all want our children to grow up with the ability to persevere at a task, to work through difficulties, to have confidence they can succeed with their goals. Following Montessori principles at home can definitely help.
Here are some ways you can help your child develop perseverance by using Montessori principles:
1. Follow your child's interests.
This principle almost seems too simple and obvious, but it definitely is much easier for your child to stick with a task he or she finds interesting. The concentration your child gains and pride your child feels from completing work often encourages your child to undertake new goals and reach new heights in the future. Interestingly, self-chosen work often has finished results much more impressive than a teacher or parent would assign.
This works at any age and for any situation! For my daughter's BA in Performance and Professional Practice from Sheffield Hallam University in England, she chose to do a dissertation related to her interest and career in figure skating. She came up with A Study to Investigate if There is a Need for Acting Lessons for Competitive Figure Skaters. She used questionnaires, interviews, and a focus-group discussion as research methods. Because she was interested in the topic, she didn't do 25 or some other minimum number of questionnaires – she approached enough people to have 457 questionnaires in the end. Of course, she was a Montessori child and had already learned perseverance!
2. Have lots of practical life activities and opportunities available for your toddler and/or preschooler. Practical life activities are an essential part of Montessori education. I can't stress enough the importance of them for developing order, concentration, coordination, and independence. For basic information: Montessori Practical Life Activities. For lots of ideas that you can easily use at home: Activities – Practical Life.
3. Demonstrate how to do an activity, showing the entire work cycle from taking a material off the shelf to cleaning up at the end and returning the material to the shelf.
It's important that your child knows the steps involved and learns to complete an activity for the development of perseverance.
4. Allow your child to choose work, repeat an activity as many times as he or she chooses, and complete a cycle of activity uninterrupted.
Sensitive periods are an important part of Montessori philosophy and should be encouraged. They allow your child to work for long periods of time and repeat activities many times while compelled to meet the needs of a particular sensitive period. When referring to sensitive periods, Maria Montessori said:
"The child makes a number of acquisitions during the sensitive periods, which place him in relation to the outer world in an exceptionally intense manner. Then all is easy; all is eagerness and life, every effort is an increase of power. But when some of these psychic passions die away, other flames are kindled and so infancy passes from conquest to conquest, in a continuous vital vibrancy, which we have called its joy and simplicity. It is through this lovely flame that burns without consuming that the work of creating the mental world of man takes place."
5. Don't do for your child what your child can do for him- or herself.
In Montessori education, children are helped to help themselves – helped to become independent. In Maria Montessori's words:
"These words reveal the child's inner needs: 'Help me to do it alone.'"
Many Montessori materials have a built-in control of error so a child can instantly see if a mistake is made. If uninterrupted, the child will typically work with material (learning persistence) until he or she reaches success. If your child doesn't specifically ask for help, even if your child appears to have some difficulty with a task, it's generally best to let your child figure it out alone.
Helping your child develop perseverance can either be one of the simplest or one of the most difficult tasks. Following Montessori principles can let it be one of your simplest tasks.
Photo Credits – thank you to:

Discovery Days and Montessori Moments for Following an Interest and Reaching Success with the Trinomial Cube Photo
Barefoot in Suburbia for Pouring Water Photo
How We Montessori for Using a Mortar and Pestle after Demonstration Photo
Julie at The Adventures of Bear for  Working to Complete an Activity Photo
Montessori MOMents for Working with Four Cylinder Blocks Photo
UPDATE: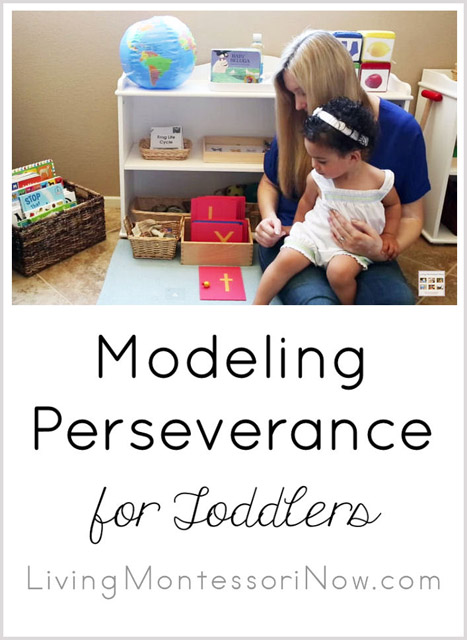 Modeling Perseverance for Toddlers (post with embedded video)
This post is part of the Teach/Learn Carnival.  This month our theme for Teach/Learn was Persistence, something that is needed to string all the pieces together and achieve something big.
"Nothing in this world can take the place of persistence. Talent will not; nothing is more common than unsuccessful people with talent. Genius will not; unrewarded genius is almost a proverb. Education will not; the world is full of educated derelicts. Persistence and determination alone are omnipotent. The slogan "press on" has solved and always will solve the problems of the human race" Calvin Coolidge, US President.
Posts in the June Teach/Learn Blogging Carnival: