Practical life activities are some of the most important Montessori activities. They help children develop order, concentration, coordination, and independence … skills which help in all learning. I'm excited today to share some wonderful practical life activities from Montessori by Mom. They use materials from the Montessori By Mom Helping Hands Toolbox and a free printable.
There are activities for babies through early elementary in the toolbox. Just choose the activities that fit the age and skill level of your child or children.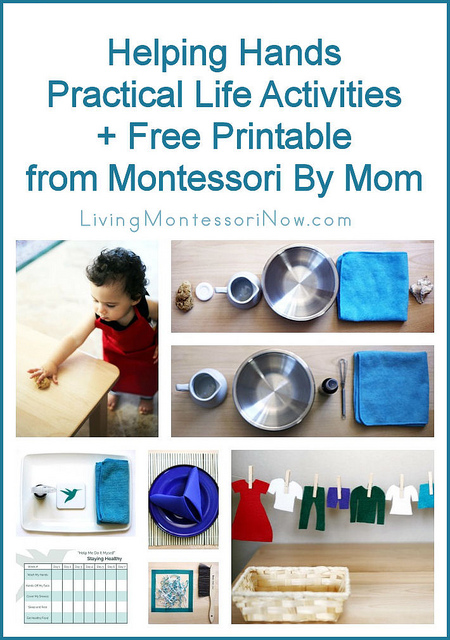 Disclosure: I'm a Montessori By Mom affiliate. I was given the Helping Hands package for this review/activity post.
Montessori By Mom
Montessori By Mom is a small business started by Nathan and Teresa Hadsall, two teachers who wanted to empower parents to teach their own children using Montessori principles and activities. Nathan and Teresa offer a subscription service, sending a box of themed Montessori materials and activities for 3-5 year olds each month. Everything you need for teaching your child with the materials is included in the monthly subscription. With each box, you'll get
Video instruction for 6-8 activities (The videos are wonderful! Parents with no Montessori experience can feel comfortable introducing the Montessori activities after watching the video instructions.)
Video instruction about basic Montessori principles and teaching techniques
All the materials needed for the 6-8 activities
Bonus activities and ideas for more activities using materials at home
Access to an online forum where you can ask questions and connect with other parents
Montessori By Mom now has a Montessori By Mom store where you can buy single toolboxes, activity sets, single items and refills, and printables and videos.
Helping Hands Box and Activities
I love that there are so many possibilities of activities that can be prepared easily using the Helping Hands Toolbox. Teresa and Nathan give many ideas for various ages and levels of difficulty. Each material can be used in multiple ways, and the extensions ensure that the activities can grow with your child. The instructional videos and online resources give you all the information you need to start using Montessori at home. This is like a mini Montessori training course to help you get started comfortably … and with all the materials included.
The Helping Hands Toolbox will continue to be available in the Montessori By Mom store. In the Helping Hands Toolbox, you'll receive:
Washing Set: Real Sea Sponge, Miniature Soap, Microfiber Drying Cloth, Spray Bottle with 2 Different Sprayers, Cotton Balls, Orange Sticks, Miniature Mirror, Mixing Bowl, Whisk, Ceramic Creamer
Folding Set:4 napkins with different guides for learning to fold
Felt Clothing Activity Set: Printable Felt Clothing Pattern, Felt Packet (assorted colors), Miniature Clothespins, String, Miniature Laundry Basket
Wooden Dusting Brush
Child-Sized Apron 
Instructional Videos 
Helping Hands Toolbox Guide
Helping Hands Practical Life Activities Using the Montessori By Mom Materials
These are just a few of the activities you can prepare using the Helping Hands Toolbox materials. The additional ideas are in the videos and online parent resources that are included with the toolbox.
Simple Table Washing Activity for Babies and Toddlers
This activity isn't in the video presentations, although it uses materials from the Helping Hands Toolbox. I prepared a simple table-washing activity that could be used with older babies and young toddlers. It worked well with my 11-month old granddaughter, Zoey. I put the apron that came with the Helping Hands Toolbox on Zoey so she would get used to wearing an apron during water activities.
With a baby or toddler who is unable to wait during a presentation, I would lay out the materials as in the above photo, name the objects, and then put them out of reach. Then I would briefly show how to wash the table using the sea sponge and let the baby or toddler wash the table. For a baby who would try to eat the sponge, you could use a wash cloth to wash the table. When the baby or toddler seems ready for a new part of the activity, I'd show how to dry the table with the microfiber cloth and then let the baby or toddler use the microfiber cloth to dry the table. I don't worry about how long a baby or toddler stays interested, but I'm careful not to interrupt a baby or toddler who is focused on the activity.
Update: See a version for older toddlers and preschoolers in my "Simple Montessori Table Washing for Toddlers."
Washing a Small Object

This activity is great for seasonal or interest-based variations. In the fall, you might want to use a small pumpkin as the object to be washed. For a child who loves vehicles, you might use a small toy car. For this activity, I used one of the seashells from the Shells and Starfish Toolbox. The creamer and stainless-steel bowl are especially lovely and help children develop an appreciation of the materials.
Whisking Activity

Whisking is an activity that's very appealing to preschoolers. Montessori By Mom gives variations with the child-size whisk that can be used at home instead of the classroom. Here, I used Montessori By Mom materials to create a bubble-making activity.
Spraying Activity to Clean a Mirror
Montessori By Mom provides two types of sprayers with different levels of difficulty in the toolbox. I used the white tray from the Shells and Starfish Toolbox to create a mirror washing activity using the simple sprayer.
Sweeping Activity

Montessori By Mom provides a nice-quality dusting brush for this activity. The activity can be done with rice or beans for a simpler activity. For a more difficult activity, you could lay out the packing materials that come in the Montessori By Mom boxes. The child simply sweeps the materials into the square made with electrical tape. (Note: electrical tape doesn't come in the toolbox but can be found easily at Walmart and many other stores.) Because the packing materials are more difficult to sweep, I recommend saving this activity for older children or using a larger square than you'd need for rice or beans.
Folding Napkins
I don't like to sew, so I really appreciate that the napkin-folding materials were already sewn and even ironed.
Napkin Origami
Napkin origami (or elegant napkin folding) is a fun activity for advanced preschoolers and elementary-age children. This fold is shown in one of the videos, and resources are given for many more napkin folds.
Clothespin Activity for Fine-Motor Coordination and Learning How to Use a Clothespin
This activity uses the stainless steel bowl and clothespins that come in the Helping Hands Toolbox. It takes almost no time to set up yet is a great way for children to learn how to use clothespins and strengthen their fingers.
Felt Clothing and Clothes Hanging Activity
The Montessori By Mom resources include printable clothing patterns and ideas for using the materials for a variety of ages. Elementary-age children might even want to trace and cut out their own clothes or make clothes for a younger sibling.
Free Staying Healthy Printable Chart from Montessori By Mom
Montessori By Mom is sharing this free Staying Healthy printable chart.  It's a helpful tool for the upcoming cold and flu season. You can use it as a chart or cut out the text as shown in the photo below to use as a "staying healthy" reminder if you don't like to use charts. The reminder can be printed on photo paper or cardstock. You could laminate the cardstock, although you might find printing on photo paper works well for home use.
Nose Wiping Station
 This activity isn't part of the toolbox, although it uses the free printable cut to use as a reminder. You could have a nose-wiping station on a nightstand beside your child's bed or on a shelf in the classroom or in any room in your home. It's a good reminder even for non-readers if you've previously discussed the phrases and ideas with your child. The reminder in the photo is on a very small tabletop easel.
Previous Montessori By Mom Reviews and Activities
Shells and Starfish Activities + Free Printable from Montessori By Mom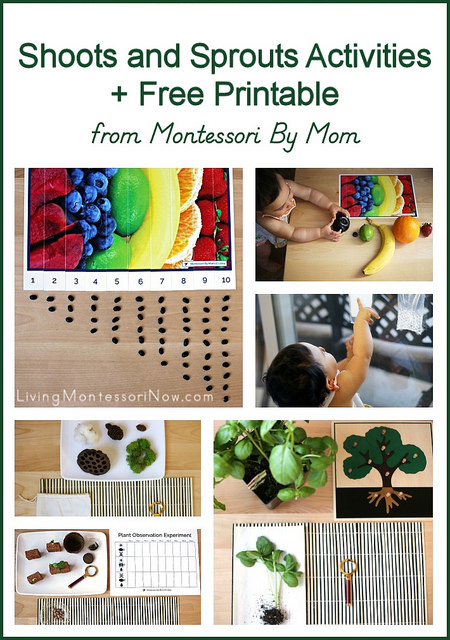 Shoots and Sprouts Activities + Free Printable from Montessori By Mom
Montessori By Mom Special Offer for New Subscribers!
I really love the Montessori By Mom materials and curriculum. I definitely recommend Montessori By Mom for parents looking for a simple and fun way to start using Montessori at home.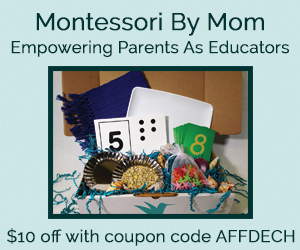 Montessori By Mom is offering $10 off to new subscribers with the coupon code AFFDECH! Montessori By Mom is based in the U.S., but there's even international shipping! Montessori By Mom also has a Montessori By Mom store where you can buy single toolboxes, activity sets, single items and refills, and printables and videos! You can connect with Nathan and Teresa on Facebook, Twitter, Google +, and YouTube (where you can see their public videos, including a Montessori By Mom subscription sample). They also have a blog with more helpful information.
Montessori Monday Link-Up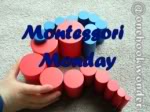 If you have some Montessori activity trays/lessons to share, please link up below. It's fine to link up a post from your archives – and you may link up anytime during the week! Your post may be any Montessori-inspired activity or idea. It doesn't need to be related to my Montessori Monday post. If you're wondering what's considered "Montessori inspired" and what to link up (or not link up), check out my "What Is Montessori Inspired?" post. Link up your exact post URL so that we can find your activity if we return to the linky at a later date (which I often do when I'm looking for activities for a roundup post).
I publish the Montessori Monday post and linky each Monday morning and keep the linky open throughout the week. Please place the Montessori Monday button (using the code from the right sidebar) in your post or put a link back to this post. Let's use Montessori Monday to gain inspiration/ideas and to encourage each other! If you would leave an encouraging comment on the post linked up ahead of you (along with any other posts you're drawn to), that would be awesome!
I'm not able to comment on every post, but I do a lot of pinning on Pinterest and sharing on the Living Montessori Now Facebook page from the Montessori Monday link-up. Thanks for participating!
Notes For community discussions, please join us at the Living Montessori Now Facebook page.
And don't forget the Saturday/Sunday weekend sharing days where you may share a kid-related activity of any kind at the Living Montessori Now Facebook page! It's also Motivational Monday on Mondays now! I invite you to share something positive on the Bits of Positivity Facebook page (Bits of Positivity is my other blog) to help us all get a good start on the work/school week. You might share an inspirational or motivational quote, positive graphic, or post about finding balance or simplifying your life. Or you might share a post on organizing, an encouraging post, a post about making a difference in the world, or a positive parenting post. Just go ahead and share on the Bits of Positivity wall any time today! (Please "like" the Bits of Positivity Facebook page if you haven't already.) I'll be pinning a number of ideas to my regular Pinterest boards.
If you have a giveaway on your blog, please add it to my Family-Friendly Giveaway Linky Page! If you enjoy entering giveaways, you'll always find some great giveaways there.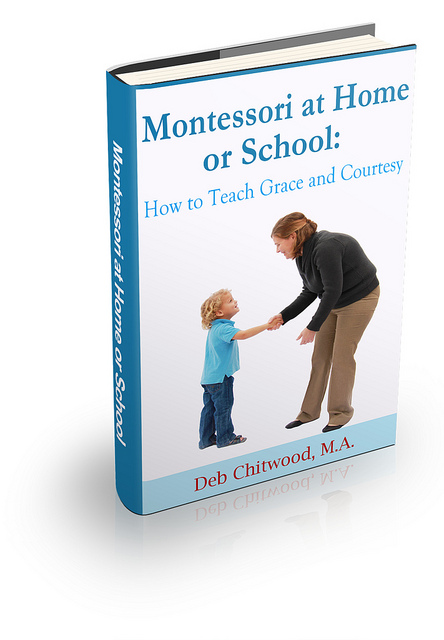 Learn more about my eBook Montessori at Home or School: How to Teach Grace and Courtesy!
Also, if you've ever been linked to in one of my roundup posts, please feel free to grab the "Featured on" badge.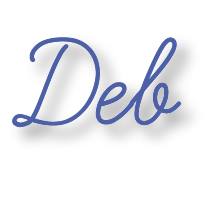 Have you added the Montessori Monday button or a text link? Please be sure you've done one or the other so that others can find the link-up, too!
If this is your first time visiting Living Montessori Now, welcome! If you haven't already, please join us on our Living Montessori Now Facebook page where you'll find a Free Printable of the Day and lots of inspiration and ideas for parenting and teaching! And please follow me on Pinterest (lots of Montessori-, holiday-, and theme-related boards), Twitter (blog posts by me and others along with the Parent/Teacher Daily and other interesting information), and Google+ (post updates and Montessori Community). You can find me on bloglovin' now, too. I'm also a Parenting Expert on Sulia. Thank you for following me there. And don't forget one of the best ways to follow me by signing up for my weekly newsletter in the right sidebar. You'll get two awesome freebies in the process!
May be linked to Afterschool Express, Thoughtful Spot, Tuesday Tots, The Mommy Club Resources and Solutions, Mom's Library, A Little Bird Told Me Linky Party, The Weekly Kid's Co-op, Homeschool Link-up, Learn & Link, TGIF Linky Party, Preschool Corner, Ultimate Homeschool Pinterest Party, Sharing Saturday, Share It Saturday, Show-and-Share Saturday, The Sunday Showcase, Link & Learn, KLP Linky Party.