100th day of school activities are a natural fit for Montessori schools and homeschools. With Montessori's emphasis on concrete introductions to the decimal system, including activities such as the hundred board, the 100th day of school is a perfect time to reinforce Montessori math concepts.
Many schools and homeschools reach 100 days in late January or early February. Even if you've already passed 100 days, you can still do 100th day activities to observe the day you reached 100 days of school for this school year.
Here are some ideas from Montessori schools and Montessori bloggers for celebrating 100 days of school.
Montessori-Inspired 100th Day of School Activities
Hundred Chart Tray from Montessori-Inspired Valentine Math Trays (hundred board extension can be used with small objects of any theme)
Hundred Chart Art Tray from Montessori-Inspired Valentine Math Trays
100th Day of School, Celebrated at Home from The Education of Ours (Note: Don't miss the big floor-sized hundred board!)
100th Day Posts (making 100-piece trail mix and counting 100 golden beads) from Barefoot in Suburbia (photo from Montessori Monday)
"Montessori 100 Days of School Show and Tell" on YouTube
100th Day of School from Missouri Valley Montessori School
100th Day of School Fun from Adobe Montessori
100th Day of School Posts (Freebie and Activities) from Discovery Kidzone Montessori Adventures
100th Day of School from Clemson Montessori School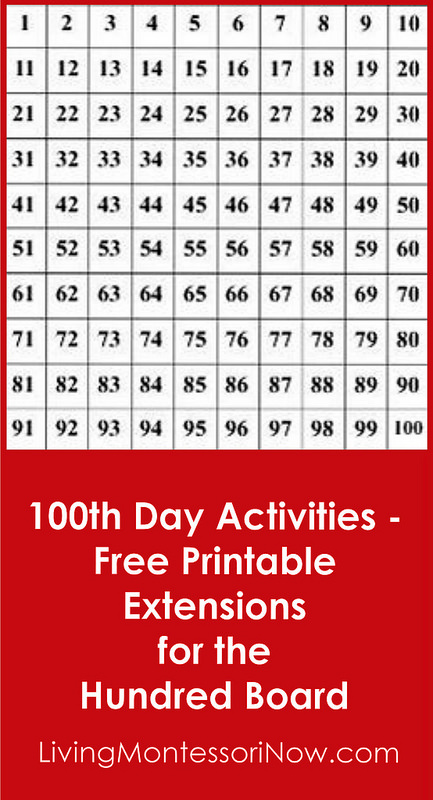 Update: 100th Day Activities: Free Printables Extensions for the Hundred Board.
Kids' 100th Day Activities Pinterest Board
I have a Kids' 100th Day Activities Pinterest Board with links to lots of activities and free printables for celebrating the 100th day of school. Also, be sure to check out my 100 Acts of Kindness posts linked to the Kindness Projects Pinterest Board. I'll publish one here tomorrow, too! Recording 100 Acts of Kindness would be another great activity for a hundred board variation! 🙂
Are you planning anything special for the 100th Day of School?
If this is your first time visiting Living Montessori Now, welcome! If you haven't already, please join us on our Living Montessori Now Facebook page where you'll find a Free Printable of the Day and lots of inspiration and ideas for parenting and teaching!
Linked to Tuesday Tots, Tactile Tuesday, The Mommy Club Resources and Solutions at Milk and Cuddles and Crystal & Co., The Weekly Kid's Co-op, Hearts for Home Blog Hop, Learn & Link, Living Life Intentionally Linky Party, Preschool Corner, Sharing Saturday, Saturday Show & Tell, Share It Saturday, Show-and-Share Saturday, The Sunday Showcase, Link & Learn, and Afterschool Express.