Even though I'm definitely drawing/painting-challenged, art appreciation is one of my favorite subjects to teach. Montessori education has wonderful ideas and resources for helping children develop an appreciation of art from the earliest age.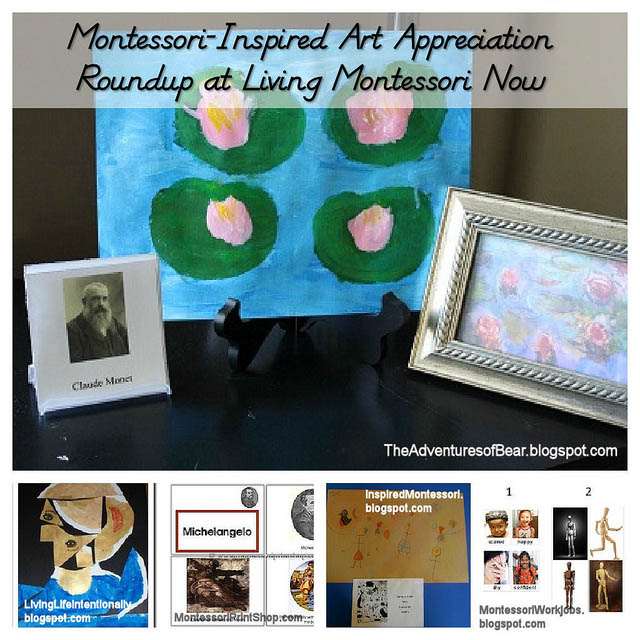 Montessori principles encourage parents to expose children to fine art from birth on. Dr. Montessori wanted parents and teachers to provide famous artists' works hung at eye level for the child to learn a natural appreciation of art. A Montessori home or classroom is specially prepared to bring order and beauty into the child's environment as well as give opportunities for children to enjoy their own individual art expression.
Montessori Ideas on Art Appreciation
Montessori Philosophy and Practice: 1-3 years – Art from Michael Olaf
Montessori Philosophy and Practice: Age 3-6+ years – Art from Michael Olaf
Art and Montessori from Birth to Age 12 from Michael Olaf
Why Should Children Study Art? from Montessori for Everyone
Studying Artists and Their Works in the Montessori Classroom from North American Montessori Center
Montessori Art from Muddle Puddle Home Education
Montessori Mama on Making and Teaching Art at The Artful Parent
Celma Perry on "Art Appreciation in the Montessori Early Childhood Classroom"
Free artist cards from Montessori Materials
Free Montessori Art Cards For Homeschoolers from That Resource Site
Child-Size Masterpieces by Aline D. Wolf (available for purchase … the art appreciation materials I used in my Montessori school and my family used and loved)
"Child-Size Masterpieces for Art Appreciation"
Montessori Art Appreciation (free emotions in art cards) from Montessori Workjobs
Artist Cards (available for purchase) from Montessori Print Shop. Free Picasso Art Book and O'Keeffe Art Cards from Montessori Print Shop.
Artist Cards (available for purchase) from Montessori for Everyone
Art Appreciation Materials (available for purchase) from Montessori Services
Free Downloads: Montessori Art Cards and Art Appreciation from Affordable Montessori Homeschool Resources and Free Downloads
World's Greatest Artists Unit Study (free printable) from Confessions of a Homeschooler (great printable that would be very useful in an art appreciation unit)
Essential Materials for the Montessori Art Curriculum by Andrea Coventry at Yahoo Voices and Touch the Art Board Books Article by Andrea Coventry at Children's Books @ Suite 101
Montessori-Inspired Art Appreciation Activities
A Montessori Approach to Homeschool Art(what my family did)
Art Appreciation Posts from The Adventures of Bear (Photo from Artists and Art – Claude Monet)
Art at Home from The Montessori Child at Home
Project Montessori at Home: Displaying Art from Carrots Are Orange
Toddler Art Appreciation from Little Red Farm
John James Audubon, Astronomy: Van Gogh, Mozart & Mother Goose, Children's Art Gallery, and A. A. Milne: Winnie the Pooh from Pirate Ships and Sealing Wax
Famous Artist posts from Inspired Montessori and Arts at Dundee Montessori
Picasso and Famous Artist: Monet from Living Life Intentionally
Art: Cubism to Quilt from United Montessori Association
Artist Baskets from Montessori Mama
Artist Posts from Little Acorns
Art Appreciation in a Montessori Classroom from Montessori Plus School
Montessori Art History Lessons from American Montessori Consulting
See Art Appreciation and Creation for Kids for lots of extension activities.
See Art Appreciation Activities from Montessori By Mom for more activities. (New in 2015)
Also see Art Postcards – Montessori Art Appreciation for a Variety of Ages (New in 2015)
Have you prepared an environment and/or activities for teaching art appreciation?


Linked to AfterSchool Linky Party, Living Life Intentionally Linky Party, Pinterest Tuesday, The Mommy Club Resources and Solutions at Milk and Cuddles and Crystal & Co. , Discover and Explore, Thrifty Thursday, Preschool Corner, Show-and-Share Saturday, Link & Learn, and The Sunday Showcase at Mom to 2 Posh Lil Divas and Classified: Mom.