In Montessori education, practical life (daily living) activities are some of the most important activities. Not only do they help children develop order, concentration, coordination, and independence, but they help children learn to contribute to their families and communities. Today, I'll be sharing some age-appropriate chores in lists and free printables from around the blogosphere.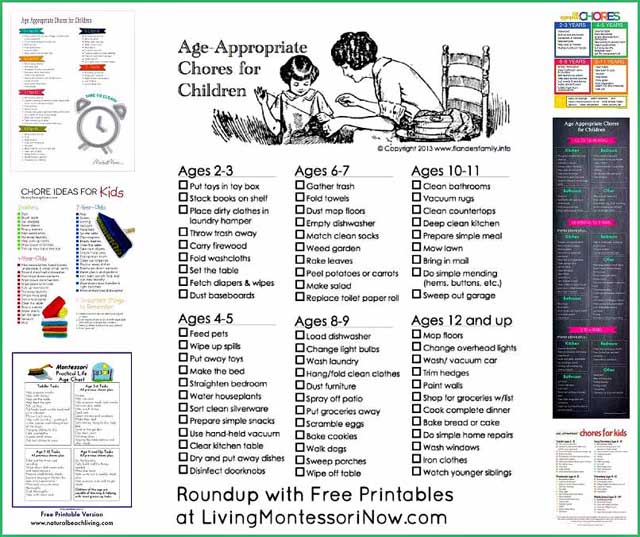 Older babies and young toddlers can start learning care-of-the-environment activities. Cleaning activities are fun at that age and the perfect time for children to start contributing to the family chores, even if the result is much less than perfect.
In Montessori, we don't recommend using rewards or punishments. (Read "A Montessori Approach to Praise" for more information.) If you demonstrate how to do chores and make them a regular part of your child's life from an early age, ideally your child will do chores as a natural part of contributing to the family. My now-adult children did, and it was wonderful.
Age-Appropriate Chores for Children (with Free Printables)
Here are some great ideas for age-appropriate chores. Each link has a free printable download available. You'll notice there are definitely some variations among chore lists. As in everything, it's most important that you find the chores that are age appropriate for your unique children.
And, of course, your children aren't expected to do every chore on a list. Just find what works for your family.
Age-Appropriate Chores for Children (the chore chart that's been all over Facebook and Pinterest) from The Flanders Family Website. This free printable is available in English, Spanish, and Italian.
Age-Appropriate Chores for Kids from The Happy Housewife
Age Appropriate Chores for Young Children from Your Modern Family
Age Appropriate Chores for Children from The Modest Mom Blog
Age Appropriate Chores for Children (12 months-4 years) from The Montessori Notebook
Age Appropriate Chores/Skills from Cranial Hiccups
Why Our Kids Should Do Age Appropriate Chores from Sports Mom Survival Guide
Age-Appropriate Chores for Kids from Bitz & Giggles
Montessori Practical Life Age Chart from Natural Beach Living
Chore Ideas for Kids from Money Saving Mom
Why Our Children Have Chores + An Age Appropriate Chores Guideline from Simply Kierste
Housekeeping How-To from Learning with Charlotte
Montessori Monday Link-Up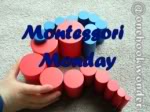 If you have some Montessori activity trays/lessons to share, please link up below. It's fine to link up a post from your archives – and you may link up anytime during the week! Your post may be any Montessori-inspired activity or idea. It doesn't need to be related to my Montessori Monday post.
If you're wondering what's considered "Montessori inspired" and what to link up (or not link up), check out my "What Is Montessori Inspired?" post. Link up your exact post URL so that we can find your activity if we return to the linky at a later date (which I often do when I'm looking for activities for a roundup post).
I publish the Montessori Monday post and linky each Monday morning and keep the linky open throughout the week.Please place the Montessori Monday button (using the code from the right sidebar) in your post or put a link back to this post. I do a lot of pinning on Pinterest and sharing on the Living Montessori Now Facebook page from the Montessori Monday link-up.Thanks for participating!
Notes For community discussions, please join us at the Living Montessori Now Facebook page and/or Google+ Montessori Community. And don't forget the Saturday/Sunday weekend sharing days where you may share a kid-related activity of any kind at the Living Montessori Now Facebook page!
It's also Motivational Monday on Mondays! I invite you to share something positive on the Bits of Positivity Facebook page (Bits of Positivity is my other blog) to help us all get a good start on the work/school week. You might share an inspirational or motivational quote, positive graphic, or post about finding balance or simplifying your life. Or you might share a post on organizing, an encouraging post, a post about making a difference in the world, or a positive parenting post. Just go ahead and share on the Bits of Positivity wall any time today! (Please "like" the Bits of Positivity Facebook page if you haven't already.) I'll be pinning a number of ideas to my regular Pinterest boards.
You can watch the free workshop replay of our Montessori Crash Course free workshop and course introduction here. If you'd like more information, check out this post: Montessori Crash Course Free Training and Course Introduction.
You can sign up for the free Be the Best Parent You Can Be online event here. 
If you have a giveaway on your blog, please add it to my Family-Friendly Giveaway Linky Page! If you enjoy entering giveaways, you'll always find some great giveaways there.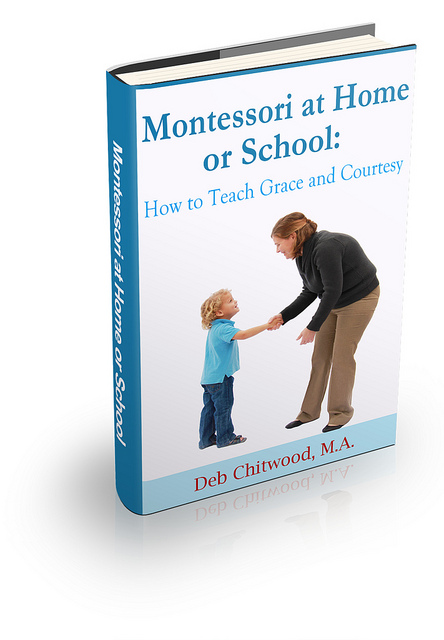 Learn more about my eBook Montessori at Home or School: How to Teach Grace and Courtesy! It's designed to help parents and teachers feel comfortable teaching manners to children ages 2-12. (And courtesy is a great addition to any curriculum.)

Also, if you've ever been linked to in one of my roundup posts, please feel free to grab the "Featured on" badge.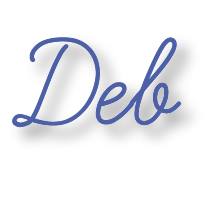 Have you added the Montessori Monday button or a text link? Please be sure you've done one or the other so that others can find the link-up, too!
May be linked to Afterschool Express, Thoughtful Spot, Hip Homeschool Hop, The Mommy Club Resources and Solutions, Mom's Library, A Little Bird Told Me Linky Party, Learn and Play, The Weekly Kid's Co-op, TGIF Linky Party, Preschool Corner, Ultimate Homeschool Pinterest Party, Sharing Saturday, Share It Saturday, Tot School Gathering Place, Link & Learn.