Sensory bins aren't a traditional Montessori activity, but they can be great additions to Montessori homeschools and many types of preschools. I focused on adding some Montessori-inspired activities to a fall sensory bin for a variety of learning activities that can be used with multiple ages.
Disclosure: This post contains affiliate links (at no cost to you).
Fall Sensory Bin – Video
Here's a 15-second video of my 22-month-old granddaughter, Zoey, using her new fall sensory bin. In the video, I especially focus on the practical life activities included in the sensory bin.

Resources Used for Fall Sensory Bin with Practical Life Activities
For preschoolers, you could add tools such as tongs and tweezers for transferring the objects.
Ashland Container and Acrylic Fall Fillers (leaves and apples) from Michaels Craft Store
Split Peas (These were inspired by the apple-themed sensory box at Pink and Green Mama. I like the split peas for their color and interesting texture.)
Sensory Table Resources
I'm very excited about the DIY sensory tables my daughter-in-law, Chea, and I put together! Zoey now has one at her home and one at my home. They have different themes and activities.
To put together the DIY sensory table, we used the directions for "The $30, 30-Minute, Do-It-Yourself Sensory Table" from A Teaching Mommy. Ours cost a bit more than $30, although the price will vary according to where you get PVC pipe. We were able to get our PVC pipe at Lowe's. We didn't want to cut pipe and were lucky that the guys at Lowe's were willing to cut it for us. Chea and I just turned all the PVC pipe sides with writing to the bottom and back.
I found the specified storage container for the sensory tables at Walmart.
The sensory table is designed to be disassembled. We found it best to hammer the pieces together after assembling the table to avoid having the table collapse. So ours are more permanent, which is fine. I plan to have a sensory table available at all times on my balcony or next to my balcony door. Chea plans to have one always available, too. Zoey is absolutely in love with sensory bins/tables!
Math Activities for Fall Sensory Bin
Toddlers and young preschoolers typically need a lot of help with one-to-one correspondence in math. They need to associate one space or object with each number counted rather than simply saying numbers that have little meaning to them.
You could use 5 or 10 of the fall objects. I used 10 of the relaxable apples, yellow acrylic leaves, green acrylic leaves, red acrylic apples, and small red pom poms.
I added a free printable to a nearby table to be used with any of the 10 objects.
To fit the Relaxable Apples, I used the  free ten-frame mat from Math Wire printed at 150%. That size of ten frame wouldn't fit on my page, so I printed out two copies, and taped together parts of two separate ten frames to make one larger ten frame. You could print out your ten frame at a size that fits your largest fall object.
The measuring cups and measuring spoons provide an unconscious math activity for young children. Older children could focus on the measurements and fractions used for measuring.
Older preschoolers could also add and subtract the objects found in the sensory bin.
Related Blog Posts:
Montessori Monday Link-Up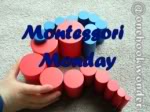 If you have some Montessori activity trays/lessons to share, please link up below. It's fine to link up a post from your archives – and you may link up anytime during the week! Your post may be any Montessori-inspired activity or idea. It doesn't need to be related to my Montessori Monday post.
If you're wondering what's considered "Montessori inspired" and what to link up (or not link up), check out my "What Is Montessori Inspired?" post. Link up your exact post URL so that we can find your activity if we return to the linky at a later date (which I often do when I'm looking for activities for a roundup post). Don't link to giveaway posts (unless the giveaway is only part of a Montessori-inspired post). Giveaways in general should go on my giveaway linky. Also, don't link directly to products. You can link up a review of a Montessori product or activity post related to a Montessori product.
I publish the Montessori Monday post and linky each Monday morning and keep the linky open throughout the week.Please place the Montessori Monday button (using the code from the right sidebar) in your post or put a link back to this post. I do a lot of pinning on Pinterest and sharing on the Living Montessori Now Facebook page from the Montessori Monday link-up. Thanks for participating!
Notes For community discussions, please join us at the Living Montessori Now Facebook page. And don't forget the Saturday/Sunday weekend sharing days where you may share a kid-related activity of any kind at the Living Montessori Now Facebook page! It's also Motivational Monday on Mondays! I invite you to share something positive on the Bits of Positivity Facebook page (Bits of Positivity is my other blog) to help us all get a good start on the work/school week. You might share an inspirational or motivational quote, positive graphic, or post about finding balance or simplifying your life. Or you might share a post on organizing, an encouraging post, a post about making a difference in the world, or a positive parenting post. Just go ahead and share on the Bits of Positivity wall any time today! (Please "like" the Bits of Positivity Facebook page if you haven't already.) I'll be pinning a number of ideas to my regular Pinterest boards.
If you have a giveaway on your blog, please add it to my Family-Friendly Giveaway Linky Page! If you enjoy entering giveaways, you'll always find some great giveaways there.
Don't miss out on the awesome giveaway sponsored by Trillium Montessori! There will be 4 prizes of the A-Z 7 Continents Bundle given away (open worldwide)! The giveaway ends this Saturday at 9pm PST.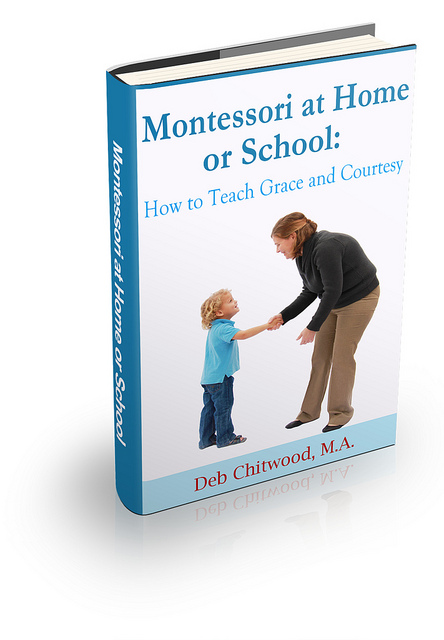 Learn more about my eBook Montessori at Home or School: How to Teach Grace and Courtesy! I'm also one of the coauthors of the book Learn with Play – 150+ Activities for Year-round Fun & Learning!
Also, if you've ever been linked to in one of my roundup posts, please feel free to grab the "Featured on" badge.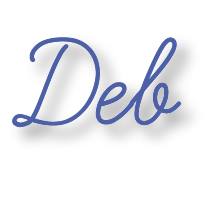 If this is your first time visiting Living Montessori Now, welcome! If you haven't already, please join us on ourLiving Montessori Now Facebook pagewhere you'll find a Free Printable of the Day and lots of inspiration and ideas for parenting and teaching! And please follow me on Pinterest (lots of Montessori-, holiday-, and theme-related boards),Twitter (blog posts by me and others along with the Parent/Teacher Daily and other interesting information), andGoogle+ (post updates and Montessori Community). You can find me on bloglovin', Instagram, and YouTube now, too. And don't forget one of the best ways to follow me by signing up for my weekly newsletter in the right sidebar. You'll get two awesome freebies in the process!
May be linked to Afterschool Express, Thoughtful Spot, Hip Homeschool Hop, The Mommy Club Resources and Solutions, Mom's Library, A Little Bird Told Me Linky Party, Learn and Play, TGIF Linky Party, Preschool Corner, Sharing Saturday, Tot School Gathering Place.