We obviously wouldn't have Thanksgiving without gratitude, and I love to place extra emphasis on gratitude throughout November. Even if you haven't started gratitude activities yet, it isn't too late to prepare one or more gratitude activities for home or school.
You can always have a Thanksgiving display, nature tray, or nature table with a gratitude theme. Along with Thanksgiving activities, To the Lesson! has a lovely gratitude-focused Thanksgiving display in the classroom.
Here are some more Montessori-inspired gratitude activities found online:
Last year, I had a Montessori Gratitude Jar for Year-Round Gratitude as an activity of the week.
The Young Masters Little Wisdom Discovery Program was designed for 4-8 year olds in Montessori schools. The curriculum is being offered as a free download from Dream a World!
Here's a post about the program: What is The Hidden Treasure? Montessori kids find out at New Jersey Montessori School.
Here are some videos from the program:
Young Masters Appreciation Video (game/song)
Young Masters Hidden Treasure Video ("Everyday is a Gift" song)
"Secrets of the Heart" Used in an Elementary School

"Thank You Song" from Dream a World

In addition to gratitude lessons, the curriculum has lessons on friendship, imagination, courage, creativity, and love.
Here's a great song from the friendship lesson:
"Little Seeds of Kindness" (just LOVE this video!)
[youtube]http://www.youtube.com/watch?v=oUYjyWYaMQk&feature=relmfu[/youtube]
You could always include that in your gratitude activities … showing acts of kindness as a way to express our gratitude for all we've been given.
Cathleen Haskins has a post at Montessori Life called Teaching Gratitude: Tools for Inner Peace and Happiness. There are pages of gratitude activities, including making "wants" and "needs" cards and an explanation of the importance of caring for fragile and precious materials.
I have a number of resources for encouraging gratitude at Raising Figure Skaters: How to Help Your Kids Have an Attitude of Gratitude and How to Help Your Kids Have an Attitude of Gratitude, Part 2 with ideas for all ages (not necessarily Montessori-inspired).
Thanksgiving Pinterest Board
I have a Kids' Thanksgiving Activities Pinterest board that I'm filling with Thanksgiving activities of all types and for many levels. I'm adding gratitude activities to the board as well. There are many ideas for thankful trees and other gratitude activities. Just choose an activity that you feel drawn to and that looks like it would be fun and meaningful for your unique family.
What are your favorite family gratitude activities?
Montessori Monday Link-Up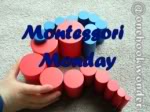 If you have some Montessori activity trays/lessons to share, please link up below. Please also place the Montessori Monday button (using the code from the right sidebar) in your post or put a link back to this post.
And don't forget to visit my co-host, Nicole, at One Hook Wonder! Nicole is the one who started Montessori Monday!
Thanks for participating! (Note: If you have a giveaway on your blog, please add it to my Family-Friendly Giveaway Linky Page.)



Linked to AfterSchool Linky Party, Living Life Intentionally Linky Party, The Mommy Club Resources and Solutions at Milk and Cuddles and Crystal & Co. , Pinterest Tuesday, Show-and-Share Saturday, Link & Learn, and The Sunday Showcase at Mom to 2 Posh Lil Divas and Classified: Mom.