Human anatomy can be a fascinating subject, and many children especially enjoy studying bones. A variety of Montessori-inspired skeleton activities can be used to create a multi-level skeleton unit for preschoolers on up.
October is a fun time to study skeletons. While it might be most logical to study the skeletal system as a part of a whole human anatomy unit, the weeks before Halloween add special interest to the study. Of course, a skeleton unit study is great at any time.
Here are some wonderful Montessori-inspired skeleton printables and activities I found online:
Montessori-Inspired Human Skeleton Printables
Human Body Materials available for purchase from Montessori Print Shop
Free Human Skeleton 3-Part Cards and Book from Montessori Workjobs
Free Bones Printables from Spell Outloud
Montessori-Inspired Human Skeleton Activities
Added Printables and Activities: Free Skeleton Printables and Montessori Inspired Skeleton Activities (2015 post)
Parts of a Skeleton and Sensory Tub – The Human Body from Counting Coconuts
Making a Skeleton out of Pasta from Discovery Days and Montessori Moments
Human Body: Learning about Bones (photo) and Human Body: Simple Model of a Backbone from Spell Outloud as well as Letter Xx is for X-Ray by Maureen from Spell Outloud at Totally Tots
Measuring a Growing Skeleton from Chasing Cheerios
Life-Sized Body Map Kid's Art Project from Pink and Green Mama
X-Ray/Bone Craft from Inspired Montessori and Arts at Dundee Montessori
Skeleton Work from Montessori Journey
Skeleton Lesson from Just Montessori
Skeleton Posts from The Home Teacher
Glow in the Dark Skeleton from Little Wonders' Days
Human Body Unit: Starting Off Again with the Skeleton, Human Body Unit: The Hand, and Human Body (Preschool Unit) – Bones/The Skeleton from The Homeschool Den
Human Anatomy – The Skeletal System, including pasta skeletons, from Mama of Many Blessings
Labeling a Skeleton from We Don't Need No Education
Body Parts, Skeletal System, including Box of Bones Puzzle (online elementary activities that aren't specifically Montessori but are very cool yet without pinnable images) from I. Science MaTe
Montessori-Inspired Animal Skeleton Activities
If you're using a logical sequence, animal skeletons would be studied first, although you might want to just study human skeletons before Halloween.
Bone Unit and Skeleton Unit Lay Out for Parent Day from Inspired Montessori and Arts at Dundee Montessori
Scientific Names and Classifying Animals from Montessori Tidbits
Vertebrate/Invertebrate Lesson from Just Montessori
Piecing Together a Skeleton from We Don't Need No Education
Free Classes of Vertebrates Cards and Little Booklets from The Helpful Garden
Vertebrate Materials available for purchase from Montessori Print Shop
Vertebrate Skeletons available for purchase from Montessori Services (not a printable, but I had them in my Montessori school and homeschool and loved them)
Human Body and Kids' Halloween Activities Pinterest Boards
You'll find more human skeletal system activities of all kinds on my Human Body Pinterest Board as well as more Halloween skeleton activities on my Kids' Halloween Activities Board.
Montessori Monday Link-Up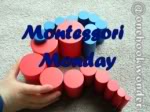 If you have some Montessori activity trays/lessons to share, please link up below. It's fine to link up a post from your archives – and you may link up anytime during the week! Your post may be any Montessori-inspired activity or idea. It doesn't need to be related to my Montessori Monday post.
Link up your exact post URL so that we can find your activity if we return to the linky at a later date (which I often do when I'm looking for activities for a roundup post). I publish the Montessori Monday post and linky at 6:00 a.m. EST each Monday and keep the linky open throughout the week.
Please place the Montessori Monday button (using the code from the right sidebar) in your post or put a link back to this post. Let's use Montessori Monday to gain inspiration/ideas and to encourage each other! If you would leave an encouraging comment on the post linked up ahead of you (along with any other posts you're drawn to), that would be awesome! Thanks for participating!
Notes:
If you have a giveaway on your blog, please add it to my Family-Friendly Giveaway Linky Page! If you enjoy entering giveaways, you'll always find some great giveaways there. You can enter the Pinterest Scavenger Hunt and Giveaway with over $275 of prizes anytime this month!
Today is Breast Cancer Awareness Day. A number of kid bloggers have joined together for breast cancer support. For a word art freebie and "go pink" blog hop, please check out my post at Raising Figure Skaters: Hope Word Art Freebie and Go Pink Blog Hop.
Also, if you've ever been linked to in one of my roundup posts, please feel free to grab the "Featured on" badge.



If this is your first time visiting Living Montessori Now, welcome! If you haven't already, please join us on our Living Montessori Now Facebook page where you'll find a Free Printable of the Day and lots of inspiration and ideas for parenting and teaching!
May be linked to Afterschool Express, Thoughtful Spot, Tuesday Tots, The Mommy Club Resources and Solutions at Milk and Cuddles and Crystal & Co., Mom's Library, The Weekly Kid's Co-op, Hearts for Home Blog Hop, Ultimate Mom Resources, Learn & Link, TGIF Linky Party, Preschool Corner, Ultimate Homeschool Pinterest Party, Sharing Saturday, Saturday Show & Tell, Share It Saturday, Show-and-Share Saturday, The Sunday Showcase, Link & Learn