A number of parents at the Living Montessori Now Facebook page were interested in Montessori playgroups or Montessori homeschool co-ops. My experience is as a Montessori teacher, then Montessori teacher/school owner, and then Montessori homeschooler. As a homeschooler, we took part in co-op groups for extracurricular activities but never in a Montessori co-op.
So, I decided to do some online research and share some resources I found that could help you if you'd like to start a Montessori playgroup or Montessori homeschool co-op. While there are elaborate Montessori co-ops that recruit and hire trained Montessori teachers, I want to focus on Montessori playgroups and co-ops you can set up to be run by parents, whether or not you consider yourself a homeschooler. You could either have a central location for the Montessori classroom or take turns inviting the children into your homeschool classrooms with a common set of rules.
Among her other Montessori posts, Melissa from Vibrant Wanderings has a number of posts on a community homeschool classroom (photo from Our Community Homeschool Classroom post). In their particular Montessori classroom, Melissa was already a certified Montessori teacher, and the classroom is now set up in her home. It's probably closer to a traditional Montessori school than many Montessori playgroups or homeschool co-ops. You'll find lots of helpful information at Vibrant Wanderings even if you have a simpler setup.
Kathy von Duyke has a post on Building a Montessori Homeschooling Co-op at Homeschool World.
Susana from Montessori Candy has a post on Starting a Montessori Co-op.
Sarah from Montessori Messy tells about hosting a twice weekly Montessori playgroup called "Montessori Mornings." (photo)
Colin Wee was the coordinator of a Montessori playgroup in Australia when his daughter was a preschooler. He tells about his experience in a post about Let Your Child Take His Turn at Teach Preschool. He also writes about the Montessori Work Cycle at Ezine Articles. (Note: they use the term "jobs" at the playgroup in Australia, whereas we use "work" in Montessori schools in the U.S.)
Rachel from Racheous shares photos of their Montessori playgroup. UPDATE: Rachel now shares homeschool co-op classes.
Lori from Montessori MOMents is part of a preschool co-op that isn't Montessori based. Lori introduces the children to Montessori materials at her home, though. She has some posts about the co-op such as How to Set Up a Preschool Co-op (photo), How to Prep for Preschool, Writing a Preschool Co-op Daily Schedule, Counting Goldfish, Shell Sorting, Ocean Treasure Sensory Bin, Fish Themed Snacks, and Montessori-Inspired Preschool Flower Unit. (Note: Lori's blog is now private. You'll have to request an invite to read her posts.)
Stay at Home Educator has a series of Preschool Co-op posts, including Preschool Co-op Weeks 1-13 (photo from Preschool Co-op Week 13), a 5-post series on How to Organize a Preschool Co-op, Circle Time for the Mobile Classroom, and Preschool Co-op Q&A. This isn't specifically a Montessori co-op, but many of the activities are Montessori-inspired activities.
Mom's Smile and Krūminu dienas have a homeschool co-op in Latvia. You can use Google Translate, or just get ideas from the photos on the blogs.
Lisa from Our Country Road uses Montessori-inspired trays when she teaches at their monthly homeschool co-op pre-k group: 22 Fun Christmas Activity Trays, Winter and Valentine's Activity Trays, and Summer Fun Montessori Trays (photo).
Stephanie from Discovery Moments shares an example of hosting a Montessori homeschool elementary lesson in The God with No Hands.
UPDATE: The Kavanaugh Report has posts about a Montessori tot-school co-op.
Do you have experience with a Montessori playgroup or Montessori homeschool co-op? If you do, please let me know about your experiences in the comments. If you have a blog post about your Montessori playgroup or homeschool co-op, please share your link so I can add it to the post.
Montessori Monday Link-Up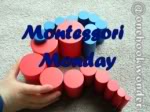 If you have some Montessori activity trays/lessons to share, please link up below. It's fine to link up a post from your archives – and you may link up anytime during the week! Your post may be any Montessori-inspired activity or idea. It doesn't need to be related to my Montessori Monday post.
Link up your exact post URL so that we can find your activity if we return to the linky at a later date (which I often do when I'm looking for activities for a roundup post). I publish the Montessori Monday post and linky at 6:00 a.m. EST each Monday and keep the linky open throughout the week.
Please place the Montessori Monday button (using the code from the right sidebar) in your post or put a link back to this post. Let's use Montessori Monday to gain inspiration/ideas and to encourage each other! If you would leave an encouraging comment on the post linked up ahead of you (along with any other posts you're drawn to), that would be awesome! Thanks for participating!
Notes:
For community discussions, please join us at the Living Montessori Now Facebook page. And don't forget the Saturday/Sunday Parent/Teacher Preparation Days share where you may share a kid-related activity of any kind at the Living Montessori Now Facebook page!
If you have a giveaway on your blog, please add it to my Family-Friendly Giveaway Linky Page! If you enjoy entering giveaways, you'll always find some great giveaways there.
Also, if you've ever been linked to in one of my roundup posts, please feel free to grab the "Featured on" badge.


Have you added the Montessori Monday button or a text link? Please be sure you've done one or the other so that others can find the link-up, too! Thank you!
If this is your first time visiting Living Montessori Now, welcome! If you haven't already, please join us on our Living Montessori Now Facebook page where you'll find a Free Printable of the Day and lots of inspiration and ideas for parenting and teaching! And please follow me on Pinterest (lots of Montessori-, holiday-, and theme-related boards),  Twitter (blog posts by me and others along with the Parent/Teacher Daily and other interesting information), and  Google+ (post updates and Montessori Community). You can find me on bloglovin' now, too. Thank you for following me there. And don't forget one of the best ways to follow me by signing up for my weekly newsletter in the right sidebar. You'll get two awesome freebies in the process!
Linked to Tuesday Tots, The Mommy Club Resources and Solutions at Milk and Cuddles and Crystal & Co., The Weekly Kid's Co-op, Ultimate Mom Resources, Hearts for Home Blog Hop, Learn & Link, TGIF Linky Party, Preschool Corner, Sharing Saturday, Saturday Show & Tell, Share It Saturday, Show-and-Share Saturday, The Sunday Showcase, Link & Learn, Afterschool Express