Disclosure: This page (and blog) contains affiliate links at no cost to you.
My Manners eBook:
My Montessori at Home or School: How to Teach Grace and Courtesy eBook is available! For a number of days, it was the #1 homeschooling book on Amazon, and it's consistently a homeschooling bestseller! It's designed to help parents and teachers feel comfortable teaching manners to children ages 2-12. Please read more about it here: Montessori at Home or School: How to Teach Grace and Courtesy eBook Is Out!

Sponsor Specials:
Affiliate Specials:
Little Passports: 15% OFF SITE-WIDE SAVINGS AT LITTLE PASSPORTS! This sale ends on 12/15.Use coupon code CHEER15 at checkout!
Montessori Helper: Crazy Xmas Deal of 60% off premium subscription ($37 instead of $99)! Also, take advantage of MontessoriHelper's Xmas Freebie and download the Free Version of the Montessori Helper ebook How your Child can learn to Read and Write Before 6: Using the Montessori Method (Free Version). It includes all the Pink Language Materials for free.

You can also get Montessori Helper's Free Android App at the same time which includes the same Pink Materials that you can use an abstract extension of the pink language activities.

Montessori Services: Sale products!

For Small Hands: Sale Products!

Free shipping upgrade when you purchase $40 or more in merchandise and ship within the contiguous U.S.  At checkout, select Expedited Ground Upgrade to receive the upgrade.

Educents: Eudcational discounts and freebies every day!
Melissa & Doug Toys: Free Wooden Shape Sorting Clock with purchase of $40 or more; $10 off orders of $50 or more with code

HOLIDAY10

at checkout; Free shipping on orders over $25 with code

FF25

at checkout!
Family Time Fitness: Fitness 4 Homeschool 3 Year Membership Regularly $324 Now $27 (92% off)! Get some ideas for using Family Time Fitness products with preschoolers: Montessori-Inspired Physical Fitness for Preschoolers.
Amazon: Check out specials in gifts for young readers, holiday toy list (choose your category at the top of the page … such as Wood and Recycled or S.T.E.M) and Montessori!
My Sponsors:
I really appreciate when you visit my sponsors. They are companies I'm happy to promote.
Montessori Print Shop is one of my favorite Montessori suppliers, offering over 1,000 digital files of beautiful printable Montessori materials.  Here's my Sponsor Spotlight – Montessori Print Shop. Be sure to check out all the many features at Montessori Print Shop from helpful tutorials to free printables to Montessori printables of all kinds!
Montessori Compass, an incredibly user-friendly, web-based software application that provides online Montessori record keeping, school management, and parent communication from any web-enabled device. Sign up for Montessori Compass using the promo code LivingMontessoriNow and get a 14-day free trial and 50% discount for the first 3 months!
Montessori at Home has the revised eBook Montessori at Home: The Complete Guide to Doing Montessori Early Learning Activities at Home, and the condensed version in paperback Help Your Preschooler Build a Better Brain: Early Learning Activities for 2-6 Year Old Children. For just $10.95 for the e-book's 3rd edition, you get 512 pages of Montessori early-learning activities and ideas for use at home with 3-7 yr. olds!
I think
Spielgaben educational toys
are ideal for home and classroom use. See my
Spielgaben review
and
Spielgaben activity posts
for more information about Spielgaben. Even though they aren't inexpensive, they're definitely worth the price because of the high quality of materials and number of years your children or students can use them (ages 3-12).
Spielgaben

offers a special discount for my readers each month. All you need to do to claim your discount is send an email to

info@spielgaben.com

mentioning Living

Montessori Now

and you will be provided with a discount coupon!
Trillium Montessori has a section of beautiful free printables for subscribers … definitely worth signing up! Trillium Montessori also has a Teachers Pay Teachers store (link at Trillium Montessori) with complete packs of Montessori-inspired printables available for purchase. You'll find Montessori printables plus Montessori-inspired seasonal-, holiday-, and themed packs. Trillium Montessori has free printables at Teachers Pay Teachers, too! And you'll find lots of ideas for using the themed packs in the blog posts at the Trillium Montessori site!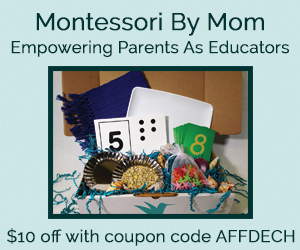 Montessori By Mom was started by two teachers to empower parents to teach their own children using Montessori principles and activities. Parents subscribe to receive a box of themed Montessori materials and activities for 3-5 year olds each month. Everything you need for teaching your child with the materials is included in the monthly subscription. Montessori By Mom also has a store with individual toolboxes and activities for sale. Montessori By Mom is an amazing service, which you can learn more about here: Shells and Starfish Activities + Free Printable from Montessori By Mom.
Artterro is an award-winning company with open-ended, artist-quality kits for creative kids, tweens and teens. Artterro offers high-quality, natural materials and is an ecologically minded company. You can read more about Artterro in my review post. Check out the New & Improved Artterro web store! Now featuring creative gift sets, eco art kits, crafting tools and supplies, plus tons of art inspiration, DIY tutorials and resources for your family.
LMN10 for Free Shipping and 10% off any order at Artterro.com through Dec. 17th
Little Partners is the manufacturer of the Learning Tower, the amazing "step stool" that safely encourages independence and helps children ages 18 months to 6 years work alongside their parents in the kitchen. It's very Montessori-friendly. You can read my review at Little Partners Learning Tower Review and Giveaway (ARV $200)!  Special Deal!!! If you purchase the Learning Tower in December with code december at checkout, you'll get $20 off plus free puppet theater and free shipping (total savings of $40.99)!

Alison's Montessori has Montessori materials for infants and toddlers through upper elementary. You'll find a Value-Line E-Catalog, Premium E-Catalog, and other resources such as PDF files, books, arts and crafts, and enrichment materials. There's even a bargain basement! Read my review of Alison's Montessori materials. On orders of $75 or more from the Alison's Montessori online store, my readers can save $10 by using coupon code LMN at checkout!
Disclosure:
My sponsors pay for advertising space on my blog, and I'm also an affiliate for some other companies. These are only products and companies I believe are good. Many of them are products I've used. Others are new products that weren't around when I was raising my children but that I would have used.
My Affiliate Companies:
When you're interested in a product I recommend, I really appreciate it when you purchase it through my affiliate link or banner ad. You just have to click on the banner ad or link and then purchase like you normally would from the company store the link leads to. You'll receive the same prices and deals as if you went directly through the company's link. If you go through my affiliate links, though, I'll be given a small commission on your purchase.
Montessori Services and For Small Hands
I'm thrilled to be an affiliate for Montessori Services … an absolutely FABULOUS company that has been one of my very favorite Montessori suppliers from the time I owned a Montessori school in the 1980s. It was also one of my favorite Montessori suppliers when I was a Montessori homeschooler in the 1990s. The materials from Montessori Services are just as wonderful today (even more so, since there are more of them)! Montessori Services has two sites … Montessori Services and For Small Hands. Montessori Services has LOTS of products that are perfect for Montessori teachers, schools, and homeschools. Their focus is the primary classroom (3-6 years old) and practical life is their specialty. They do offer products in all curriculum areas, though, and for children younger and older than ages 3-6.
For Small Hands offers products specifically for Montessori at home. Child-size cooking, cleaning, woodworking, and yard & garden products are unique offerings you'll find at For Small Hands. They also have a wide range of educational games and toys that work well as complements to a Montessori education. Their main age group is 3-6, but they have products for younger and older children as well.

You'll find some of my favorite Montessori toys for babies and toddlers featuring a number of toys from For Small Hands in my Best Gifts for Kids: Montessori-Friendly Baby and Toddler Toys.
Amazon
Disclosure: Deb Chitwood is a participant in the Amazon Services LLC Associates Program, an affiliate advertising program designed to provide a means for sites to earn advertising fees by advertising and linking to Amazon.com.
What can I say? Amazon has just about anything  … and at a good price!
Special 30% Discount at Montessori Helper for My Readers
Montessori Helper has an amazing offer specifically for my readers! Unlimited acess to all 250+ lessons and PDF Materials is normally $99. By clicking on my ad, you'll get Premium Unlimited Membership for all materials for $69!
Little Passports
I'm excited to be an Ambassador for Little Passports! You can learn about the program in my introductory post: Montessori-Inspired Little Passports Global Adventure. You can find out more and subscribe at Little Passports.
Melissa & Doug Toys
What can I say? … I love Melissa & Doug Toys!
Family Time Fitness
Family Time Fitness is a fabulous program for homeschoolers and for any families that want to get fit together!
Great Foreign Language Programs
I think these are all wonderful! What works best for your family depends on individual learning styles and time and budget available for learning a foreign language.
Lisa Nolan Montessori for the Earth Online Lesson Plans and Programs
If you've been reading my blog, you're probably familiar with Lisa Nolan from Lisa Nolan's Confessions of Montessori Mom Blog. Lisa Nolan is a 3-6 and 6-9 trained Montessori teacher with over 20 years of experience as a Montessori educator. Lisa offers affordable detailed online lesson plans and albums. Lisa's programs are homeschool-friendly, giving special care to parents and educators who want to teach Montessori at home or as an addition to their other curricula.
Many parents are unsure of transitioning to Montessori elementary, and Lisa uses her experience as a Montessori 6-9 teacher to provide help for that age level! Click on the image for lots of information about Lisa's online programs.
Educents
Educents has discounted educational products and special deals each week.
CurrClick
CurrClick offers discounted educational products and interactive online classes.
Gymboree
Gymboree was one of my favorite clothing companies when my daughter was little. I'm excited to see it's still around for my granddaughter, who'll be born in November 2013!

Janie & Jack
A great company affiliated with Gymboree!
Magic Beans
Magic Beans wasn't around when my children were little, but my family would have loved it. I like its high-quality baby gear and toys for all ages.
My Memories Digital Scrapbooking Software
I LOVE My Memories Suite 2.0! It's the easiest digital scrapbooking software I've used, yet it can create professional-looking pages the same as my Paint Shop Pro. Here's a review I did about the software: #1 Rated My Memories Software. My Memories has a special coupon code for my readers (and your friends and family): If you use the coupon code STMMMS48784 at My Memories upon checkout, you'll receive a $10 discount off the purchase of the My Memories Suite Scrapbook software and a $10 coupon for the MyMemories.com store – a $20 value! My Memories also has some freebies (freebie links typically change weekly)! Freebie 1 Page: http://www.mymemories.com/store/share_the_memories_kit_1 Freebie 2 Page:
http://www.mymemories.com/store/share_the_memories_kit_2
Freebie 3 Page:
http://www.mymemories.com/store/share_the_memories_kit_3
Problogger
I LOVE 31 Days to Build a Better Blog! It's a very inexpensive and effective way to improve your blog! I've gone through the 31-day program twice, gaining new knowledge and inspiration to improve my blog both times. Darren Rowse from ProBlogger has lots of other great products as well.
Disclaimer:
The owner and writer of this blog accepts no liability. Readers following instructions and suggestions made by the owner and writer are responsible for their own safety and the safety of minors in their care. All activities require adult supervision. Any product claim, statistic, quote or other representation about a product or service should be verified with the manufacturer, service provider, or party in question.