We have a sweet new printable pack … a baby animal themed, editable name and word tracing pack! Although many baby animals are born in the spring, I've also included baby animals that can be born at any time of year.
The baby animal images and personalized names add interest to the task of name recognition and writing. The pack can be edited for another language or cursive, too. For toddlers and young preschoolers, you can even personalize the names without dotted lines for tracing.
Disclosure: This post contains affiliate links (at no cost to you).
Montessori-Inspired Printables at Living Montessori Now
My daughter, Christina (a former Montessori child), and I have partnered to bring you a series of Montessori-inspired printables. The printables are typically themed and use a number of Montessori principles (although you don't need to be a Montessori teacher or homeschooler to use them):
They use isolation of quality.
They use photographs or realistic images to emphasize reality.
They typically use traditional Montessori colors such as red for consonants and blue for vowels.
They emphasize lowercase letters, which are what we introduce letter sounds with in Montessori education. (Children tend to pick up the uppercase letters without being introduced if they're introduced to the lowercase letter sounds.)
They often feature themed printable versions of Montessori materials.
Baby Animal Themed, Editable Name and Word Tracing Pack – and How to Use It for for Regular Print, Manuscript Tracing, or Cursive Tracing
The Baby Animal Themed, Editable Name and Word Tracing Pack is a new product in our Living Montessori Now shop! This baby animal themed printable tracing pack can be customized for names or words in English or another language … a low-prep activity that's perfect for classroom or home! There are 121 printable pages and 72 different realistic images. The 97 editable pages are compatible with print or cursive fonts.
This is a Montessori-inspired pack to help with name recognition and writing, sight word reading and spelling, animal identification, and learning baby animal names. It's designed for home or classroom. Preschool teachers will find many images that are perfect for classroom names. A blank, editable page at the end allows for sticker images or glued-on images that aren't included in the original pack, such as baby photos from individual children. The 125-page pack is $12.95
There are directions for using a manuscript dotted print in the pack itself. If you'd like to use another font, you can! (Just choose it from your drop-down menu you'll find through the pack's directions.) If you'd like a cursive dotted font, there's one available for free: Learning Curve Ruled via Blue Vinyl Fonts. Just download and install it on your computer for cursive tracing!
If you'd like to use a manuscript font that's not dotted (for name recognition for toddlers or young preschoolers), you can use that in the same way. The Print Clearly Font via Blue Vinyl Fonts is free. (Again, just choose it from your drop-down menu you'll find through the pack's directions.)
The first pages are in English manuscript dotted print. Pages 29-125 can be edited in print, cursive, or another language.
Pages 29-52 are editable pages with 3 different baby animals on each page.
Pages 53-124 are editable pages with 3 of the same animal on each page.
Page 125 is a blank, editable page that allows for sticker images or glued-on images that aren't included in the original pack, such as baby photos from individual children. It's fun for children to add their baby photos. You can add an editable version of their name to reinforce the concept that baby humans are baby mammals, too.
Some Ways to Use the Name and Word Tracing Printables
There are so many different ways you can use this printable. Here are just a few ways. Note: I'll be adding more as soon as I've edited some of our current photos!
Making a Baby Animal Book (2022 – Baby Animal Themed, Editable Name and Word Tracing Pack)
My 4-year-old grandson, Caleb, was excited about the baby animal names printable and wanted to make all the baby animals into a book. You can just use the cover that says "Baby Animal Names," although I used one of the editable cover pages to make "Caleb's Baby Animals" for the traceable cover. Caleb will do one or a few pages as he wishes until his book is complete. Kitten is the first page, so Caleb traced the word "ktiten." He loves using the movable alphabet, so he also built the word "kitten." Then he wanted to look through the book at all the baby animals while we discussed what each baby animal is called.
Making Baby Name Signs (2022 – Baby Animal Themed, Editable Name and Word Tracing Pack)
A fun way to reinforce the idea that we're mammals is for children to make a name sign using the blank page from the Baby Animal Themed, Editable Name and Word Tracing Pack. Even though older children don't do as much word tracing, this was a fun activity for my 4- and 8-year-old granddaughters to do together.
I printed out a small copy of their newborn baby photos (Zoey wanted two photos), and they decorated their name signs. I left the sign blank for Zoey to write her own name without tracing. I made a dotted print version of Sophia's name for her to trace. Then they decorated their signs with acrylic gems. Sophia loves using lots of glue and covering her page with gems, but Zoey was very supportive of however Sophia chose to make her sign! It was a fun project, and it inspired Zoey to want to make a book of her first 8 years. So that's the next project!
Making Name Signs (Activity from 2021 – Spring-Themed, Editable Name and Word Tracing Pack)
This activity is easily adaptable for a variety of ages. Even children who don't need to work on their names can enjoy an art project of decorating their name for their room. In a room with other children, a name sign can be used to mark a child's work that shouldn't be disturbed. The finished name signs can also be used for hooks, cubbies, or any place you'd like a name or word label.
Each of my grandkids chose one of the images from the newly revised and expanded pack. Caleb (3) chose a goat kid. Caleb isn't 3½ yet, so I just gave him a sheet of miniature rhinestone stickers to decorate his name sign. He was very careful to put stickers exactly on the dots and was excited to take his sign home.
Zoey (7) chose a lynx kitten, and Sophia (3) chose a rabbit kitten. I made both Caleb's and Sophia's signs in print and Zoey's in cursive. I typically teach print first and then cursive, but many choose to teach cursive first. There are benefits to either way, so I think you should just choose for your unique situation.
Zoey wanted to make a decorative name sign. She chose to trace her name with a permanent marker for her sign. Then she decorated the cursive letters carefully with the miniature rhinestone stickers before adding other gems and written designs. Sophia made artistic designs with the miniature rhinestone stickers on hers. Zoey and Sophia also wanted to take their signs home for their room.
Name Tracing (Activity from 2018 – first version of the Spring-Themed, Editable Name and Word Tracing Pack)
Children can trace either their first name or first and last name. When the spring pack was first published in 2018, Zoey was 4 years old and already knew how to spell her first name. So she worked on her first and last name.
In early tracing work, I like to show where to start each letter when tracing the name with a marker, pencil, or crayon. It takes a lot of practice for young children to become comfortable with both forming the letters and starting the letters in the correct place each time.
Rainbow writing is a fun way to practice name tracing, word tracing, or number tracing. Typically, the colors of the rainbow are used. For example, the child will trace over his or her name in red, then orange, then yellow, then green, etc., to create a rainbow of colors. It adds interest to writing.
Word Tracing (Activity from 2018)
If you're working on word writing and would like help with introducing phonetic sounds, introducing object with sounds, or beginning phonics in general, check out my DIY Beginning Montessori Phonics with Preschoolers.
The day after Zoey worked on her last name in 2018, I decided to help her analyze her name using the Montessori movable alphabet. We focused on the "ch" phonogram in "chick." In addition to using the chick label from the pack, we used a chenille chick and our small wooden movable alphabet.
Zoey enjoyed the work and liked learning more about the "ch" sound.
If you're wondering how to introduce phonograms, you'll find ideas in this post: Phonics: How to Introduce Words Starting with Phonograms.
More Ideas from Personalized Holiday Name Tracing for Preschoolers – YouTube Video
This short video of my then-4-year-old granddaughter, Zoey, shows just a few more ways the name-tracing part of the printables can be used.
You can read more about our Holiday-Themed, Editable Name and Word Tracing Pack here. You can use a variety of fonts (including cursive) with this pack, too!
The Living Montessori Now Shop
We have some wonderful products for you in our Living Montessori Now shop! Be sure to check them out while you're there. The prices are very reasonable, and you'll find lots of help for Montessori at home or in the classroom.
April 2022: Here's a list of our editable tracing packs:
Free Printables at Living Montessori Now
See my Free Montessori Printables category for free Montessori-inspired instant downloads.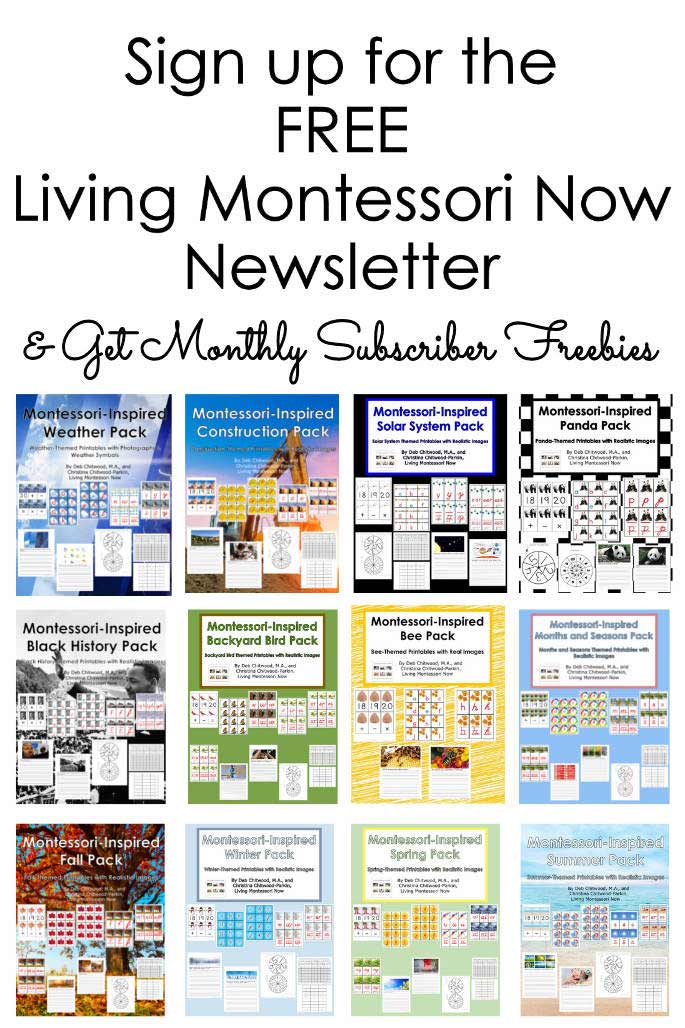 Don't miss our subscriber freebies (see list of available subscriber packs)! You'll get a monthly freebie with link and password if you subscribe to the Living Montessori Now weekly newsletter!
You'll also find more free printables through my free printables page.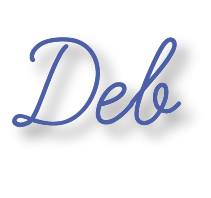 Learn more about my eBook Montessori at Home or School: How to. Teach Grace and Courtesy!
If this is your first time visiting Living Montessori Now, welcome! If you haven't already, please join us on our Living Montessori Now Facebook page where you'll find a Free Printable of the Day and lots of inspiration and ideas for parenting and teaching! And please follow me on Instagram, Pinterest (lots of Montessori-, holiday-, and theme-related boards), and YouTube. While you're here, please check out the Living Montessori Now shop.
And don't forget one of the best ways to follow me by signing up for my weekly newsletter. You'll receive some awesome freebies in the process!