Preparing a Montessori-friendly home environment can seem daunting, but you can do it bit by bit. It doesn't even have to cost much. And the results are priceless!
John Bowman's Montessori at Home eBook (available exclusively in the Living Montessori Now shop) is filled with amazing ideas for families. John Bowman has some great advice about preparing a Montessori-friendly home.
Here's an excerpt from John's book with some of his introductory advice. (Note: Because my blog dimensions are different, the layout won't be the same as in the Montessori at Home eBook.)
Children absorb their immediate environment. Montessori designed her Prepared Environment to be clean, orderly, and attractive. A disorderly, chaotic environment encourages these qualities in your child's brain. An attractive, orderly environment helps your child's brain develop more optimally. You don't have to make your home a showplace or spend a lot of money. Simple tips:
Keep it clean. As soon as your child is able, she can help you keep your home clean. Children can learn to sweep, dust, clean glass, polish silver, help with laundry, and many other home chores. Regular times set aside for cooperative cleaning encourages good habits and responsibility as well as maintaining a clean environment. See page 116.
Reduce clutter. Unattractive spaces can be transformed by eliminating clutter and focusing on a few pieces. Reducing the clutter on every wall, shelf, and surface in your home can dramatically improve the environment's aesthetic. Garage sales, Ebay, and Goodwill are your friends in fighting your inner pack rat. Consider adding shelves in your garage or basement for those items you just can't part with.
Make a child-sized work area. A child sized table and chair will get your child's personal work area started nicely. Later, you can add low shelves to hold your child's toys, learning materials, books, and decorative items. Consider a good quality set made of natural wood. Here are DIY table plans.
Use a variety of materials. Glass, wood, woven baskets, wool, pottery, fabrics, nuts, gourds, dry grasses, flowers, stones, and other materials add texture and interest. Your child needs exposure to more than synthetic fabrics and plastic. Let your child touch!
Take it outside. Montessori believed that nature talks to children. You don't need a landscaper to have an attractive, interesting outdoor environment. Get started with simple steps, then check out the internet, home improvement stores, and magazines for ideas and develop a plan. Kids need lawn areas to move freely. A play set with different movement and climbing opportunities is always welcome.
A simple stone or brick patio with a table, umbrella, and chairs is not hard to create, makes a great family project, and provides a place for eating and outdoor activities. Grow flowers and vegetables in pots if you don't have room for a garden.
Display works of art. High quality art prints add a wonderful aesthetic quality to your child's environment. Mix classic and modern works and a variety of styles, including art photographs. AllPosters.com is an example of a source of large art prints of famous works for as little as $2.99. Check out sites like Displays2GO for cheap poster frames. Interesting sculptures and cultural items are also good.
Play music. Music, especially classical and other complex kinds of music, promotes brain development. Play music instead of having the TV on all the time. When your child feels like it, encourage him to dance. Dancing is a wonderful large motor activity that promotes coordination and balance.
Excerpt used with permission of John Bowman.
The book continues on with specific ideas for various parts of the house.
Montessori at Home! eBook Available Exclusively at Living Montessori Now!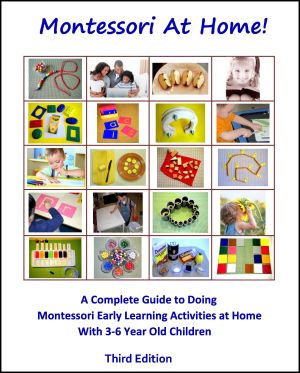 The 3rd edition of Montessori at Home! eBook is only $6.95 (formerly $10.95) for 512 pages with over 300 early-learning activities!

In the eBook, you'll also find a quick start guide, 225 educational digital tablet app recommendations, hundreds of links to sites, blogs, and videos, and 76 pages of printable materials!
You can get a free download of 51 sample pages from Montessori at Home eBook by clicking here! (This includes information on John's simplified Montessori reading sequence.) 
Here's the direct link to the purchase page for Montessori at Home! eBook. Here's the direct link to the purchase page for the Montessori at Home! Materials Bundle,which includes the Montessori at Home eBook AND over $60 worth of Montessori Print Shop materials to go with the book (now only $15.95)!
The Montessori at Home! eBook and Materials Bundle Available Exclusively at Living Montessori Now!
Here's the list of 21 printable Montessori materials included in the bundle:
Phases of the Moon (3-part cards & chart)
Animals of the Continents
Continents 3-Part Cards
Land & Water Form Photo Book
World – Control Maps, Masters and Labels
Moveable Alphabet – Print – (includes full instructions)
Sentence Cards – Step 1 – Set 1
Word and Picture Cards – Step 1 – Read Pictures
1-100 Math Series
Geometric Matching Cards
Geometric Solids 3-Part Cards – Blue
Skeleton Nomenclature Cards
Tree Nomenclature Cards
Phonics Sound and Picture Sorting
Association of Objects
What Does Not Belong
The Five Senses
Plant or Animal?
Animals and Their Names
Color Grading Cards
Metal Insets – Shape Outlines
Excerpts and Activities from the Montessori at Home eBook
Montessori at Home! eBook is one of the books I recommend first for parents interested in Montessori education. You can read all the excerpts from the book that I've shared here at Living Montessori Now:
Activities with Marbles and Golf Tees from Montessori at Home!
Building a Flashlight and Pipe Building from Montessori at Home!
1000-10,000 Activity from Montessori at Home!
Make Fossils from Montessori at Home!
Cutting with a Knife from Montessori at Home!
Free Play Tubs (Sensory Bins) from Montessori at Home!
Create an Attractive Home Environment from Montessori at Home!
 Concentration and Normalization from Montessori at Home
How to Prepare a Montessori Jar for Meaningful Preschool Activities at Home (an activity prepared using one of the book's printables)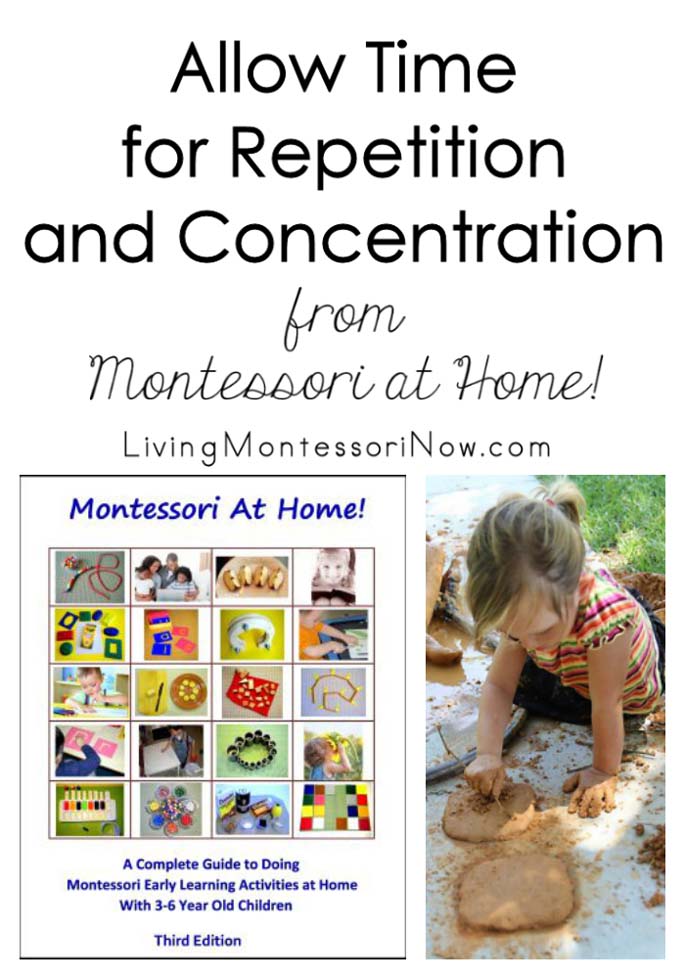 Allow Time for Repetition and Concentration from Montessori at Home!
Preparing Montessori Spaces in Your Home
See "How to Create a Montessori-Friendly Home" for ideas for a number of levels. Here are some of my main home environment posts:
Jo Ebisujima and I have a free Montessori at home webinar and introduction to our Montessori Crash Course.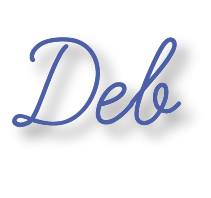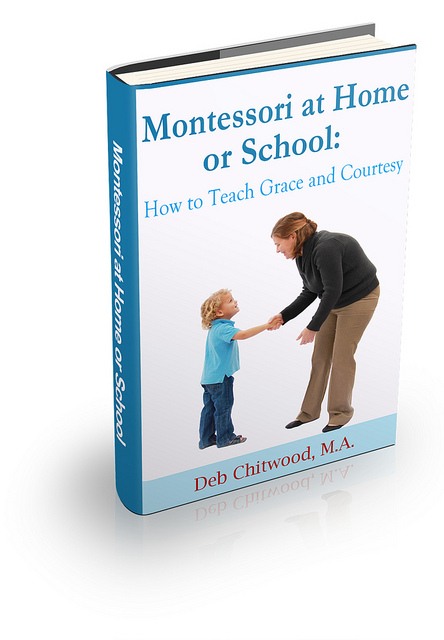 Learn more about my eBook Montessori at Home or School: How to. Teach Grace and Courtesy! I'm also one of the coauthors of the book Learn with Play – 150+ Activities for Year-round Fun & Learning!
If this is your first time visiting Living Montessori Now, welcome! If you haven't already, please join us on our Living Montessori Now Facebook pagewhere you'll find a Free Printable of the Day and lots of inspiration and ideas for parenting and teaching! And please follow me on Pinterest (lots of Montessori-, holiday-, and theme-related boards), Twitter (blog posts by me and others along with the Parent/Teacher Daily and other interesting information), and Google+ (post updates and Montessori Community). You can find me on bloglovin', Instagram, and YouTube now, too.
And don't forget one of the best ways to follow me by signing up for my weekly newsletter. You'll get two awesome freebies (and a monthly subscriber freebie) in the process!
May be linked to Practical Mondays Link Up, LouLou Girls, Hip Homeschool Hop, Tasty Tuesdays, A Little Bird Told Me Linky Party, Link-ups at Squishable Baby, Preschool Corner, Sharing Saturday, Tot School Gathering Place