My children were obsessed with miniature language objects as toddlers and preschoolers. Like them and many other children, my 3½-year-old granddaughter, Zoey, has the same obsession. I've always wanted an attractive and inviting way to keep language objects organized. I'm excited today to let you know about our new Montessori-inspired printables that will help you organize language objects in an attractive and inviting way.
Montessori-Inspired Printables at Living Montessori Now
My daughter, Christina (a former Montessori child), and I have partnered to bring you a series of Montessori-inspired printables. The printables are typically themed and use a number of Montessori principles (although you don't need to be a Montessori teacher or homeschooler to use them):
They use isolation of quality.
They use photographs or realistic images to emphasize reality.
They typically use traditional Montessori colors such as red for consonants and blue for vowels.
They emphasize lowercase letters, which are what we introduce letter sounds with in Montessori education. (Children tend to pick up the uppercase letters without being introduced if they're introduced to the lowercase letter sounds.)
They often feature themed printable versions of Montessori materials.
DIY Alphabet Box Multi-Level Printables
This is a new product in our Living Montessori Now shop! You'll get printable labels for your alphabet box with lowercase letters in manuscript, D'Nealian, and cursive. Choose whichever you'd prefer. Any of those would be great for Montessori homes or classrooms. In Montessori education, we typically only introduce phonetic sounds rather than letter names and lowercase letters rather than uppercase letters. Children tend to spontaneously pick up both the letter names and uppercase letters.
If you prefer both uppercase and lowercase letters, there are labels for each picture with a capital letter and lowercase letter in manuscript, D'Nealian, or cursive. I realize that many preschool teachers prefer to have both together.
Because there are 30 drawers in many craft supply cabinets, we have labels for the phonograms ch, ph, sh, and th. I find that these often need to be introduced to children who are learning beginning sounds when they get confused by words like "shark." I have a helpful post on how to introduce words that start with phonograms to young children. Of course, feel free to use these four drawers for something else.
Recommended Resources for Preparing Your Alphabet Box
Disclosure: This post contains affiliate links (at no cost to you).
After downloading the Alphabet Box Labels and Movable Alphabet in Manuscript, D'Nealian, and Cursive, just print the labels in your desired font on cardstock or photo paper, laminate if desired, cut out, and tape each label to a drawer.
More Activities Using the Alphabet Box Labels and Movable Alphabet for Multiple Ages
We have a page of the letter sounds and phonograms with pictures at the beginning of the pack. You can use that for vocabulary and to help even toddlers hear beginning sounds. They don't need to learn to identify letter sounds yet, but it's helpful if they start to hear what sounds words begin with.
Here's an example of the cards and objects in my letter "s" drawer. Yes, they all fit easily in the drawer! A child could get out two or more drawers and then sort the letter cards and objects into the correct drawers.
You can work on beginning sounds with 1, 2, or 3 drawers at a time. Here's Zoey sorting the objects and letters (extra copy of the drawer labels plus a movable alphabet letter in manuscript, D'Nealian, and cursive) from the m, t, and p drawers. We just emptied the drawers onto the table, and then she sorted them out again. Zoey also loves just looking through the drawers.
A child who's ready to build words can use some of the objects and the printable movable alphabet in whichever font you prefer to build words. An older child could even build sentences. Capital letters and punctuation symbols included for sentence building.
If you'd like help with introducing phonetic sounds, introducing object with sounds, or beginning phonics in general, check out my DIY Beginning Montessori Phonics with Preschoolers.
The Living Montessori Now Shop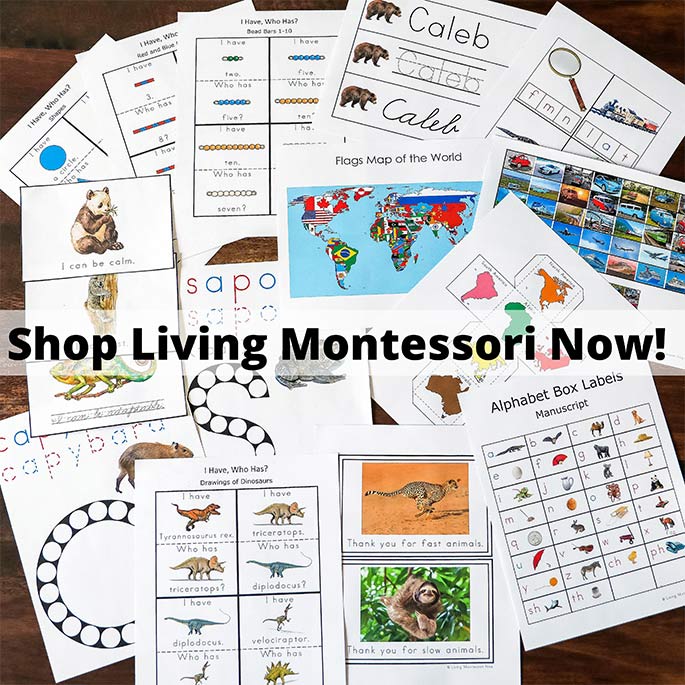 We have some wonderful products for you in our Living Montessori Now shop! Be sure to check them out while you're there. The prices are very reasonable, and you'll find lots of help for Montessori at home or in the classroom.
Free Printables at Living Montessori Now
See my Free Montessori Printables category for free Montessori-inspired instant downloads.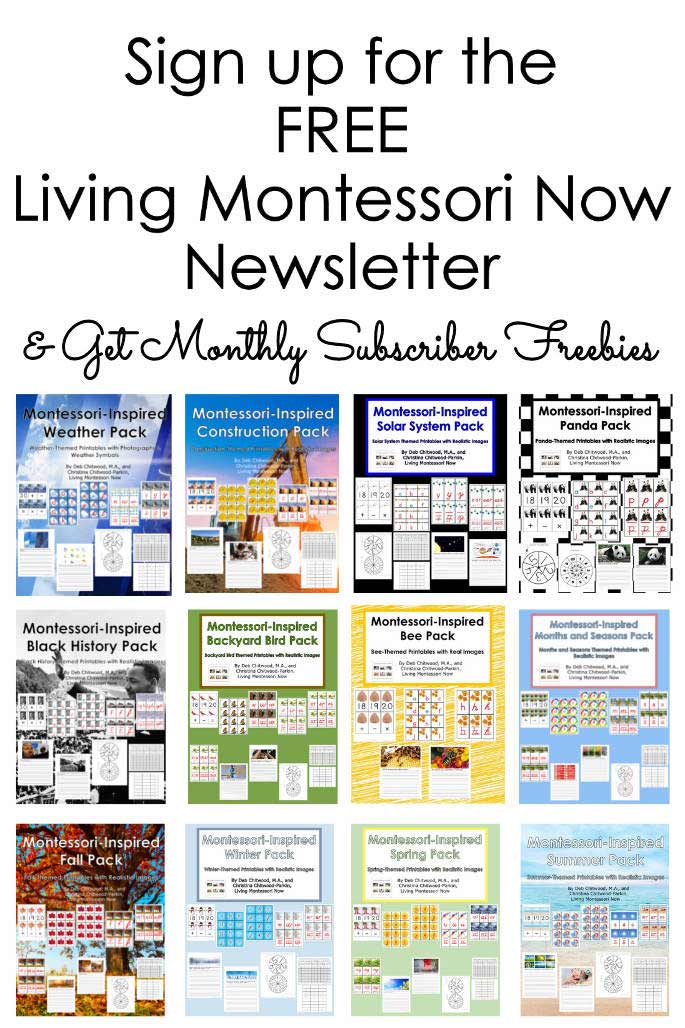 Don't miss our subscriber freebies (see list of available subscriber packs)! You'll get a monthly freebie with link and password if you subscribe to the Living Montessori Now weekly newsletter!