Montessori homeschoolers often wonder which Montessori materials they need to buy. Cards and counters are one of the easiest Montessori materials to create. Although Montessori schools generally have the traditional cards and counters materials, there's no need to purchase cards and counters for home use.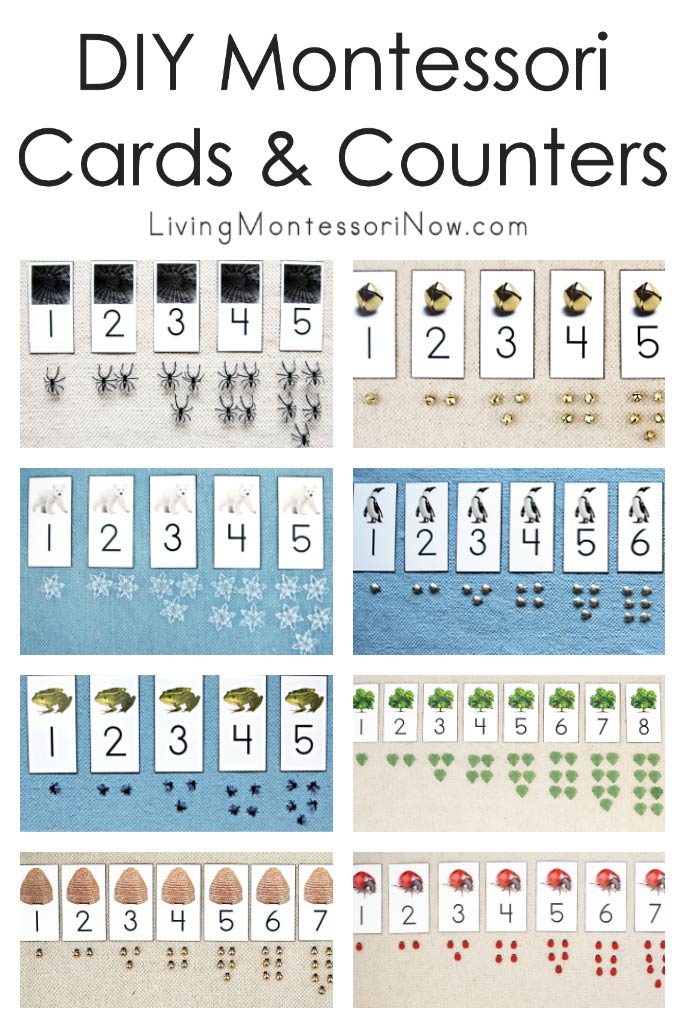 Creating your own cards and counters also has the advantage that you can vary your activity according to season, holiday, or theme. There are even variations you can use outdoors with no advanced preparation needed.
Normally cards and counters are presented after the red and blue rods (to introduce quantity), sandpaper numerals (to introduce symbols), and spindle boxes (to associate quantity and symbol). For home use, you may want to introduce cards and counters after your child has been introduced to some of the sandpaper numerals. You can always introduce cards and counters for 1-3 or 1-5 rather than 1-10.
What you'll need:
Numerals 1-10 and 55 objects (or the number of objects to match the numbers you'll be presenting).
Note: For the activity, you'll have the exact number of counters needed (for example, 55 counters for numerals 1-10) as a control of error.
DIY Cards and Counters Outdoors
Cards and Counters outdoors typically require no preparation in advance except for finding 55 objects, whether they're rocks, pine cones, leaves, acorns, or seashells and writing the numerals with chalk or drawing them in the sand or dirt.
I have blog posts with examples of outdoor numbers and counters: seashells at the beach, pine cones, or acorns.
DIY Cards and Counters for any Season
I have free cards (instant download) for playdough cards and counters. (Although the same printable can be used for any season or theme, I have free printables to go with the numbers and counters for playdough work in the fall, winter, spring, and summer.) You could also use the number cards with whatever object you choose, such as glass gems, buttons, pom poms, or another type of counter.
DIY Themed or Seasonal Cards and Counters
You can be creative in finding numbers and counters for any theme.
Often, you can create activity trays using free preschool printables. You can print out your number cards and add objects for counters.
You'll find some ideas of DIY cards and counters using free preschool printables in my post called "Do You Need to Buy Montessori Cards and Counters?"
I have themed number cards in each of the Montessori-inspired monthly themed packs for my newsletter subscribers. Those can be used to make DIY cards and counters. I often show examples of ways to use them in the related blog post.
Seasonal and Themed Cards and Counters
As I mentioned, outdoor cards and counters using autumn leaves for the counters would be a great autumn activity. Collecting 55 autumn leaves with your child would be half the fun!
Indoor seasonal cards and counters often have the numerals in a seasonal format along with counters that fit the theme.
Here are a few examples of cards and counters through the year using number cards from our themed monthly subscriber freebies. (Note: The photos typically show 1-5 or 1-10, although there are always enough number cards for 1-10 in my subscriber freebies.)
Recycling Numbers and Counters (can be used for a Kissing Hand theme for the start of the school year or for a forest theme)
Spider Cards and Counters (can be used for a spider unit or for Halloween)
Jingle Bell Cards and Counters
Polar Bears and Snowflakes Cards and Counters
Penguins and Fish Cards and Counters
Hockey Player and Pucks Cards and Counters
Frogs and Flies Cards and Counters
Recycling Cards and Counters (with miniature glass bottles as counters)
I typically place the number cards in a basket or tray with a small container for the counters.
Beehives and Bees Cards and Counters
Our current subscriber freebie packs have odd and even labels along with the other free printables. For cards and counters with odd and even labels, I typically use a Multicraft tray and separate small containers for the counters and labels.
Directions for Presenting Cards and Counters
Montessori Primary Guide has directions for presenting cards and counters using the traditional Montessori method of putting the counters in rows of two with a left-over counter centered below. That way, the child is given a concrete understanding of odd and even along with counting practice.
More Ideas for DIY Cards and Counters
You'll find lots of examples of number cards you can use to create DIY cards and counters in my post with more than 11 years' worth of free printables and Montessori-inspired activities.
What have you used for DIY cards and counters?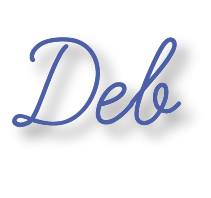 Learn more about my eBook Montessori at Home or School: How to. Teach Grace and Courtesy!
If this is your first time visiting Living Montessori Now, welcome! If you haven't already, please join us on our Living Montessori Now Facebook page where you'll find a Free Printable of the Day and lots of inspiration and ideas for parenting and teaching! And please follow me on Instagram, Pinterest (lots of Montessori-, holiday-, and theme-related boards), and YouTube. While you're here, please check out the Living Montessori Now shop.
And don't forget one of the best ways to follow me by signing up for my weekly newsletter. You'll receive some awesome freebies in the process!