Dinosaurs are a high-interest topic for any time of year. So I wanted to make this month's subscriber freebie and themed post about dinosaurs! Dinosaurs are a great way to get many reluctant learners interested in language and math. The printable pack focuses on both language and math, although the Montessori-inspired dinosaur activities I'm featuring today focus on language.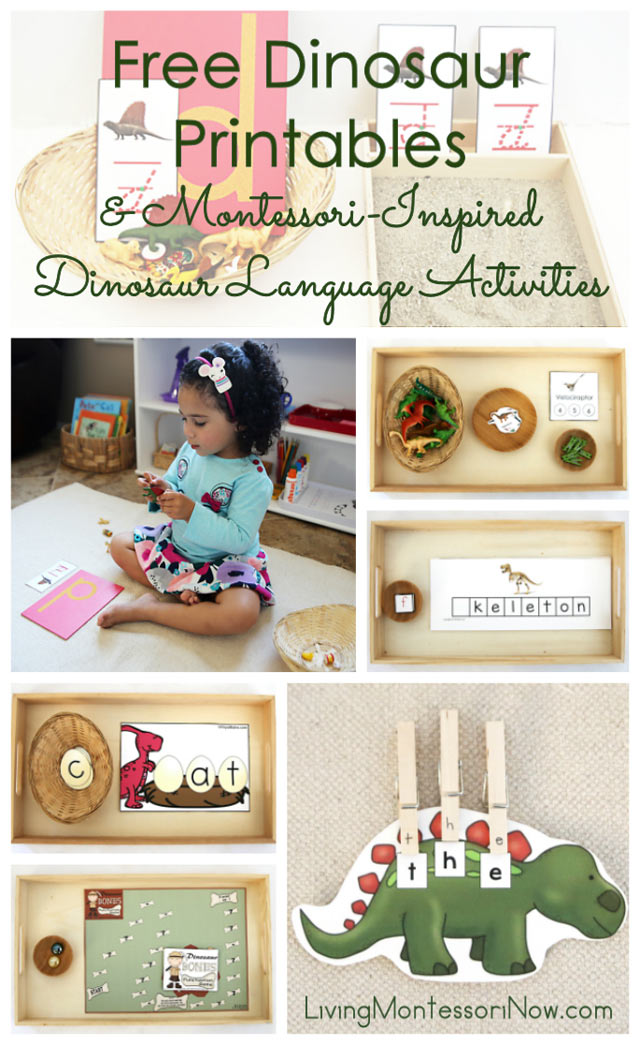 I'm also sharing the links to free dinosaur printables for preschoolers through 1st graders (and sometimes older). To keep my list manageable, I don't share coloring pages unless a page has a specific educational purpose related to dinosaurs.
Dinosaur Language Activities for Preschoolers-First Graders Using Free Printables
Disclosure: This post contains some affiliate links (at no cost to you).
Letter D Object Basket and Writing Tray

Free Printables: Dinosaur Letters for Letter D Object Basket and Writing Tray (part of my subscriber freebie pack, so just sign up for my email to get the link and password … or check the bottom of your latest newsletter if you're already a subscriber)
For the letter d basket, I used a basket with small objects beginning with the /d/ sound. I like introducing the cursive letter along with the manuscript one, so I included the cursive d card. I used a variety of objects starting with /d/. You could just say the phonetic sound as you or your child removes an item from the basket: for example, "/d/ dog, /d/ doll…" Some of the objects are ones I had at home (such as Safari Ltd. TOOB objects and a miniature wooden doll I had), although many are from Montessori Services (they have individual phonetic objects or a whole set available).
For the letter d sand tray, I used the wooden tray from the Melissa & Doug Lace and Trace Shapes. You can use whatever tray or container work best for you, though. For the sand, I sterilized sand from outdoors by baking it for 30 minutes at 200F. You can also buy sand on Amazon.
My almost-3-year-old granddaughter, Zoey, traces the sandpaper letter "d" while saying the sound.
Zoey has loved miniature objects for a long time. She also loves the letter object baskets and always looks forward to seeing what will be in the next one.
Dinosaur Letter Tile Cards (Beginning Sounds)


Free Printable: Dinosaur Letter Tile Cards (Beginning Sounds) by Karen Cox from PreKinders at TeachersPayTeachers. There are 3 levels to this printable, so it's very versatile. I'm showing the middle version with the missing initial sound.
Free Printable: Montessori Movable Alphabet (1 Inch Letter Tiles). You could purchase letter tiles if you prefer rather than printing them out. For this activity, I used a Multicraft tray and small Bambu condiment cup to hold the letters.
For our floor work, we always use a Montessori Services hemmed work rug.
Free Printable: Dinos TOOB Key by Safari Ltd., hosted at Living Montessori Now. I just printed it out and cut it apart, using the 8 dinosaurs that were in both the Dinos TOOB and dinosaur syllable cards.
Free Printable: Dinosaur Syllables from Dinosaur Unit Language Printable Pack 1 from Every Star Is Different (Go to Free Printables Tab, then to Thematic Activities, and then to Dinosaur & Prehistoric Creature Activities to find the dinosaur activities and printables)
For this activity, I used a Multicraft tray, Safari Ltd. Dinos TOOB (the ones that matched the printable cards), Montessori Services basket to hold the dinosaurs, dinosaur syllable cards, Bambu large condiment cup, small Bambu condiment cup, and miniature clothespins. You could use glass gems like Renae did at Every Star Is Different. I just used the miniature clothespins because my almost-3-year-old granddaughter has been especially excited about them lately.
You could place a small control dot on the back of the card where the clothespin should go for a control of error (instant self-check).
Dinosaur Sight Words (Puzzle Words) with Clothespin Letters

Free Printable: Sight Word Dinosaurs from Classy Kinders by Jamie Aguilar at Teachers Pay Teachers
For this activity, I used a Multicraft tray containing a Montessori Services basket with clothespins with the letters for the puzzle words written on them with a permanent marker.
When I first teach puzzle words, such as "the," I say something like: "/t/, /h/, and /ĕ/ together say the word 'the.' You can't sound out 'the.' You just have to remember it."
Free Printable: Dinosaur CVC Word Mats from Royal Baloo
This activity was super simple to prepare. It just used a small Montessori Services basket and Multicraft tray to hold everything.
There are a number of word families in the printable pack. I would generally put out one word family (such as the "at" family), letting the child make and read each of the words before putting out another word family.
Dinosaur Bones Punctuation Game


Free Printable: Dinosaur Bones Punctuation Game from 123 Homeschool 4 Me
For this activity, I used a Multicraft tray and small Bambu condiment cup to hold the markers (for up to 4 players).
I think this would make a nice cooperative game if everyone took turns moving the same piece. Of course, it works well as a traditional game, too. This is a fun way to reinforce punctuation skills.
More of My Resources That Include Dinosaur Activities
You'll find lots of Montessori-inspired dinosaur activities and ideas in these Living Montessori Now posts:
Montessori-Inspired Dinosaur Unit

Montessori-Inspired Dinosaur Fun with Printables, Water Beads, and Glass Gems

Montessori-Inspired Dinosaur Activities Using Dinosaur Replicas

Make Fossils from Montessori at Home!
Free Dinosaur Printables and Montessori-Inspired Dinosaur Math Activities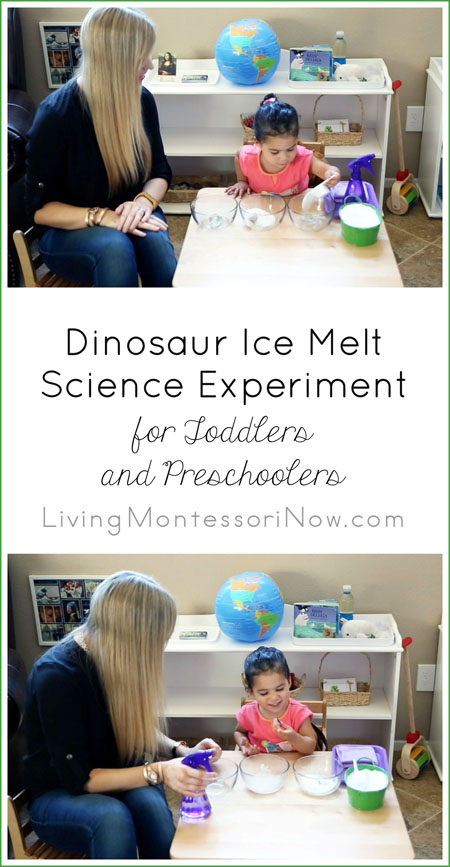 Dinosaur Ice Melt Science Experiment for Toddlers and Preschoolers
A Complete List of My Dinosaur Posts
Free Dinosaur Printables for Preschoolers-First Graders

Montessori-Inspired Dinosaur Pack for DIY Cards and Counters, Number or Letter Matching, Number or Letter Basket, Number or Letter Salt/Sand Writing Tray, Letter Tracing, and DIY Movable Alphabet (subscriber freebie, so just sign up for my email to get the link and password – or check your inbox if you're already a subscriber)
Helpful Post with Animal Classification
Montessori Animal Classification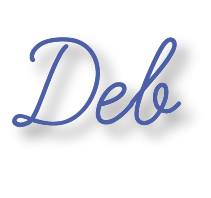 Learn more about my eBook Montessori at Home or School: How to. Teach Grace and Courtesy!
If this is your first time visiting Living Montessori Now, welcome! If you haven't already, please join us on our Living Montessori Now Facebook page where you'll find a Free Printable of the Day and lots of inspiration and ideas for parenting and teaching! And please follow me on Instagram, Pinterest (lots of Montessori-, holiday-, and theme-related boards), and YouTube. While you're here, please check out the Living Montessori Now shop.
And don't forget one of the best ways to follow me by signing up for my weekly newsletter. You'll receive some awesome freebies in the process!