.As important as the sign language alphabet is in learning sign language, I don't teach letter names. I'm not alone. In Montessori education, we don't teach the names of the letters of the alphabet. Instead, we teach the letter sounds, and children somehow spontaneously pick up the letter names. Today, I'm sharing songs that will be important for children wanting to learn sign language. So much can be done with the sign language alphabet (manual alphabet). Even if you don't know many signs, you can spell with the sign language alphabet (fingerspell) what you need to say.
While there are many songs teaching the sign language alphabet, I'm only sharing ones here that use phonics alone or in addition to the alphabet letters. I don't mind that the letter names are used in the songs as long as the letter sounds are taught with them.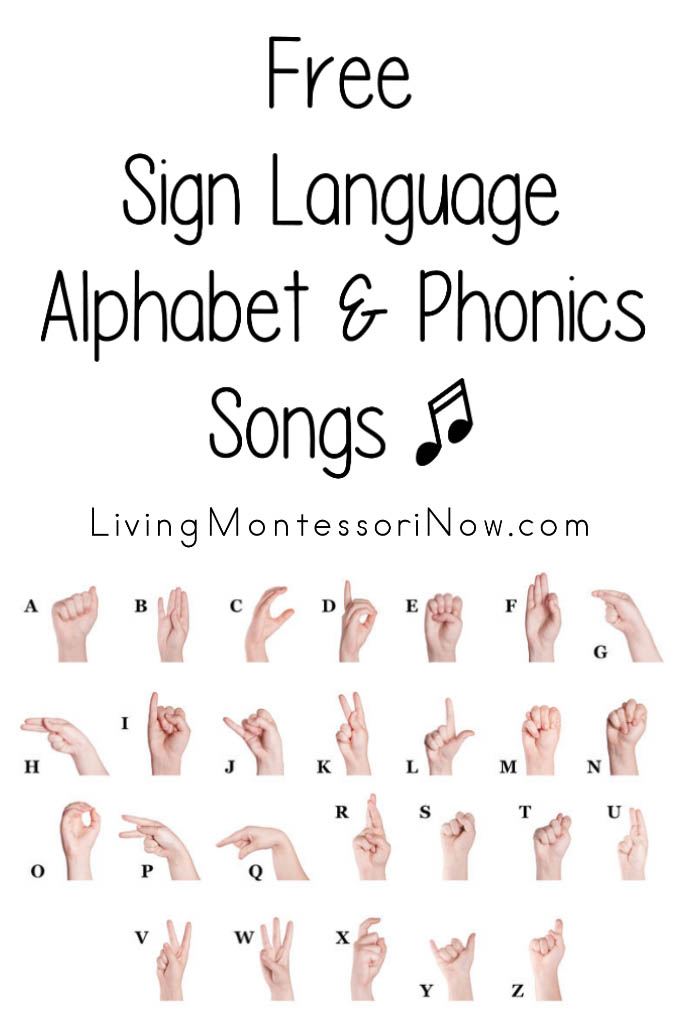 I'm sharing some fun YouTube videos with sign language alphabet and phonics songs for a variety of ages. Most, but not all, of them use American Sign Language (ASL). You can adapt them for your own country if you don't use American Sign Language.
This post is part of my series of free songs and rhymes for circle time! See a full list of my song posts at the bottom of this post.
Free Sign Language Alphabet and Phonics Songs
You'll see some variations in the way the letter sounds are pronounced. You'll find the pronunciations I use in my post "Teach Letter Sounds to Your Child Using Montessori Principles."
ABC phonics song/sounds of the letters – American version – My Smart Hands

Alphabet Letter Sounds (Phonics) Song and ASL alphabet (American – 'zee' version) – My Smart Hands

PHONICS ABC Song with ASL Letters (Canadian Zed version) – My Smart Hands

Phonics Song | Letter Sounds | ASL | Patty Shukla (This doesn't actually have the sign language alphabet, but it teaches letter sounds and the signs of words that start with the letter sounds. You can do the sign language alphabet with the letter sounds if you wish.)

ABC Phonics Song – Full ASL Song Tutorial – Sign2Me Early Learning
See It, Say It, Sign It with Letter Sounds | Sign Language Alphabet Song | ASL ABCs | Jack Hartmann

Visual Phonics Song – YourSmartBrain – Visual Phonics and American Sign Language set to Jack Hartmann's Learning Letter Sounds.

Preschool Learning Letter Sounds Song in Sign Language – SignLearnGrow

Alphabet Phonics in American Sign Language (Canadian version) – Sara Bingham

In case you use British Sign Language (BSL), here's the BSL Fingerspelling Alphabet. You can adapt these songs for any country's fingerspelling alphabet.
More Sign Language Resources
Amazon Affiliate:
Sign Language Products for Kids
More Phonics Songs

You'll find more phonics songs that you could add the alphabet signs to in "Reinforcing Letter Sounds with Phonics Songs"
All the Posts in My Free Song and Educational Video Series
Free Songs about Skills and Concepts – in alphabetical order by words in bold
Free Unit Study Songs and Educational Videos – in alphabetical order by words in bold
Free Seasonal and Holiday Songs – in order by time of year, starting with back to school in August or early September
Free Video Resources Posts – in alphabetical order by words in bold
All the Posts in the Free Character Education and Mindfulness Video Series Here at My Bits of Positivity Blog
Note: These are in alphabetical order by words in bold.
I hope you find these helpful!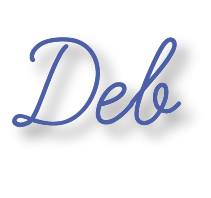 Learn more about my eBook Montessori at Home or School: How to. Teach Grace and Courtesy!
If this is your first time visiting Living Montessori Now, welcome! If you haven't already, please join us on our Living Montessori Now Facebook page where you'll find a Free Printable of the Day and lots of inspiration and ideas for parenting and teaching! And please follow me on Instagram, Pinterest (lots of Montessori-, holiday-, and theme-related boards), and YouTube. While you're here, please check out the Living Montessori Now shop.
And don't forget one of the best ways to follow me by signing up for my weekly newsletter. You'll receive some awesome freebies in the process!