Even if you have no musical training, you and your toddler or preschooler can have wonderful experiences with classical music. There are some amazing resources available that do the teaching for you … and in such a fun way! You'll learn something new, too!
Music was one of my main activities growing up, so I've always loved teaching it. But I'm amazed at the resources available now to make it even more fun! My 3½-year-old granddaughter, Zoey, and I have had a fabulous time with classical music from the time she was a baby. As a baby, she mainly listened to classical music playing in the background or enjoyed me holding her while rocking to the music. But from the time she was a toddler, we've had lots of active fun to classical music.
Disclosure: This post contains affiliate links (at no cost to you).
Introducing Young Children to Classical Music through Lyrics and Actions
I'm in love with some of the music resources from West Music. Classical Fun Sing-A-Longs are creative lyrics and activities set to shortened versions of famous symphonies.
For example, there are cute lyrics about bumblebees with a suggestion for children to use cut-out bees on a popsicle stick and silk flowers. Then they are supposed to run around like a bee or holding a paper bee. They pretend to gather pollen before going back to the beehive to make honey. There are also music notes in the activity guide about the actual story behind the song.
At different times, Zoey has used both the bee from the Safari Ltd. Insects TOOB and the Safari Ltd. Good Luck Minis Garden Pack.
The activity has been perfect with our bee unit!
There are 25 different songs included on the CD, so it's great for a variety of themes or just having fun with classical music. We've done a number of the activities, and I like them all.
Here's one where my daughter, Christina (Zoey's aunt), joined Zoey in a pretend picnic lunch to the music of Alexander Borodin's Polovtsian Dances and first verse lyrics:
"Be my friend in the sunshine of summertime
We can share a picnic lunch
At a park or a sandy beach."
There's also an activity suggestion to have children find a partner to play catch or toss a bean bag with while listening to the song. It can even be used to discuss being a friend.
More Fun Movement to Classical Music
Here's another of our favorite classical music activities (that Zoey and I use sometimes to wash the floor)!
Combining Music and Letters
This is also from West Music. The A to Z Symphony is a DVD with songs set to classical music.
Even though it doesn't just use lowercase letters as in Montessori education, it does show both the uppercase and the lowercase. I do a short phonics lesson before each song. I use the associated sandpaper letter, trace it, and say, "The letter "a" makes the sound /ă/ before starting the "A is for Apple and Arrow" song. (Here are resources for teaching the phonetic sounds for each letter: "Teach Letter Sounds to Your Child Using Montessori Principles")
Here's the YouTube video of it, so you can see what it's like. Zoey thinks this is hilarious!
I let Zoey moves however she wishes during the music. Typically, she'll watch it once and then dance to the song.
Introducing Young Children to Musical Instruments
You'll find lots of ideas for introducing toddlers to classical music (along with other styles of music in my "Montessori-Inspired Music Activities for Toddlers and Preschoolers."
Be sure to check out Carolyn Lucento's Magical Movement Company for awesome Montessori musical activities for young children. She's where I first learned about West Music! She even has Musically Montessori ecourses!
Introducing Classical Music through Stories for Young Children
For preschoolers, I introduce classical stories to music. My favorites are on Maestro Classics CDs and MP3s. A favorite starting point is Peter and the Wolf. I have Montessori-inspired music appreciation activity posts for most of the Maestro Classics albums. Zoey is really enjoying the CDs as a preschooler. We've done a variety of activities, such as walking on the line or doing a puppet show, while she listens to the music and story.
Preschoolers can easily learn about musical composers along with many classical music concepts. Just be sure the activities are hands-on, and choose ones you think your preschooler will enjoy.
Hands-on activities are a good way to help preschoolers identify musical instruments. Preschoolers can learn to identify the sound of each instrument as well.
These aren't classical music, but you'll find a wide variety of fun songs for toddlers and preschoolers (and sometimes older) in my post "Free Educational Songs for Circle Time" and the related holiday and seasonal song posts linked to at the end of the post.
Montessori-Inspired Music Units
For all my Montessori-inspired music activities, see my "Montessori-Inspired Music Unit Studies" post.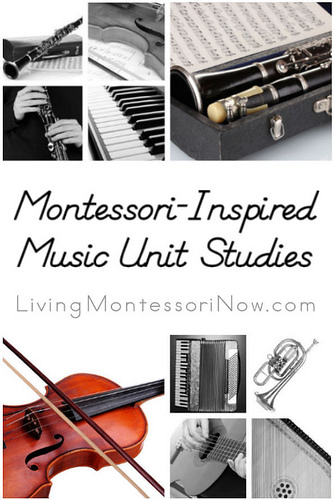 This post is part of the 12 Months of Montessori Series 2017!
12 Months of Montessori Series – Fine Arts!
Check the posts below for a variety of awesome fine arts ideas!
Does your child have a favorite classical music activity?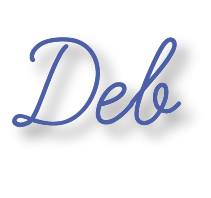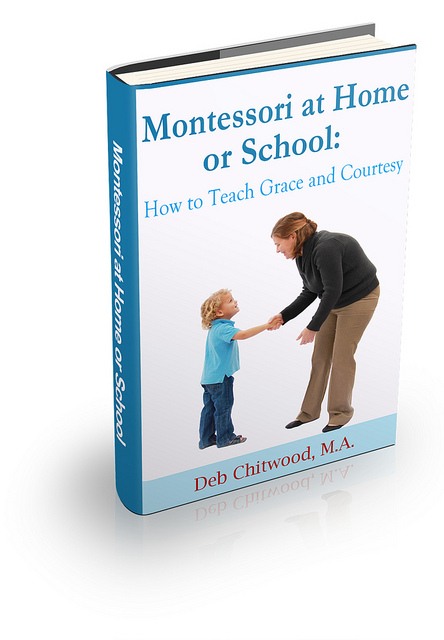 Learn more about my eBook Montessori at Home or School: How to. Teach Grace and Courtesy!
If this is your first time visiting Living Montessori Now, welcome! If you haven't already, please join us on our Living Montessori Now Facebook page where you'll find a Free Printable of the Day and lots of inspiration and ideas for parenting and teaching! And please follow me on Pinterest (lots of Montessori-, holiday-, and theme-related boards), Instagram, and YouTube. You can find me on bloglovin' and Twitter, too.
And don't forget one of the best ways to follow me by signing up for my weekly newsletter. You'll receive some awesome freebies in the process!