I use a lot of free printables and activities with our unit studies. Sometimes, I'll feature a kit or special material to go with our unit … especially when it's something that can be used for more than one year. That was the case with our weather unit and the Magic School Bus Weather Lab!
Disclosure: This post contains some affiliate links (at no cost to you).
Why We're Using The Magic School Bus Weather Lab
I often keep popular activities out past the end of a unit. That's definitely the case with a Magic School Bus kit. We used the Magic School Bus volcano kit for our volcano unit last year, and all my grandkids loved. it. My now-7-year-old granddaughter, Zoey, wanted to do so many of the activities from it! So I chose the Magic School Bus Weather Lab for our weather unit because of the high interest for kids who love the Magic School Bus series. While it isn't a Montessori-style kit, it's so much fun!
The weather lab doesn't have high-quality materials, but it's a kit that I knew my grandkids would love. And they were all instantly drawn to it. Of course, the Magic School Bus box is very inviting but so are the materials! I normally wouldn't get Magic School Bus books or materials for 3 year olds (such as my 3-year-old grandkids, Sophia and Caleb). When there's an older sibling (or cousin, in Caleb's case), I think they're great because of the high interest on the part of the older child and the infectious interest that creates. I simply tell the younger children that the Magic School Bus is silly and does things a real school bus couldn't do.
Our Study of Wind Using the Magic School Bus Weather Lab
We began our Magic School Bus weather lab work with wind activities. Zoey and Caleb assembled the weather lab while Sophia was busy working with playdough, one of her favorite activities. They didn't need help assembling the weather lab because the directions and pictures are very clear on the cards.
Then they gathered around while Zoey read about the weather instruments. We had read The Magic School Bus Rides the Wind a different day. When reading the book with 3 year olds, I'll say things like: "That's silly! A school bus can't turn into a hang glider." I often say something similar with fantasy images they'll encounter in books or other media. For preschoolers, I keep out approximately 75% Montessori-friendly books (without fantasy, such as talking or smiling animals … or magic school buses).
With Zoey, I had also used The Magic School Bus Presents Wild Weather, a nonfiction companion to the original Magic School Bus Series. Note: The Magic School Bus books obviously aren't Montessori-style books for preschoolers, although some older preschoolers love them. They're designed as high-interest science books for kids who understand the difference between reality and fantasy.
After admiring the assembled weather lab, we went outdoors to check the wind in various locations around our neighborhood. The pinwheel was especially fun for all three kids, but they were also interested in the concept of the anemometer. The sticker for the top of the anemometer (which looked different depending on the speed of the wind) made an easy way for children to understand the concept of wind speed.
There are 28 different cards and a variety of weather experiments included with the weather lab. There are many different weather experiments you can do with one kit, and they can be used again in future years! This was just the beginning!
More Weather Resources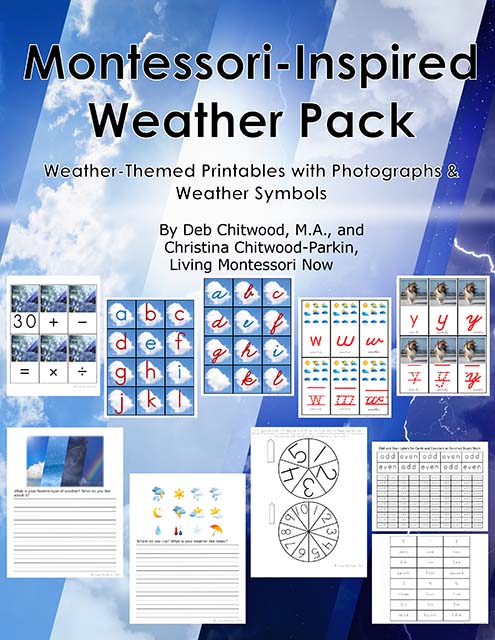 Montessori-Inspired Weather Pack for DIY Cards and Counters, Number or Letter Matching, Number or Letter Basket, Bead Bar Work, Hands-on Math Operations, Number or Letter Salt/Sand Writing Tray, Letter Tracing, DIY Movable Alphabet, and Creative Writing (subscriber freebie, so just sign up for my email to get the link and password – or check your inbox if you're already a subscriber).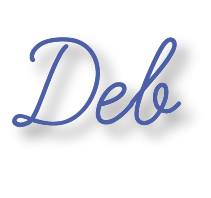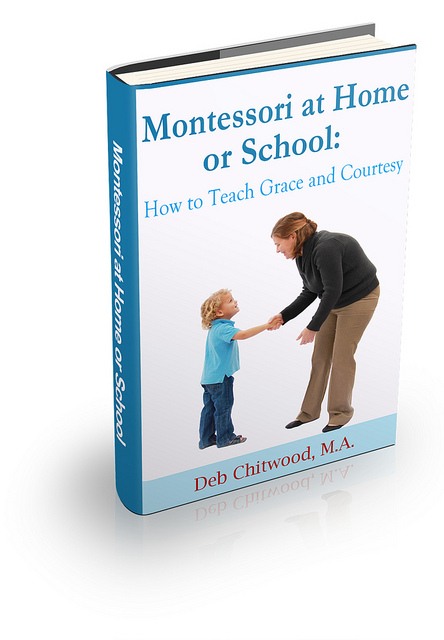 Learn more about my eBook Montessori at Home or School: How to. Teach Grace and Courtesy!
If this is your first time visiting Living Montessori Now, welcome! If you haven't already, please join us on our Living Montessori Now Facebook page where you'll find a Free Printable of the Day and lots of inspiration and ideas for parenting and teaching! And please follow me on Pinterest (lots of Montessori-, holiday-, and theme-related boards), Instagram, and YouTube. You can find me on bloglovin' and Twitter, too.
And don't forget one of the best ways to follow me by signing up for my weekly newsletter. You'll receive some awesome freebies in the process!