The thought of homeschooling can feel overwhelming. And parents especially worry about Montessori homeschooling and how much it will cost. I've learned a lot from homeschooling my kids through high school, doing lots of online research and work, and now helping with my grandkids' education. There really are ways to homeschool without spending a fortune.
Homeschooling options are almost unlimited now, so you can even homeschool for free. While completely free usually isn't the best option, you can homeschool inexpensively.
Of course, if inexpensive options feel overwhelming to you, you can save yourself time and avoid hassles by spending more and purchasing more ready-made curriculum. You just have to find the right balance between saving money and saving time. They're both valuable. I found it best to choose ways to save money that fit my style of teaching and my kids' learning styles.
Disclosure: This post contains some affiliate links (at no cost to you).
Here are some ways to save money that can be used according to what feels right for you and your family:
Read reviews and talk to other homeschoolers before purchasing curriculum.
This is extremely helpful, and you can do a Google search of almost any curriculum to find reviews online. There's even a site called Homeschool Reviews. I attended homeschooling conferences and read books like Cathy Duffy's 100 Top Picks for Homeschool Curriculum. Now Cathy Duffy has lots of reviews online, too, at Cathy Duffy Reviews. If you Google homeschool reviews you'll find links to many more homeschool reviewers as well.
There are wonderful homeschool groups online. You'll find many homeschool Facebook groups to choose from.
There are some Montessori material reviews in the comments section of this post and a linked post: Where to Buy Montessori Materials. Many of the Montessori materials listed are inexpensive versions that are suitable for home use or are inexpensive printables that can be used to create attractive and effective Montessori materials. I also have many resource reviews of Montessori materials and Montessori-friendly materials.
With homeschool reviews, it's important to keep in mind your homeschooling orientation and the homeschooling orientation of the reviewers. Some curriculums that were highly recommended wouldn't have worked at all for me or my family. We needed a strong emphasis on Montessori and/or unit studies, "living books," and hands-on learning. A standard textbook – no matter how good – wasn't the best choice for us.
If you do your research, you're more likely to find a curriculum that works for you and can be supplemented easily with materials found online that you can use to add life to your curriculum. That beats buying lots of different curriculums, trying to find the best one. It's always possible to get the wrong curriculum anyway, but that's probably part of homeschooling and education in general.
Recycle your homeschool materials.
As much as your children's learning styles will allow it, pass your curriculum down to your younger children or sell it online or at a homeschool curriculum fair. Even though I only had two children, I was able to pass down most of my son's homeschool materials to my daughter.
I actually had a whole Montessori school full of materials that I was extremely lucky to pass on to my children before selling. When they were older, I had a huge sale with invitations to Montessori school owners along with the general public.
Now, you can sell used Montessori materials and almost any homeschooling materials online. You can find groups for selling your used materials on Facebook.
When your children are young, many materials can be used, put away for a while, and reintroduced again later. Many Montessori materials can also be stored and reused when your children are older. Cards and activities with zoological classifications, leaf shapes, constellations, etc., are great as supplements later on.
Get ideas and resources from homeschool blogs.
Homeschool Resources and Encouragement has lots of ideas from my family's homeschool experience and more.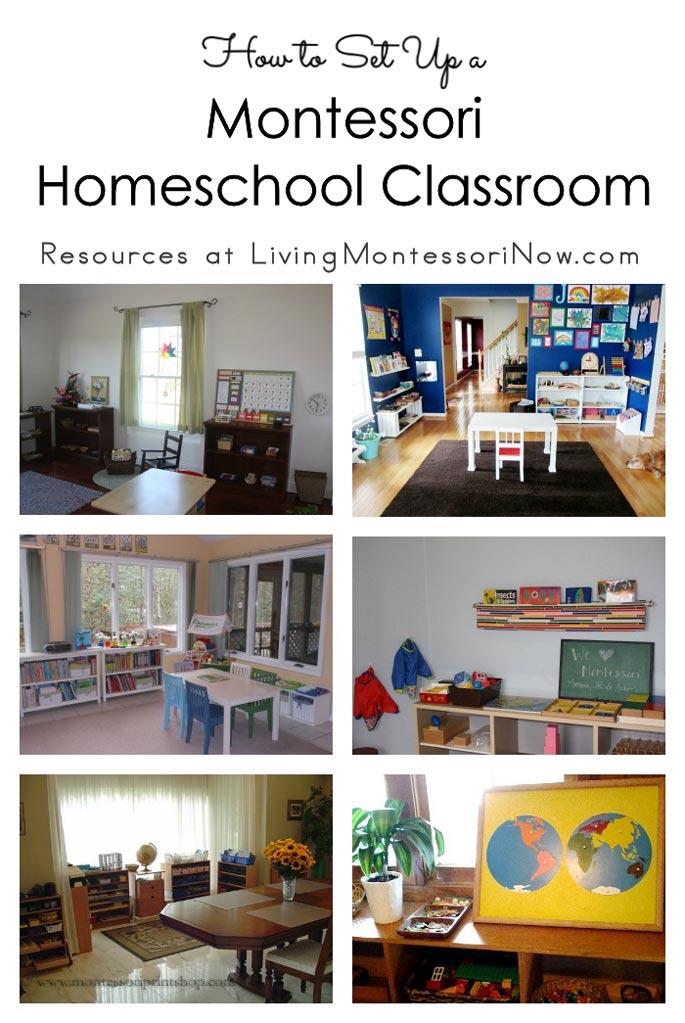 How to Set Up a Montessori Homeschool Classroom has links to many Montessori homeschooling resources and ideas from around the blogosphere.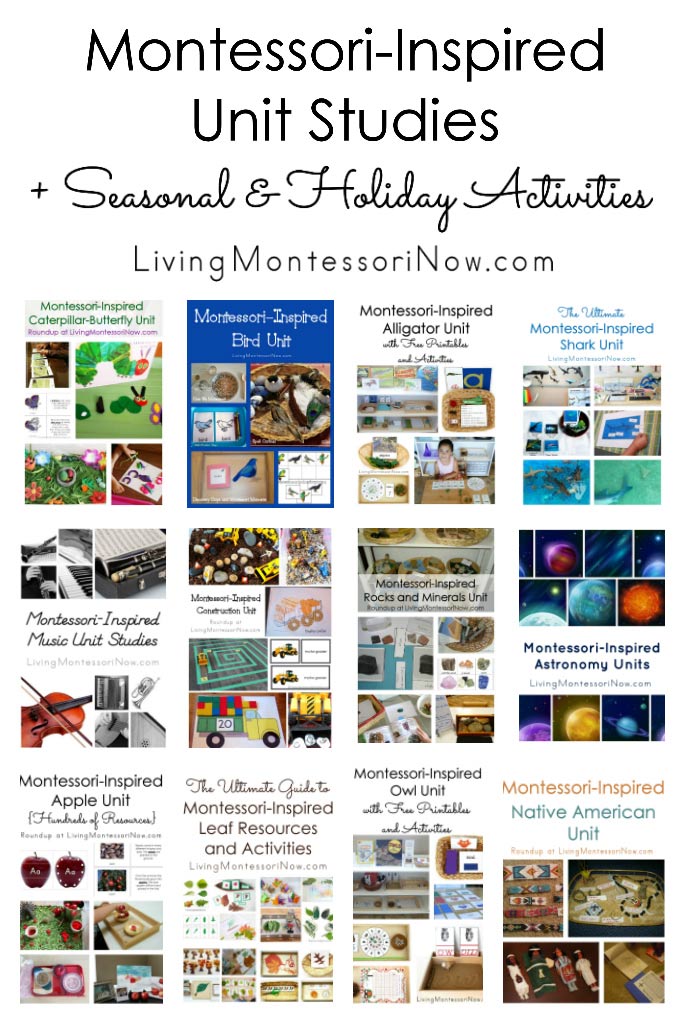 Montessori-Inspired Unit Studies + Seasonal and Holiday Activities has lots and lots of ideas for activities that can be prepared inexpensively at home and are helpful whether or not you're a Montessori homeschooler.
If you'd like unit study resources organized by character traits, I've done that in my character education unit studies post at my Bits of Positivity blog. They still include the same resources but are organized differently.
Use free or inexpensive printables and make your own materials.
I used to create Montessori trays totally by hand, which I loved to do. Unfortunately, I'm terrible at drawing and had to find materials to trace or cut out. Today, it's easy to create professional-looking activity trays in very little time by downloading free printables. You can typically find hands-on objects to go with the trays inexpensively around the house, at garage sales, in thrift stores, at hobby stores, or on Amazon.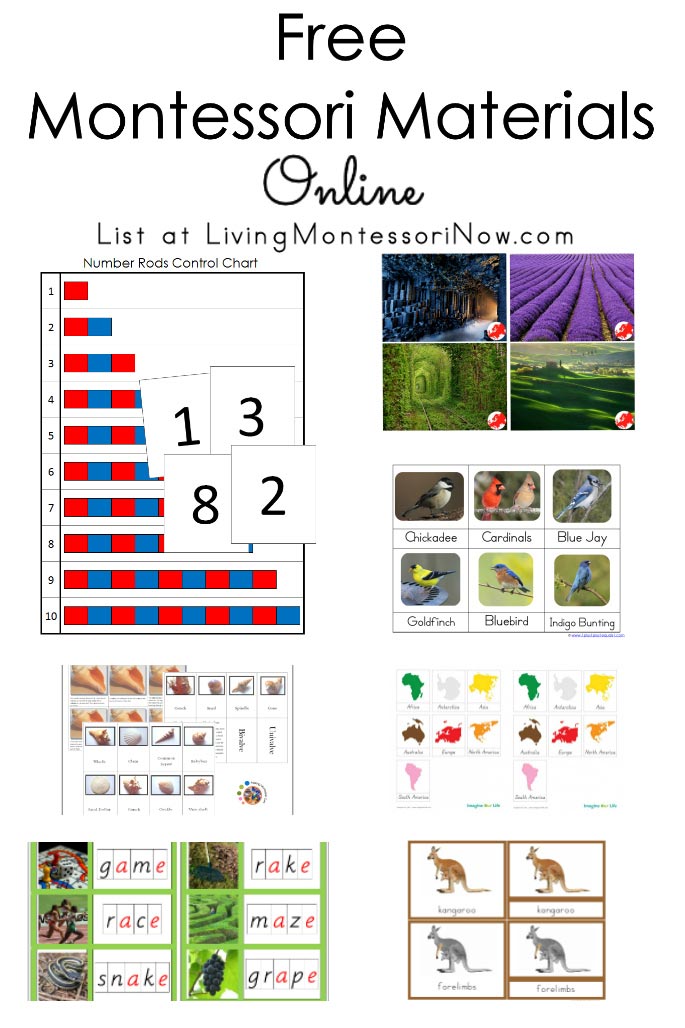 Free Montessori Materials Online has lots and lots of free Montessori printables.
Note: If you subscribe to my newsletter, you'll have access to our Living Montessori Now resource library with 50 themed Montessori printable packs and a new one each month!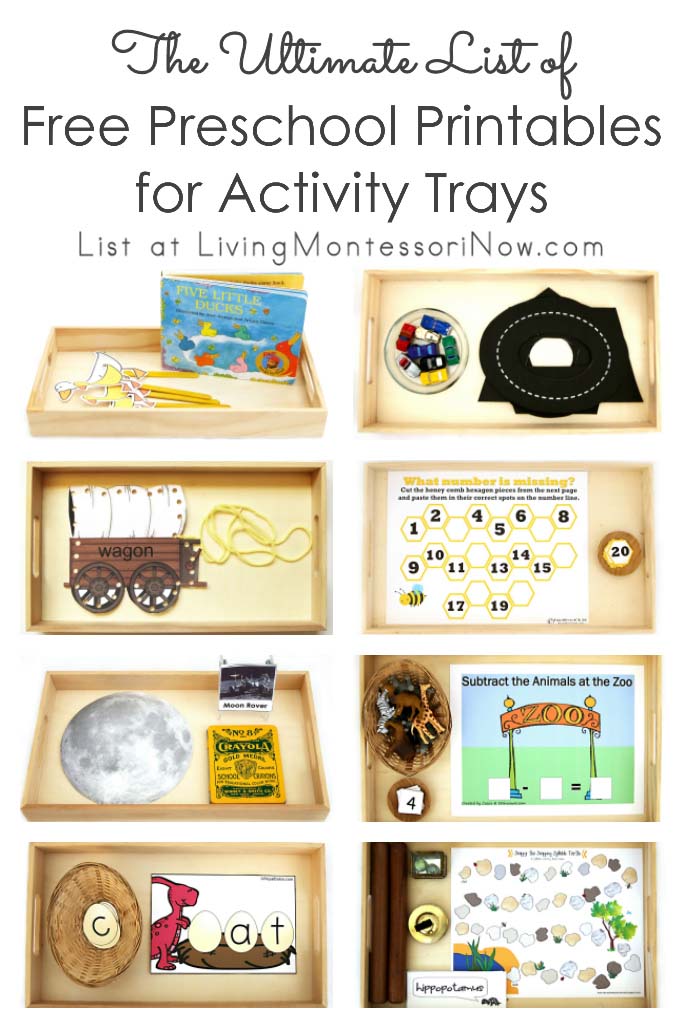 The Ultimate List of Free Printables for Preschool Activity Trays has many other free printables that work for Montessori-style trays even if they weren't originally planned as Montessori materials.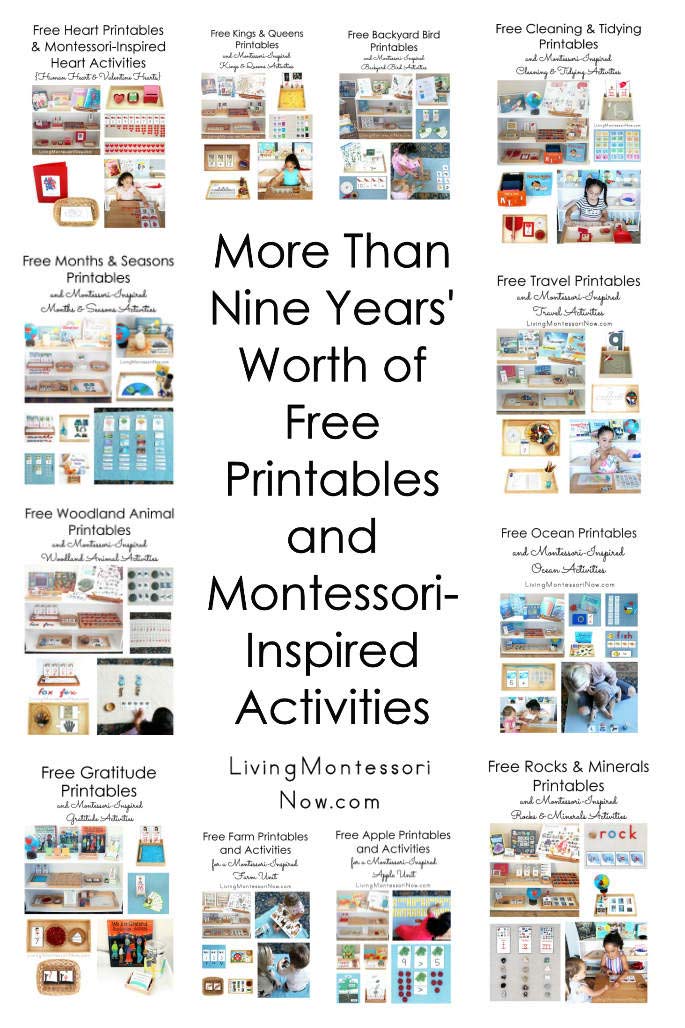 More Than Nine Years' Worth of Free Printables and Montessori-Inspired Activities has links to a huge number of free printables along with ideas for preparing activities using free printables.
You can also make many materials that don't require printables. There are links to many ideas for making your own Montessori materials in this post: How to Make Your Own Montessori Materials. Because Montessori materials can be expensive to purchase, you can make many of your own or substitute materials that will achieve the same purpose.
Shop sales (and bundles) and find materials that are affordably priced.
I love shopping sales, especially bundle sales. I try to feature some of the best bundle sales at least a few times during the year. If you subscribe to my weekly newsletter, you'll find out when I'm a contributor and/or affiliate for a bundle.
You can get a free download of 51 sample pages from Montessori at Home eBook by clicking here! (This includes information on John's simplified Montessori reading sequence.)
Here's the direct link to the purchase page for the Montessori at Home! Materials Bundle,which includes the Montessori at Home eBook AND over $60 worth of Montessori Print Shop materials to go with the book (now only $14.95)!
Here's the list of 21 printable Montessori materials included in the bundle:
Phases of the Moon (3-part cards & chart)
Animals of the Continents
Continents 3-Part Cards
Land & Water Form Photo Book
World – Control Maps, Masters and Labels
Moveable Alphabet – Print – (includes full instructions)
Sentence Cards – Step 1 – Set 1
Word and Picture Cards – Step 1 – Read Pictures
1-100 Math Series
Geometric Matching Cards
Geometric Solids 3-Part Cards – Blue
Skeleton Nomenclature Cards
Tree Nomenclature Cards
Phonics Sound and Picture Sorting
Association of Objects
What Does Not Belong
The Five Senses
Plant or Animal?
Animals and Their Names
Color Grading Cards
Metal Insets – Shape Outlines
I also try to have sales in the Living Montessori Now shop once a month or so. And I price the shop materials very reasonably even without a sale!
Find deals for elementary ages in addition to preschool and kindergarten.
Check out my Montessori elementary category for posts with free resources and deals specifically for Montessori elementary homeschooling.
If you want general homeschooling information and free deals for a variety of ages, check out sites such as Free Homeschool Deals, Homeschool Share, and Mom for All Seasons.
AmblesideOnline has a free online curriculum for kindergarten through grade 12 that's designed to be as close to the curriculum Charlotte Mason used.
Here are posts with links to free worksheets that are generally used for elementary and older:
Free Homeschooling Worksheets from Homeschool-Curriculum.org
Free Math Worksheets from HomeschoolMath.net
Oklahoma Homeschool (free homeschool forms and worksheets by Cindy Downes)
Be creative for high school and beyond.
Consider what type of high school experience is best for your student. Here are links to posts about what we used: Homeschool High School. Using AP courses and concurrent high school/college courses can give your high schooler a head start on college and take care of high school credits at the same time. My daughter loved being a concurrent high school/college student for a couple of courses.
A very helpful resource is the free online Khan Academy. It's mission is "to provide a free, world-class education to anyone, anywhere."
If you'd like to know more about Khan Academy, watch this video:
Academic Earth has "online courses from the world's top scholars."
MIT OpenCourseWare is a web-based publication of "virtually all MIT course content. OCW is open and available to the world and is a permanent MIT activity."
There are more resources at Top Ten Tools for a Free Online Education from Lifehacker.
What are your favorite ways to save money while homeschooling?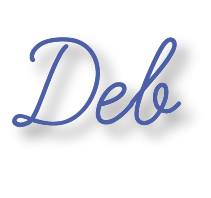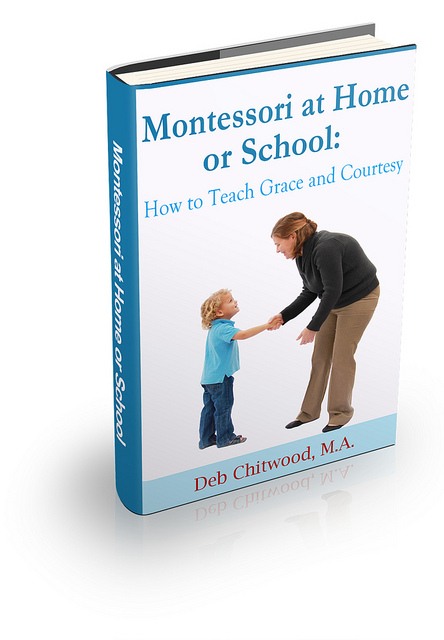 Learn more about my eBook Montessori at Home or School: How to. Teach Grace and Courtesy!
The Montessori at Home! eBook and Montessori at Home! eBook and Materials Bundle are AMAZING resources! You can learn more about them here. Buy them in the Living Montessori Now shop.
If this is your first time visiting Living Montessori Now, welcome! If you haven't already, please join us on our Living Montessori Now Facebook page where you'll find a Free Printable of the Day and lots of inspiration and ideas for parenting and teaching! And please follow me on Pinterest (lots of Montessori-, holiday-, and theme-related boards), Instagram, and YouTube. You can find me on bloglovin' and Twitter, too.
And don't forget one of the best ways to follow me by signing up for my weekly newsletter. You'll receive some awesome freebies in the process!