Maria Montessori believed that young children have a natural love of learning. Thanks to matching Montessori sandpaper letters with small objects, my son decided as a toddler that learning to read was just a fun game.
Until my son, Will, was 3½, I owned and directed my own Montessori school for children ages 2½ -5. I only worked part-time until Will was 2½. I also brought Will to the school with me. Will quickly became a part of the school and worked alongside the children, even though he was just a toddler.
Watching the other children, Will fell in love with the sandpaper letters. He especially loved the small objects used for matching initial sounds with their letters. (Of course, the objects weren't safe for a 1-year-old, so Will was watched carefully when he used them.)
Because of Will's fascination with sandpaper letters and miniature objects, I used an extension to learning phonetic sounds that Will named the "fun game." I placed sandpaper letters one at a time on the floor (at the school, we placed the letters on a rug).
I said the letter's phonetic sound and let Will put the matching object on the sandpaper letter. Often, Will traced the sandpaper letter first. I might emphasize the object's initial sound by saying something like, "Can you find the zzzebra?"
We gradually added more objects for each sound. Will loved the game so much that we even took the sandpaper letters home during the weekends.
Normally, I wouldn't introduce sandpaper letters at such a young age. I just followed Will's interest. He found the "fun game" so interesting that he knew all his phonetic sounds at age 1½.
So, what does that say? I think it says a couple of things.
1. The most important part of Montessori education is Maria Montessori's message to observe and follow the child's lead.
The teacher must derive not only the capacity, but the desire, to observe natural phenomena. In our system, she must become a passive, much more than an active, influence, and her passivity shall be composed of anxious scientific curiosity and of absolute respect for the phenomenon which she wishes to observe. The teacher must understand and feel her position of observer: the activity must lie in the phenomenon.

There was no method to be seen, what was seen was a child…acting according to its own nature. The essential thing is to arouse such an interest that it engages the child's whole personality.

One test of the correctness of educational procedure is the happiness of the child.
And, so, we sometimes just need to put aside our preconceived notions and follow the child.
2. The "fun game" is a good extension of the sandpaper letters and a way for young children to enjoy learning phonetic sounds.
Of course, the activity might be best at age 3½-4½. But you as the parent know your child and can tell when your child is ready. If you introduce the activity and your child isn't interested, wait and introduce it later. Or find a way to introduce phonetic sounds that interests your child.
Once your child knows the phonetic sounds, the task of learning to read is so much easier. Later, your child will just need to learn to blend sounds to be able to read simple words.
So, go ahead and trust yourself. Trust your child. Learning to read can be just a fun game.
Disclosure: This post contains affiliate links at no cost to you.
Some helpful links:
How to introduce sandpaper letters, including a video on introducing sandpaper letters: How to Teach Concepts and Vocabulary to Your Preschooler Using the Three-Period Lesson.
I have a post with video on how to pronounce the phonetic sound for each letter: Teach Letter Sounds to Your Child Using Montessori Principles.
To Buy or Make Your Own Sandpaper Letters: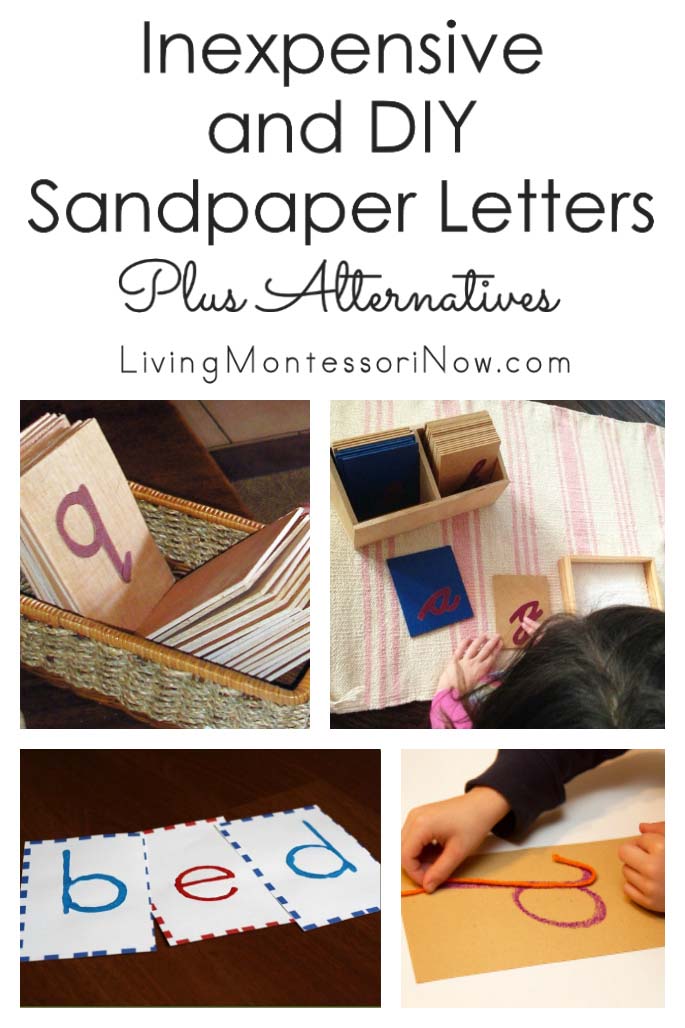 Update: I have a roundup post with lots of resources for DIY sandpaper letters as well as places to buy inexpensive sandpaper letters.
Places to buy small objects:
Craft stores typically have lots of small objects that work well. Miniature toys, such as Barbie accessories, are also good sources.
Although often more expensive, you can buy objects specifically for sound sorting. Here are some examples:
Other sound-sorting activities:
Momtessori has another variation of the sound sorting activity: Sound sorting.
Momtessori also has another variation with the I spy game: I spy with my little eye …
Update: You'll find more helpful resources in my post with favorite phonics materials for preschoolers.
Note: If you wondered about my son's W-sitting, we hadn't heard about it back when he was a toddler. Later on, when Will had to take ballet for figure skating, his ballet teacher told him W-sitting wasn't good. So he stopped. He went on to become an elite athlete. 🙂
***
The Teach/Learn Blogging Carnival hosted by [email protected] is for anyone, because we are all teachers and learners all the time. This month our theme is "English", including Speaking, Listening, Reading and Viewing. I think our bloggers have covered all of these and there are lots of resources and game ideas, plus a giveaway. Please read through to the end to find links to the other participating blogs.
Visit [email protected] to find out more about the Teach/Learn Blogging Carnival.
Please take the time to visit the other participants and check out their posts on "English."
Monique at Your Cheeky Monkey has written about why her family thinks storytelling is so important, some storytelling ideas, and a few of their favorite books.
Julie at Works For Me Homemaking is encouraging sound play with preschoolers and not just for fun. It is an important tool to develop sound awareness skills and enhance early literacy development.
Staci from Teaching Money to Kids reminds us that sometimes language and interaction need to be explicitly taught and practiced, and has some ways to teach the language of sharing.
Leechbabe from Stuff with Thing asks what happens when your child interprets everything said to them in a very literal way? How do you aid their understanding of the funny things people say?
Squiggle Mum was reminded recently that you don't have to be a literacy specialist to know how to read aloud to a young child. After all, it ain't rocket science…
Lisa at SMMART Ideas has a LETTER MATCHING activity to help you practice spelling words, or even foreign language vocabulary.
Deb from

[email protected]

has a giveaway to help you go on an expedition on your bookshelf.
Colin Wee at Super Parents is teaching his kids to argue by learning how to create a reasoned argument for English creative writing and the OREO Acronym.
The Planning Queen from Planning With Kidshad her own bookclub when she and her son read the same book. It was a great experience to have a book discussion with her son where she hadn't been reading the story "to him".
Deb Chitwood from Living Montessori Now agrees with Maria Montessori that young children have a natural love of learning. Thanks to matching Montessori sandpaper letters with small objects, her son decided as a toddler that learning to read was just a fun game.
Amanda at HomeAgeposts that we all know The Very Hungry Caterpillar, but Eric Carle has so much more to offer to young readers, particularly those interested in the natural world. With bright, beautiful artworks and simple, repetitive stories these books are a wonderful way to entice the young "reader".
Miss Carly from Early Childhood Resources has steps and advice in creating a literacy rich environment for children of all ages.
Christie at Childhood 101 points out that the process of sharing stories through oral storytelling is an age old tradition amongst families, but does it have a place in our busy modern day family life?
Sarah at Bringing up Baby Bilingual describes her public library's Writing Buddies program where high school student volunteers lead groups of at-risk fourth and fifth graders through a series of outer-space-themed writing activities. Writing prompts and resources included in the post!
CatWay at Adventures With Kids asks What is phonics all about? Is this something I should know more about to help my child learn to read and write?
Narelle from A Bunch of Keys has some simple suggestions for making your own literacy resources for children at home. Includes ideas for books with simple rhymes, books with puppets, books about family trips and making felt boards.
Zoe at Playing By the Book has gone fishing for words in illustrated dictionaries to support her early reader.
Thanks for visiting our carnival, we hope you enjoy some of these posts and have found some interesting blogs.