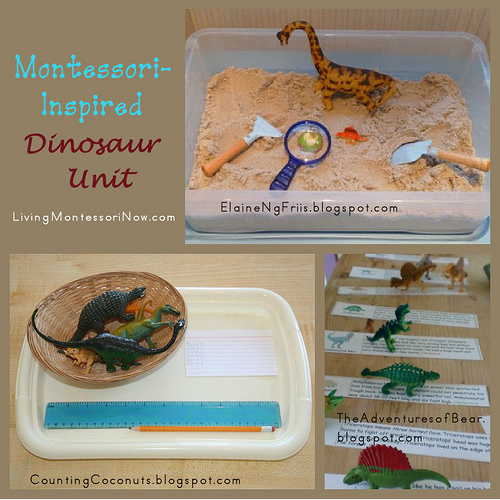 Dinosaurs are fascinating for many children and can be an excellent unit study for the beginning of the school/homeschool year. You can emphasize science, history, or any other subject, and it's easy to find hands-on dinosaur materials.
Of course, you can include dinosaurs as part of a systematic study of animals starting with living/non-living; then plant/animal; animals and their groups; vertebrate/invertebrate; types of vertebrate/types of invertebrate, etc. Montessori at Home shows an example of Montessori zoology classification. You could introduce dinosaurs when you study reptiles.
Or you could introduce dinosaurs with a series of living/non-living/once-living activities like the unit at Kingdom of the Pink Princesses. Young children often enjoy an emphasis on digging for fossils and paleontology terminology as well. You can introduce a dinosaur unit now or any time during the school year, adding activities according to your child's interests and developmental needs.
Here are some great Montessori-inspired resources that can be used for multi-age learning.
Montessori-Inspired Dinosaur Preschool Printables
Montessori Print Shop has free and inexpensive dinosaur cards.
Jojoebi has free black and white 3-part dinosaur cards and dinosaur info cards.
There are links to many printables that can be used for Montessori-inspired dinosaur activities in my post at PreK + K Sharing: Montessori-Inspired Dinosaur Fun with Printables, Water Beads, and Glass Gems.
Montessori-Inspired Dinosaur Activities for Preschoolers through Early Elementary
Family FECS has a dinosaur "excavation" site using dinosaur figurines (photo at top of post).
Montessori MOMents has a paleontology dig.
Nurturing the Tender Years has dinosaur digging (for dinosaur skeletons), greater than-less than dinosaur worksheet printable, and dinosaur writing practice.
Caminen Plegats has fossil footprint activities (use the Google translator in the right sidebar).
Counting Coconuts has a dinosaur unit with lots of activities.
Maybe Montessori has dinosaur clips for color matching and eye-hand coordination.
The Adventures of Bear has a dinosaur unit.
I have a post at PreK + K Sharing with Montessori-Inspired dinosaur fun with printables, water beads, and glass gems.
Montessori Mama has dinosaur color sorting and other dinosaur activities.
Oh! The Things You'll Know … has a number of creative dinosaur activity trays.
My Little Princess World has lots of Montessori-inspired dinosaur activities.
I have a post called Make Fossils from Montessori at Home! with activities from an excerpt of John Bowman's Montessori at Home eBook.
I have a post with Montessori-Inspired Dinosaur Activities Using Replicas. I share a number of Montessori-inspired activities created using Safari Ltd. Dinosaur TOOBS and Montessori Print Shop materials.
I have a post with Free Dinosaur Printables and Montessori-Inspired Dinosaur Math Activities (plus a related post at PreK + K Sharing).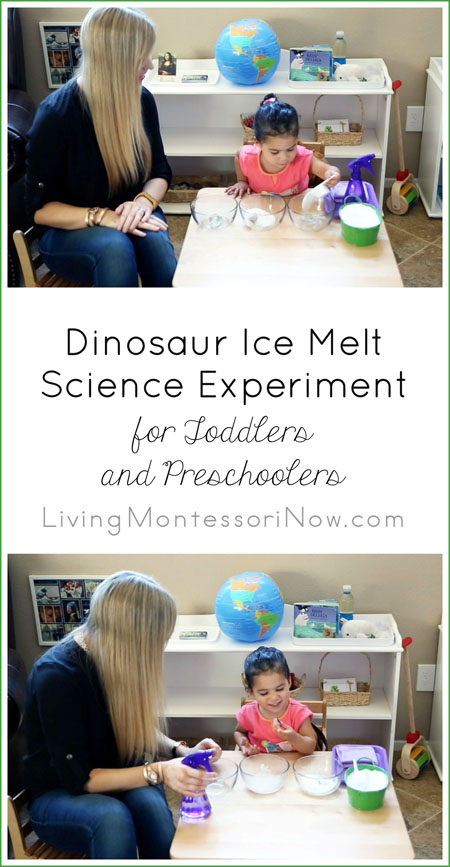 I have a post with a fun dinosaur science experiment.
The Pinay Homeschooler has dinosaur posts with lots of creative activities.
The Arrowood Zoo has a dinosaur unit.
There are lots of links to dinosaur resources at Montessori Mom.
Montessori-Inspired Dinosaur Resources for Elementary-Age and Older
For elementary-aged kids, you could focus on the Great Lessons "God Who Has No Hands" and "Coming of Life" as well as the Clock of Eras and Timeline of Life.
Association Montessori Internationale has "Montessori's View of Cosmic Education."
Moteaco has information on God Who Has No Hands, Coming of Life, and Timeline of Life.
Miss Barbara has pages with many helpful links: The Montessori Great Lesson Page and Web Page Sites for Montessori Students.
Wikisori has information on the Clock of Eras and the Timeline of Life.
Fossils-Facts-and-Finds.com has free materials for the Clock of Eras and the Timeline of Life.
Montessori Research and Development has teacher manuals you can purchase with detailed information on Montessori elementary history.
North American Montessori Center has a free Clock of Eras (history sample) and Montessori elementary manuals available for purchase.
Montessori Muddle has the Toilet Paper Timeline of Earth History along with lots of dinosaur information for middle and high school.
More Ideas for a Dinosaur Unit Study on Pinterest
Follow Deb @ Living Montessori Now's board Dinosaur Unit Study on Pinterest.
On Pinterest, I have more resources for a
dinosaur unit study
for many age levels. The resources aren't all Montessori resources, but there are many wonderful ideas to choose from to fit into a dinosaur unit.
Have fun individualizing dinosaur activities for your child or students! 🙂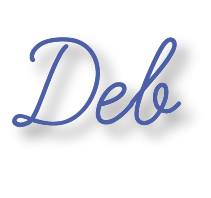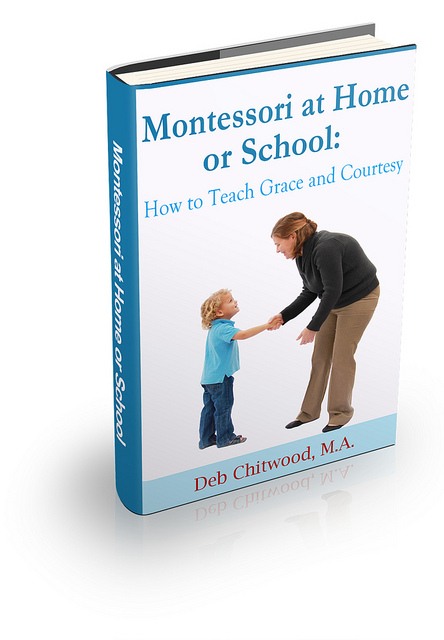 Learn more about my eBook Montessori at Home or School: How to. Teach Grace and Courtesy!
If this is your first time visiting Living Montessori Now, welcome! If you haven't already, please join us on our Living Montessori Now Facebook page where you'll find a Free Printable of the Day and lots of inspiration and ideas for parenting and teaching! And please follow me on Pinterest (lots of Montessori-, holiday-, and theme-related boards), Instagram, and YouTube. You can find me on bloglovin' and Twitter, too.
And don't forget one of the best ways to follow me by signing up for my weekly newsletter. You'll receive some awesome freebies in the process!