Oh please, please,
Hear my plea.
Take your book out.
Read it under a tree.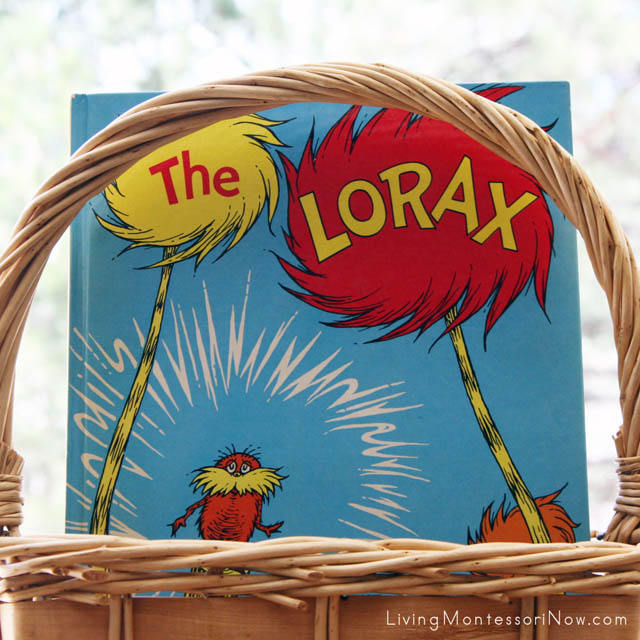 Disclosure: This post contains affiliate links (at no cost to you).
Okay, so I get carried away with Dr. Seuss. And I know the Lorax theme has been very overused this year. But The Lorax
is still my favorite Earth Day book. When I asked my adult children about their favorite books from childhood, my son right away said his favorite books were "all the Dr. Seuss books." When I asked him for a favorite Dr. Seuss book, his choice was The Lorax.
I don't think I need to give a long review of such a popular story. In short, The Lorax is the classic children's story of the damage greed and consumerism can do to the environment. The book ends with a symbol of hope in the form of a young boy who hears the tale and is given a gift and an important message by the Once-ler. The important message is: "UNLESS someone like you cares a whole awful lot, nothing is going to get better. It's not." The book may be too long for very young children, but many will grow to love it as much as my children did.
Montessori-Inspired Lorax Activities
As I said at the beginning, read The Lorax outdoors. Take The Lorax (and some other Earth Day books) outdoors in a basket, bin, or bag. Maria Montessori encouraged making the outdoors part of the classroom, and it's great whenever you can go outdoors with books and other activities. (For more on Montessori and nature, read my post "Montessori-Inspired Outdoor Environment.")
Print out Dr. Seuss' The LORAX Recycling Stickers from hp Creative Studio and create a label-making tray. Note: This printable is no longer available. There are free sticker and tag downloads (different ones) under the activities section of The Lorax Project, which would work well for a punching activity.
Print the labels onto sticker paper or onto plain paper or cardstock. Let younger children use the printables as a pin-punching activity.
I found the yellow tray in the photo inexpensively at my grocery store last Easter. I just used  two yellow foam pieces from a hobby store glued together for padding underneath the pin punching. You can buy punching materials from Montessori Services. Or you can use a 1/4″ thick felt pad, an old mouse pad, a carpet piece, or corkboard underneath the pin punching. UPDATE: Even though Montessori schools and homeschools have been using push pins for pin punching for years, I think it's time to change. Please read this sad post and consider an alternative to push pins, such as Montessori Services' wood handled puncher.
I would introduce the activity at circle time (individually would work well, too), including a discussion about the different types of recycling bins and materials along with a presentation on how to use the pin punching or cutting activity.
Print out the recycle sorting activity from the free Lorax unit study at Homeschool Share to make recycle-sorting trays. You could make one set into a sorting activity where your child or students put the "trash" with the correct recycling bin. You could have extra printables on a tray with scissors for children to cut out their own recycling sorting activity to take home (if you're a preschool teacher) or with scissors and glue as a cut-and-paste activity.
My light-blue tray uses a medium-size tray from Montessori Services and a small organizer box from an office-supply store (which adds a simple open-and-close activity in addition to organizing the materials). The tray in the bottom photo is an inexpensive wooden tray from a hobby store.
I would typically introduce this activity in a group, placing the cards with the recycling bins on a rug in front of me in left-to-right order (for the children). I'd talk about each item and where it should go as I placed the items on the proper cards. I would include a discussion about what should be done with lids and labels to prepare the items for recycling.
There are some other great activities that could be made into hands-on activities from the Lorax unit at Homeschool Share. (Thanks, Ami!) One of my favorites is creating Truffula tree snacks using peanut butter, celery sticks, and tangerines to make Truffula trees with various fruits for the Truffula fruits. You could have a Lorax picnic!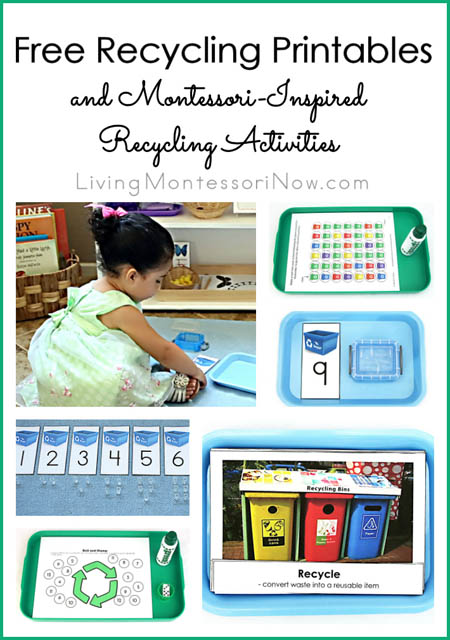 Update: I have lots of free recycling printables and activities in my free recycling printables and Montessori-inspired recycling activities post.
Linked to AfterSchool Linky Party, The Mommy Club Resources and Solutions at Milk and Cuddles and Crystal & Co. , What's on the Tray Wednesday, Thrifty Thursday, The Weekly Kid's Co-op, Fun Stuff Fridays, Living Life Intentionally Linky Party, The Weekly Kid's Co-op, Preschool Corner, Show-and-Share Saturday, The Sunday Showcase at Mom to 2 Posh Lil Divas and Classified: Mom, Link & Learn, Earth Day Celebrations, Dr. Seuss Link-up at RainbowsWithinReach, and Virtual Book Club for Kids.