An important Montessori principle is control of error in the materials to give the child instant feedback. Traditional Montessori materials have a built-in control of error, but it especially helps to focus on the concept if you use DIY Montessori materials or alternatives.
Control of Error in Traditional Montessori Materials
A traditional Montessori material has a control of error or way for the child to check his or her own work. There are a number of benefits, including help with the child's ability to analyze and solve problems. Control of error in the materials also aids the child's independence, self-esteem, and self-discipline.
The Montessori cylinder block is a great example of Montessori control of error. A child will not be able to fit all the cylinders properly into a cylinder block (or a set of four cylinder blocks) if one cylinder is out of place. You'll find an introduction to Montessori principles in this post: Become a More Successful Homeschooler By Using Montessori Principles.
Examples of Control of Error in DIY Montessori Materials
Kingdom of the Pink Princesses used red and blue cardstock to make lids for DIY sound cylinders from chocolate pudding containers. Matching color-coding dots were added to the bottoms of the matching containers as a control of error so the child can check that the cylinders are matched correctly. (Note: Here are more examples of DIY Montessori sound cylinders.)
Counting Coconuts has DIY smelling bottles with blue stars on the lids of half the bottles and red stars on the lids of the other half. Then Counting Coconuts used a permanent marker to create a control of error by marking the bottoms of the bottles with dots. The two peppermint scented bottles each have one dot, the two vanilla scented bottles each have two dots, etc. (Note: Here are more examples of DIY Montessori smelling bottles.)
With DIY cards and counters for the numbers 1-10, there are exactly 55 counters as a control of error. There will be too few or too many counters at the end if the child makes a mistake. (Note: Here you'll find the link to this post and other examples of DIY Cards and Counters.)
Examples of Control of Error in Montessori-Inspired Activities using Printables
When you're using printables to create Montessori-inspired activities, it's very helpful to add a control of error whenever possible.
In New Life for Our Geometric Solids, To the Lesson! uses color-coding dots as a control of error so the child will know the cards are matched correctly. (Note: Here are lots of examples of Inexpensive and DIY Geometric Solids and Extensions)
The Seasons Come and Go from To the Lesson! has an activity with control of error in color-coordinated cards and ribbon.
In my Montessori-inspired One Fish, Two Fish Math Activities (my February 15 post at PreK + K Sharing), there are 21 Goldfish for the 1 Fish 2 Fish Activity (exactly enough Goldfish for each of the goldfish bowls).
I often color-coordinate the materials on a tray with the color of the tray (unless it's a plain wooden tray). That makes it easier for the child to return materials to the correct tray. In my Montessori-Inspired April Showers Activities (my April 15 post at PreK + K Sharing), I added a blue color-coding dot to the back of each phonics card to correlate with the correct position of the clothespin, creating a control of error. When the child turns over each card at the end, the card's dot should be covered with a clothespin.
Have you added a control of error to materials you've created?
Photo at top of post by Jess Liotta and Colin Liotta at Flickr Creative Commons.
Montessori Monday Link-Up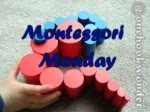 If you have some Montessori activity trays/lessons to share, please link up below. It's fine to link up a post from your archives – and you may link up anytime during the week! Please place the Montessori Monday button (using the code from the right sidebar) in your post or put a link back to this post.
Let's use Montessori Monday to gain inspiration/ideas and to encourage each other! If you would leave an encouraging comment on the post linked up ahead of you (along with any other posts you're drawn to), that would be awesome! Thanks for participating!
Note: If you have a giveaway on your blog, please add it to my Family-Friendly Giveaway Linky Page! If you enjoy entering giveaways, you'll always find some great giveaways there!



Linked to AfterSchool Linky Party, The Mommy Club Resources and Solutions at Milk and Cuddles and Crystal & Co. , What's on the Tray Wednesday, Thrifty Thursday, The Weekly Kid's Co-op, Fun Stuff Fridays, Living Life Intentionally Linky Party, The Weekly Kid's Co-op, Preschool Corner, Show-and-Share Saturday, The Sunday Showcase at Mom to 2 Posh Lil Divas and Classified: Mom, and Link & Learn.