Last week in my post about inexpensive and DIY sandpaper letters, I said that my son absolutely loved Montessori sandpaper letters (Learning to Read Can Be Just a Fun Game). His favorite activity was matching the sandpaper letters to small objects, similar to activities using alphabet boxes.
Today, I want to share some wonderful resources for DIY alphabet boxes. An alphabet box is great for preschoolers – and was an essential activity for my son! At home, we used the simplest version possible – sandpaper letters and a basket filled with small objects starting with each letter of the alphabet (to go with the sounds for each consonant and short-vowel sound). Please use what works best for you and your child, making your "alphabet box" as simple or as elaborate as you wish.
DIY Alphabet Boxes and Variations
(Update): I have a product in the Living Montessori Now shop with alphabet box labels and movable alphabet in manuscript, D'Nealian, and cursive. You can read more about it in my DIY alphabet box multi-level printables and resources.
Counting Coconuts has directions on how to make an alphabet box (The Alphabet Box – Part I – includes free letter template) and how to use the alphabet box (The Alphabet Box – Part II – photo).
Pink and Green Mama prepared an ABC box from a post at Itty Bitty Love.
Wildflower Ramblings used a drawer storage cabinet.
Stir the Wonder used a drawer storage cabinet.
Nurturing the Tender Years also has an alphabet box with drawers.
What DID We Do All Day? has a page on sound bins along with a link to a post with lots of ideas for acquiring and storing miniature objects.
The A-Priori Mommy made a phonetic ABC box using doodads from High Pie for objects.
Momtessori has an alphabet box with an I Spy game and sound sorting.
Kingdom of the Pink Princesses made alphabet/sound boxes using boxes from IKEA. For a similar system, you can choose the order to present letters/phonetic sounds (and label your alphabet boxes) according to one of the systems in this post: In What Order Should You Introduce Letters to Your Preschooler?
Smiling Like Sunshine puts an individual alphabet box with miniature objects and the corresponding sandpaper letter on the shelf.
Montessori MOMents has Object Box – SMAT (Photo), Object Box – DNIR, and Object Box BFEG.
To the Lesson! has a sound box activity using sandpaper letters and objects.
Jojoebi made phonetic sound pouches.
The Idea Box used 26 baby wipe boxes to make alphabet boxes.
Shannon's Sharings made sound bags.
Spell Outloud has an ABC letter box that's a mixture of an alphabet box and a sensory box. This could be used in a number of ways and with variations according to season or unit study.
Even though this doesn't use objects, I think it's a fun way to reinforce beginning sounds. Teaching 2 and 3 Year Olds has a drawer storage cabinet containing a variety of styles of letters.
Places to buy small objects
Craft stores typically have lots of small objects that work well. Miniature toys, such as Barbie accessories, are also good sources.
Although often more expensive, you can buy objects specifically for sound sorting. Check out the language objects from Montessori Services.
For ideas using Montessori Services objects, see my post "Activities Using Montessori Services Language Objects."
Montessori Monday Link-Up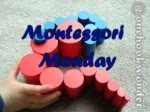 If you have some Montessori activity trays/lessons to share, please link up below. It's fine to link up a post from your archives – and you may link up anytime during the week!
Thanks for participating! (Note: If you have a giveaway on your blog, please add it to my Family-Friendly Giveaway Linky Page!)



Linked to AfterSchool Linky Party, Living Life Intentionally Linky Party, Pinterest Tuesday, The Mommy Club Resources and Solutions at Milk and Cuddles and Crystal & Co. , Thrifty Thursday, Preschool Corner, Show-and-Share Saturday, Link & Learn, and The Sunday Showcase at Mom to 2 Posh Lil Divas and Classified: Mom.