Cards and counters are one of the easiest Montessori materials to create. Although Montessori schools generally have the traditional materials in a wooden box, there's no need to purchase cards and counters for home use.
Creating your own cards and counters also has the advantage that you can vary your activity according to season, holiday, or theme. There are even variations you can use outdoors with no advanced preparation needed.
Normally cards and counters are presented after the red and blue rods (to introduce quantity), sandpaper numerals (to introduce symbols), and spindle boxes (to associate quantity and symbol). For home use, you may want to introduce cards and counters after your child has been introduced to some of the sandpaper numerals. You can always introduce cards and counters for 1-3 or 1-5 rather than 1-10.
What you'll need:
Numerals 1-10 and 55 objects (or the number of objects to match the numbers you'll be presenting).
DIY Cards and Counters Outdoors
Cards and Counters outdoors typically require no preparation in advance except for finding 55 objects, whether they're rocks, pine cones, leaves, or seashells and writing the numerals with chalk or drawing them in the sand or dirt.
I had an activity of the week using outdoor numbers and counters from an activity at What DID We Do All Day?
You can use numbers and counters at the beach.
DIY Cards and Counters for any Season
The Moveable Alphabet has an article on "Cards and Counters – Which One Would You Want To Work With?" encouraging homemade variations of cards and counters using beads, shells, and semi-precious stones for counters.
Förskoleburken has a free printable of numerals and pictures that can be used for numbers and counters.
My Montessori Journey has numbers and counters using pipe cleaners and beads and numbers and counters using smooth stones.
Parenting Fun used different objects found at home to create a variation of cards and counters.
New Learning Culture used red cardboard and red buttons to make cards and counters.
DIY Themed or Seasonal Cards and Counters
You can be creative in finding numbers and counters for any theme.
An example would be Chasing Cheerios' use of numbers and teddy graham counters to go with a bear theme.
Often, you can create activity trays using free preschool printables. You can print out your number cards and add objects for counters.
Montessori Print Shop has printable numbers and counters (sets for only $.49 each and summer numbers and counters are free) and printable 1-10 counting cards to be used with clothespins (sets for only $.79 each).
UPDATE: I have themed number cards in each of the Montessori-inspired monthly themed packs for my newsletter subscribers. Those can be used to make DIY cards and counters. I often show examples of ways to use them in the related blog post.
Autumn Cards and Counters
Outdoor cards and counters using autumn leaves for the counters would be a great autumn activity. Collecting 55 autumn leaves with your child would be half the fun!
Indoor seasonal cards and counters often have the numerals in a seasonal format, such as a number on a tree with miniature leaves or apples as counters.
To the Lesson! used pumpkin cards and counters (photo at top of this post).
Counting Coconuts used cornucopia calendar inserts and leaf sequins.
My Montessori Journey has a variation of cards and counters using foam leaf stickers, ribbons, and clothespins and another activity for apple counting.
Leptir has numbers and counters using hazelnuts.
Directions for Presenting Cards and Counters
Montessori Primary Guide has directions for presenting cards and counters using the traditional Montessori method of putting the counters in rows of two with a left-over counter centered below. That way, the child is given a concrete understanding of odd and even along with counting practice.
More Ideas for DIY Cards and Counters (Updates)
In my post "Do You Need to Buy Montessori Cards and Counters," you'll find many more examples of DIY cards and counters.
In my monthly themed activities, I often include themed DIY cards and counters. You'll find lots of examples in my post with more than 7 years' worth of free printables and Montessori-inspired activities.
What have you used for DIY cards and counters?
Montessori Monday Link-Up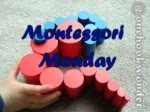 If you have some Montessori ideas/lessons to share, please link up below. Please also place the Montessori Monday button (using the code from the right sidebar) in your post or put a link back to this post.
My co-host (and founder of Montessori Monday), Nicole from One Hook Wonder, is taking the week off, but she has lots of great Montessori activities in her archives.
Thanks for participating! (Note: If you have a giveaway on your blog, please add it to my Family-Friendly Giveaway Linky Page.)