Activities for care of self are a very important part of the Montessori curriculum. They're especially important for helping children develop both coordination and independence. At the same time, dressing frames are often among the least-popular materials in Montessori schools.
While the dressing frames are still important for Montessori schools, there are DIY versions and alternatives that work well for homeschools and other preschools. This is an area where you can easily save some money and get the same results!
DIY Montessori Dressing Frames
Promoting Independent Dressing – Montessori Inspired (with dressing frames created using document frames, old clothes, and a staple gun) from Child Central Station. Also includes the Montessori way for a preschooler to put on a coat independently.
We Made Dressing Frames from Toddler Approved (using picture frames, old clothes, and a staple gun)
DIY: Montessori Dressing Frames for Toddlers from Montessori for Infants and Toddlers'
Montessori Dressing Frames from Montessori en Casa
DIY Montessori Dressing Boards from Musings of an im-Perfect Mom
DIY Dressing Frames from DIY Montessori
Montessori Inspired Dressing Boards from Stir the Wonder
Dressing Frames & Other Goodwill Finds from Havin' Fun Yet?
Dressing Frames from Homemade Montessori
Montessori Dressing Frames from 54 Stitches
DIY Dressing Frame Alternatives
Activity of the Week – Dressing Basket
Dressing Basket from Montessori ici
Cold Weather Dressing Basket by Jessie from The Education of Ours at Mommy Moment
Dressing Board from Simply Montessori
Dressing Vests from Grin Mama Blues
Button Snake from Counting Coconuts
Cheap and Easy Button Snake from Jonah Lisa Land
Felt Snakes for Boys from What DID We Do All Day?
Button Board from Rockabye Butterfly
Flower Button Board from Chasing Cheerios (photo at the top of this post)
Montessori Dressing Corner from Montessori on a Budget
Button Animals or Seasonal Items (such as the Thanksgiving button turkey from Itty Bitty Love, the button chicken from Little Red Farm, and the Valentine button snake from Leptir)
Dressing Frame Presentations
Dressing Frames from Montessori Primary Guide
Montessori – Practical Life – Dressing Frame – Zipper Video from Montessori Primary Guide
Montessori – Practical Life – Dressing Frame – The Buckle Video from Montessori Primary Guide
Montessori Practical Life Dressing frame: hook and eye Video from Montessori Primary Guide
Montessori – Practical Life – Dressing Frame – Lacing Video from Montessori Primary Guide
Dressing Frames from Montessori World
Have you used dressing frames or an alternative for your child or classroom?
Montessori Monday Link-Up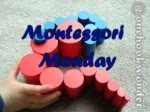 If you have some Montessori activity trays/lessons to share, please link up below. It's fine to link up a post from your archives – and you may link up anytime during the week! Please place the Montessori Monday button (using the code from the right sidebar) in your post or put a link back to this post.
Let's use Montessori Monday to gain inspiration/ideas and to encourage each other! If you would leave an encouraging comment on the post linked up ahead of you (along with any other posts you're drawn to), that would be awesome! Thanks for participating!
Note: If you have a giveaway on your blog, please add it to my Family-Friendly Giveaway Linky Page! If you enjoy entering giveaways, you'll always find some great giveaways there! And don't miss my TOTALLY AMAZING 2nd blogiverary giveaway of $1,300 worth of prizes sponsored by Montessori Print Shop! My giveaway ends Thursday at 10:01pm MST so that I can announce the winners for my blogiversary on Friday!
If you have any Earth Day activities to link up, you may link them up here if they're Montessori-inspired. If you have Earth Day activities of any type, you may link them up in the Earth Day Blog Hop hosted by the Preschool Blogger Network (in my yesterday's post). 🙂



Linked to AfterSchool Linky Party, The Mommy Club Resources and Solutions at Milk and Cuddles and Crystal & Co. , What's on the Tray Wednesday, Thrifty Thursday, The Weekly Kid's Co-op, Fun Stuff Fridays, Living Life Intentionally Linky Party, The Weekly Kid's Co-op, Preschool Corner, Show-and-Share Saturday, The Sunday Showcase at Mom to 2 Posh Lil Divas and Classified: Mom, Link & Learn, and Outdoor Classrooms Linky at PreK + K Sharing