For a Montessori homeschool and many preschool environments, Montessori tactile boards are a great DIY project. Tactile boards are a wonderful sensorial activity, but they were never one of the most popular materials in my Montessori preschool or homeschool. Especially for a homeschool, DIY tactile boards are a good place to save money.
In traditional Montessori classrooms, you'll find both rough and smooth boards and boards for gradation of textures. There are also tactile tablets for matching grades of sandpaper.
DIY Tactile Boards and Tactile Tablets
Making Montessori Ours made tactile boards and tablets from plywood and sandpaper.
Little Schoolhouse in the Suburbs has $2 touch boards from floor sample tiles and sandpaper.
Walk Beside Me used matte board and sandpaper.
A Bit of This and A Bit of That used mini cheese boards and sandpaper.
Carrots Are Orange used a slate board and sandpaper to make a sandpaper texture board.
Extensions/Alternatives to Traditional Tactile Boards and Tactile Tablets
Elaine Ng Friis made a rough-and-smooth activity sorting sandpaper and normal paper. (blog no longer available)
Harvesting Kale made texture boards using wooden boards from the craft store and items of varying textures.
Kreative Resources made texture boards from inexpensive cutting boards and items of varying textures.
Julie K. in Taiwan made texture boards using cardboard and items of varying textures.
Post-Apocalyptic Homeschool made texture tablets from cardboard squares and items of varying textures.
Barefoot in Suburbia made tactile boards and tablets from hard foam board and sandpaper.
My Delicious Ambiguity used wooden coasters and items of varying textures.
Walk Beside Me has tiny fabric matching pillows (and an interesting post about the use of sandpaper).
School Time Snippets has a texture road of butcher paper with items of varying textures.
Making Montessori Ours has a fabric box and mystery bag in addition to DIY tactile boards and tablets.
Tactile Board and Tablet Presentations
Montessori Primary Guide has presentations for Sensitizing Fingertips, Touch Boards (Rough and Smooth Boards 1-3), Touch Tablets, and Fabrics.
Carrots Are Orange shows the steps for presenting rough and smooth boards.
David Gettman's Basic Montessori: learning activities for under-fives – Google Books has presentations for touch boards, tactile tablets, and fabric matching.
Montessori World has presentations for texture boards and tablets.
Montessori Monday Link-Up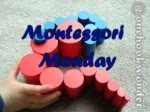 If you have some Montessori activity trays/lessons to share, please link up below. It's fine to link up a post from your archives – and you may link up anytime during the week! Please place the Montessori Monday button (using the code from the right sidebar) in your post or put a link back to this post.
Let's use Montessori Monday to gain inspiration/ideas and to encourage each other! If you would leave an encouraging comment on the post linked up ahead of you (along with any other posts you're drawn to), that would be awesome!
Thanks for participating! (Note: If you have a giveaway on your blog, please add it to my Family-Friendly Giveaway Linky Page! If you enjoy entering giveaways, you'll always find some great giveaways there!)



Linked to AfterSchool Linky Party, The Mommy Club Resources and Solutions at Milk and Cuddles and Crystal & Co. , What's on the Tray Wednesday, Thrifty Thursday, Fun Stuff Fridays, Living Life Intentionally Linky Party, The Weekly Kid's Co-op, Preschool Corner, Fun Stuff Fridays, Show-and-Share Saturday, Link & Learn, and The Sunday Showcase at Mom to 2 Posh Lil Divas, Discover and Explore: The Five Senses.