Halloween is a fun holiday – and it's a holiday that's made even better with grace and courtesy.
Halloween Walking on the Line
You can use a Halloween theme with a classic Montessori activity for developing grace of movement – walking on the line. Here's an Activity of the Week post with ideas for lines and extensions you can use: Activity of the Week – Walking on the Line. When I was a Montessori teacher, we used colored electrical tape to make a circle or ellipse on the floor, although you can use whatever you want to create a line.
For Halloween, it could be fun for your child to walk on the line while carrying a pumpkin. For more advanced balancing, your child could balance a Halloween book or even a cloth or plastic pumpkin on his or her head. We had a large, soft cloth pumpkin that worked well for that.
Halloween Manners
Etiquette lessons are important any time of the year – and especially for holidays. Halloween is no exception. Demonstration with role play is probably the most effective technique for introducing and reinforcing Halloween manners.
I'd recommend pretending you're trick-or-treating to show your child the appropriate Halloween etiquette. Here are the points I made with my own children (in wording similar to what I'd use in a demonstration):
We only walk on sidewalks, not through yards or flower beds.
We never go to a house with the lights off.
If the porch light is on, I knock or ring the doorbell once and wait a bit. I don't keep knocking or ringing the doorbell. If no one answers, I go to the next house. I don't try to peek into the house.
When someone answers the door, I smile and say, "Trick-or-treat!"
If the person holds out a candy bowl or bag, I take only one piece of candy unless the person says I may take more.
I always say, "Thank you," after I'm given a treat. Even if I don't like the candy, I still say, "Thank you." I don't say that I don't like the candy.
It's always nice to say, "Happy Halloween!" at the end.
After you've demonstrated the appropriate trick-or-treat manners, it helps to give your child plenty of practice with trick-or-treat role playing. Your child could pretend to trick-or-treat at your house. You, a sibling, or even a doll, stuffed animal, or puppet (with your help, of course!) could give the treat. You could reverse roles as well.
Related Posts (including updates)

Grace & Courtesy Lesson: Gift Receiving by Jessie from The Education of Ours at Mommy Moment – ideas for helping your child feel comfortable saying thank you for gifts of any type.
Homeschool Halloween – more about our family traditions.
Montessori-Inspired Halloween Activities (2011) – links to lots of Montessori-inspired Halloween activities and a Pinterest board filled with Halloween activities of all types.
Montessori-Inspired Pumpkin Unit

Montessori-Inspired Friendly Ghost Activities – my monthly post at PreK + K Sharing with ideas for friendly ghost activities and links to free printables.
Montessori-Inspired Halloween Activities (2012) – roundup of Montessori-inspired Halloween activities published since last year's post.
Happy Halloween! 🙂
Montessori Monday Link-Up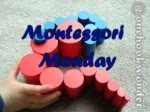 If you have some Montessori ideas/lessons to share, please link up below. Please also place the Montessori Monday button (using the code from the right sidebar) in your post or put a link back to this post.
And don't forget to visit my co-host, Nicole, at One Hook Wonder! Nicole is the one who started Montessori Monday – and she's back at her blog!
Thanks for participating! (Note: If you have a giveaway on your blog, please add it to my Family-Friendly Giveaway Linky Page.) 🙂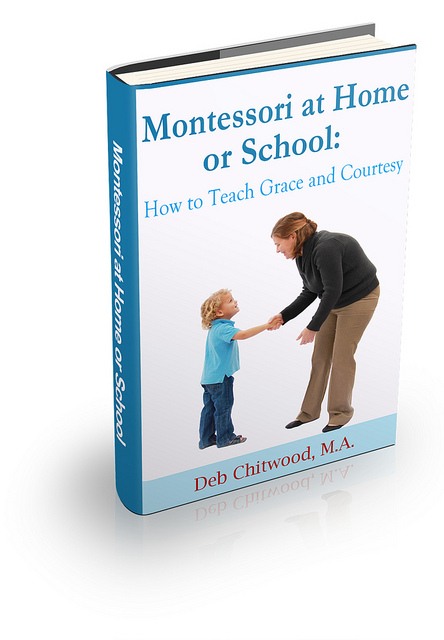 My eBook
Montessori at Home or School: How to Teach Grace and Courtesy
has grace and courtesy ideas for 2-12 year olds throughout the year!
May be linked to
Afterschool
Express
,
Thoughtful Spot
,
Tuesday Tots
, The Mommy Club Resources and Solutions at
Milk and Cuddles
and
Crystal & Co.
,
Mom's Library
,
The Weekly Kid's Co-op
,
Hearts for Home Blog Hop
,
Ultimate Mom Resources
,
Learn & Link
,
TGIF Linky Party
,
Preschool Corner
,
Ultimate Homeschool Pinterest Party
,
Sharing Saturday
,
Saturday Show & Tell
,
Share It Saturday
,
Show-and-Share Saturday
,
The Sunday Showcase
,
Link & Learn
,
Discover and Explore: Halloween
Save