As children reach elementary level, a common question Montessori homeschoolers and Montessori parents in general ask is some variation of "How long does my child need Montessori?"
If you're thinking of the most important Montessori principle of following the child, I'd have to say that the answer to the question is "The rest of your child's life." By that, I simply mean that it's important for a Montessori child to keep in mind his or her interests when making important decisions even as an adult. I still encourage my adult kids to follow their interests when making important life decisions. Of course, there will be times when sacrifices are necessary as an adult or when a temporary job won't necessarily follow a person's interests. But it's still a good general rule to follow to help keep life on track.
If the question is related to using specific Montessori materials and lessons, the answer can vary dramatically from child to child. I love Montessori education at all levels, but it isn't right for every family or for every child past age five. As always, it's important to observe your child to see what works best for him or her. And you have to consider what works for you and for the rest of your family, too.
For homeschoolers, the transition to Montessori elementary is difficult. It can be done, though, and there are a number of Montessori elementary homeschoolers online who'll give inspiration and support. But if it feels too overwhelming to think of continuing Montessori homeschooling at the elementary level, don't feel bad.
Montessori Influence for Life

Google Founder Larry Page attended Montessori until age 6, although co-founder Sergey Brin attended a Montessori school during grade school. Both Larry Page and Sergey Brin claim that Montessori was the key to their success. You can read more and see a video of them in my post "Anne Frank and Google Founders Share Montessori Link."
My Montessori school in the 1980s only had children from ages 2½ -5. After that, all the students went on to traditional elementary schools, since there weren't any Montessori elementary schools in my city. Here's an email I received from Danielle, a student in my Montessori school during the 1980s, who found me online:
"I still remember so many things about your classroom, for instance learning how to tie my shoes, learning how to braid. I remember sitting on the oval and circle tapes of green and red. I learned how to read with you – and still love to. Thank you. Thank you for the impact and influence you have had on my life. It is still there, some almost 30 years after I first was exposed to the Montessori Method."
Even Maria Montessori said:
"The most important period of life is not the age of university studies, but the first one, the period from birth to the age six; for that is the time when man's intelligence itself, his greatest implement, is being formed." 
Different Approaches to Using Montessori for Elementary and Beyond
My family homeschooled in the 1990s, so it was very difficult to find many affordable Montessori homeschool resources at the elementary level. We used unit studies and added some Montessori-inspired activities to our units. You can read a bit more about how we incorporated Montessori principles in my post "How to Be a Relaxed Homeschooler."
Even though we didn't use a lot of Montessori elementary materials, we still followed Montessori principles. For my children, that worked well. A Montessori elementary school would also have been wonderful for them. But it wasn't essential. My children very much grew up as Montessori children.
Many Montessori homeschoolers go on to a modified use of Montessori when their child reaches elementary level. For example, some use Classical Conversations with added Montessori materials. Montessori Print Shop tells more about that approach: "Combining Montessori with Classical Conversations."
See my "Montessori Elementary Homeschool Inspiration and Ideas" for a variety of ways to incorporate Montessori into elementary homeschooling.
Montessori Elementary Resources
Here are my main Montessori elementary resource posts:
Introduction to Montessori Elementary
Montessori Elementary Homeschool Inspiration and Ideas
Free Montessori Elementary Montessori Materials Online
(including free Montessori elementary albums)
Where to Buy Montessori Elementary Albums and Materials
Wishing you the best as you choose the right approach or combination of approaches for your unique family and child. 🙂
Montessori Monday Link-Up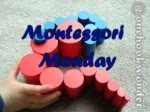 If you have some Montessori activity trays/lessons to share, please link up below. It's fine to link up a post from your archives – and you may link up anytime during the week! Your post may be any Montessori-inspired activity or idea. It doesn't need to be related to my Montessori Monday post.
Link up your exact post URL so that we can find your activity if we return to the linky at a later date (which I often do when I'm looking for activities for a roundup post). I publish the Montessori Monday post and linky at 6:00 a.m. EST each Monday and keep the linky open throughout the week.
Please place the Montessori Monday button (using the code from the right sidebar) in your post or put a link back to this post. Let's use Montessori Monday to gain inspiration/ideas and to encourage each other! If you would leave an encouraging comment on the post linked up ahead of you (along with any other posts you're drawn to), that would be awesome! Thanks for participating!
Notes:
For community discussions, please join us at the Living Montessori Now Facebook page, We Teach Montessori Group, and/or Google+ Montessori Community. The We Teach Montessori group has a Member Resources Sharing (for resources such as freebies and series) as well as a Linky Party for We Teach Montessori. We Teach Montessori has a linky just like the one here except that it's continuous where you may add your Montessori-inspired activities and ideas to the same linky. New links will go to the top of the linky. I'd love to see us build up a great collection of Montessori-inspired ideas there, too. After you link up here, why not hop over to the We Teach Montessori Group and link up there?! And don't forget the Saturday/Sunday Parent/Teacher Preparation Days share where you may share a kid-related activity of any kind at the Living Montessori Now Facebook page!
It's also Motivational Monday on Mondays now! I invite you to share something positive on the Bits of Positivity Facebook page (Bits of Positivity is my other blog) to help us all get a good start on the work/school week. You might share an inspirational or motivational quote, positive graphic, or post about finding balance or simplifying your life. Or you might share a post on organizing, an encouraging post, a post about making a difference in the world, or a positive parenting post. Just go ahead and share on the Bits of Positivity wall any time today! (Please "like" the Bits of Positivity Facebook page if you haven't already.) I'll be pinning a number of ideas to my regular Pinterest boards.
If you have a giveaway on your blog, please add it to my Family-Friendly Giveaway Linky Page! If you enjoy entering giveaways, you'll always find some great giveaways there.
Also, if you've ever been linked to in one of my roundup posts, please feel free to grab the "Featured on" badge.
Have you added the Montessori Monday button or a text link? Please be sure you've done one or the other so that others can find the link-up, too! Thank you!If this is your first time visiting Living Montessori Now, welcome! If you haven't already, please join us on our Living Montessori Now Facebook page where you'll find a Free Printable of the Day and lots of inspiration and ideas for parenting and teaching! And please follow me on Pinterest (lots of Montessori-, holiday-, and theme-related boards),  Twitter (blog posts by me and others along with the Parent/Teacher Daily and other interesting information), and  Google+ (post updates and Montessori Community). You can find me on bloglovin' now, too. I'm also a Parenting Expert on Sulia. Thank you for following me there. And don't forget one of the best ways to follow me by signing up for my weekly newsletter in the right sidebar. You'll get two awesome freebies in the process!
May be linked to Afterschool Express, Thoughtful Spot, Tuesday Tots, The Mommy Club Resources and Solutions at Milk and Cuddles and Crystal & Co., Mom's Library, The Weekly Kid's Co-op, Hearts for Home Blog Hop, Ultimate Mom Resources, Learn & Link, TGIF Linky Party, Preschool Corner, Ultimate Homeschool Pinterest Party, Sharing Saturday, Saturday Show & Tell, Share It Saturday, Show-and-Share Saturday, The Sunday Showcase, Link & Learn