I've already written about inexpensive and DIY sandpaper letters and a DIY alphabet box. Today, I'm writing about the movable alphabet, an important Montessori preparation for spelling, writing, and reading.
The traditional Montessori movable alphabet uses wooden lowercase letters with blue vowels and red consonants. The classic wooden Montessori movable alphabet is beautiful, but an attractive inexpensive version can be prepared using printables for home use. There are also other inexpensive options for homeschools and schools outside of traditional Montessori schools.
Disclosure: This post contains some affiliate links (at no cost to you).
Inexpensive and DIY Movable Alphabets
If you'd like a high-quality but reasonably priced, traditional movable alphabet, consider the small movable alphabet from Alison's Montessori (see review here) or Kid Advance.
Montessori Print Shop has a number of inexpensive moveable alphabet materials, including Movable Alphabet with Lesson Instructions (which also has a word list and picture cards). In addition, Montessori Print Shop has a page with preparation instructions (Make a Montessori Moveable Alphabet), information on Moveable Alphabet and Extension Lessons, and Moveable Alphabet Colors.
Montessori Services has a number of options for movable alphabets you can easily assemble.
Simply Montessori has The Moveable Alphabet: Lots of wallet friendly alternatives for your home (and links to make it simple!).
Preschool Universe has ideas for inexpensive alternatives to the traditional Montessori movable alphabet.
My Free Montessori Materials Online post has links to lots of inexpensive Montessori material suppliers with movable alphabets. (Counting Coconuts often shows materials purchased from one of the less expensive Montessori material suppliers. (Photo from Counting Coconuts).
HomeschoolEscapade made a pipe cleaner moveable alphabet.
Montessori Mom has ideas for preparing and presenting a moveable alphabet and Exercises for the Moveable Alphabet.
Livable Learning has free movable alphabet printables.
The Little House on the Prairie made a cardboard movable alphabet.
Little House in the Suburbs has Movable Alphabet for Word Building and Phonogram Rocks.
Criss-Cross Applesauce has a lima bean movable alphabet.
Moms Have Questions Too has a glass gem movable alphabet.
Maybe Montessori tells how to create a movable alphabet carrying case.
Directions for Presenting the Movable Alphabet
Montessori Primary Guide has moveable alphabet presentations.
Montessori World has movable alphabet presentations.
eHow has a post on How to Use the Montessori Small Movable Alphabet.
To the Lesson! shows the movable alphabet in use.
Jessie from The Education of Ours has posts at Mommy Moment on First Experiences with the Moveable Alphabet and First Exposures to the Movable Alphabet.
Montessori MOMents showed movable alphabet work. The blog is no longer available.
We Don't Need No Education has elementary-level movable alphabet work for renewing interest in spelling.
Montessori Works has a post on writing with the moveable alphabet.
Montessori Monday Link-Up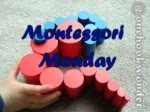 If you have some Montessori activity trays/lessons to share, please link up below. It's fine to link up a post from your archives – and you may link up anytime during the week! Please place the Montessori Monday button (using the code from the right sidebar) in your post or put a link back to this post.
My co-host, Nicole at One Hook Wonder, is taking a 1-2 month Montessori break right now while she decides on the direction for her family's homeschooling. She has a lot of Montessori activities in her archives!
Thanks for participating! (Note: If you have a giveaway on your blog, please add it to my Family-Friendly Giveaway Linky Page!)



Linked to AfterSchool Linky Party, Living Life Intentionally Linky Party, Pinterest Tuesday, The Mommy Club Resources and Solutions at Milk and Cuddles and Crystal & Co. , Thrifty Thursday, Preschool Corner, Show-and-Share Saturday, Link & Learn, and The Sunday Showcase at Mom to 2 Posh Lil Divas and Classified: Mom.