Isolation of quality is a brilliant concept in Montessori education – a principle that can help you in both making and choosing materials. And isolation of quality is a concept you won't find very often in preschool materials that aren't Montessori-inspired.
You'll especially notice isolation of quality in the Montessori sensorial materials – where each material isolates one specific quality, such as size, weight, shape, texture, color, sound, or smell.
The pink tower in the photo varies only in size with all other qualities remaining constant (photo by Jess and Colin Liotta). By eliminating elements that could be confusing or distracting, the child will focus on the quality being isolated.
You'll find more about Montessori sensorial materials in these posts: Montessori Sensorial Activities (my post with links to many of the Montessori sensorial articles and albums online) and Montessori Sensorial Overview – Scope and Sequence from Montessori Print Shop (photo at the top of this post).
Isolation of quality makes it much easier for a child to learn a new concept in any area. For example, when the child is using sandpaper numerals to learn the number symbols, the numerals don't vary in color or size. (Photo from Just Watching at To the Lesson!)
Isolation of Quality in DIY Materials
It's very helpful if you can isolate the quality in DIY materials. Many homeschoolers, for example, make their own Montessori color tablets. You can follow the Montessori concept of isolating the quality by creating color tablets that vary in color only while keeping size and shape the same. (DIY Color Tablets – Photo from More Home/Teacher Made Manipulatives at Teacher Weena)
Similarly, the concept of number is clearest to the child in DIY numbers and counters in which the numerals vary only in numerical symbol and the counters vary only in quantity. You can do this with even the simplest version of cards and counters, such as outdoor numbers and counters using chalk-drawn numerals and objects such as pinecones or rocks or numbers and counters at the beach using numerals drawn in the sand and seashell counters.
There may be times when you create DIY materials where you don't choose to isolate the quality, such as when you want to add interest by using a number of different colored eggs for an Easter activity or a number of different colored flowers for a spring activity. But with a child who's just being introduced to a concept or a child who has difficulty with a concept, it's especially helpful to remember to isolate one quality.
More on Montessori Principles
Top 10 Principles for Natural Learning gives an overview of some important Montessori principles to use at home. Become a More Successful Homeschooler by Using Montessori Principles tells about basic Montessori principles found in the materials. Recently, I also published a post on control of error, another Montessori principle that you'll find especially helpful when creating your own materials.
I'd love to hear about your experiences with materials that had or didn't have isolation of quality.
Montessori Monday Link-Up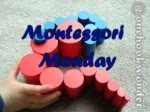 If you have some Montessori activity trays/lessons to share, please link up below. It's fine to link up a post from your archives – and you may link up anytime during the week! You post may be any Montessori-inspired activity or idea. It doesn't need to be related to my Montessori Monday post.
Please place the Montessori Monday button (using the code from the right sidebar) in your post or put a link back to this post. Let's use Montessori Monday to gain inspiration/ideas and to encourage each other! If you would leave an encouraging comment on the post linked up ahead of you (along with any other posts you're drawn to), that would be awesome! Thanks for participating!
Note: If you have a giveaway on your blog, please add it to my Family-Friendly Giveaway Linky Page! If you enjoy entering giveaways, you'll always find some great giveaways there!



Linked to AfterSchool Linky Party, The Mommy Club Resources and Solutions at Milk and Cuddles and Crystal & Co. , The Weekly Kid's Co-op, Fun Stuff Fridays, Living Life Intentionally Linky Party, Preschool Corner, Show-and-Share Saturday, The Sunday Showcase at Mom to 2 Posh Lil Divas and Classified: Mom, and Link & Learn.