Spring was my favorite season growing up on a farm. And spring is a great time for a farm unit with a mixture of indoor- and outdoor activities. I love farm units in the summer, too. Of course, a farm unit is fun at any time of the year.
A Montessori-inspired farm theme fits well with Montessori education's emphasis on real-life work. There are even Montessori schools that were created with the theme of providing real-life farm experiences. And many Montessori schools provide a few farm experiences in the middle of a city. When I taught at Tempe Montessori School in the late 1970s, the school had a sheep in part of the school's large backyard.
Here are some wonderful activities for a Montessori-inspired farm unit I found online that work well at home or school.
Montessori-Inspired Farm Activities
Farm Posts and P is for Pig (free printables – photo) from Our Country Road
Farm Animal Matching (Photo from Montessori Moments –  the blog is no longer available)
Farmyard Families and Farm Animal Matching Cards (free printable cards) from The Helpful Garden
Farm Animal Nomenclature (free printable cards) from Montessori for Everyone
Farm Printables and Where Does It Come From? Cards (available inexpensively) from Montessori Print Shop
Farm Printables (purple links are free) from Montesori Materials
Farm Printables and Activities from 1+1+1=1 (Photo from Tot School ~ Letter Gg)

Matching Farm Animals with Miss Ava from Making Montessori Ours
C is for Cow Farm Unit (with free printable) at Living Life Intentionally
Farm Theme from Discovery Days and Montessori Moments
Tot Time – Fun on the Farm from Homeschool Mo
Farm Posts from Counting Coconuts (Photo from May Sensory Tub – Farm)
Farm Sensory Tub from Carrots Are Orange
Farm Posts from Chestnut Grove Academy (Photo from Workbox Wednesday)
Farm Unit from Five Hazelnuts
Counting with Grain Bins from hands on : as we grow
Farm Posts from The Preschool Experiment (Photo from Farm Theme Tot Trays)

Montessori Grammar Farm (my roundup post) – Photo from More Montessori Grammar Farm Work from Making Montessori Ours
Corn Unit Study (my roundup post)
Grain Matching (Photo from United Montessori Association – that specific blog post is no longer available)
Free Montessori Botany Materials for a Gardening Unit
Erdkinder – The Montessori Answer to Adolescence from Montessori for Everyone
My other farm posts: Safari Ltd. Farm TOOBS and Keys, Free Farm Printables and Montessori-Inspired Activities Using Farm Replicas and Printables, 40+ Farm Sensory Tubs, Inexpensive, Simple-to-Prepare Montessori Grammar Farm, Farm Unit Study Pinterest Board
Farm Unit Study Pinterest Board
I have a Farm Unit Study Pinterest board with activities of all types.
Have you done many farm activities at your home or school?
Montessori Monday Link-Up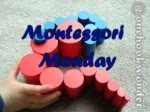 If you have some Montessori activity trays/lessons to share, please link up below. It's fine to link up a post from your archives – and you may link up anytime during the week! Please place the Montessori Monday button (using the code from the right sidebar) in your post or put a link back to this post.
Let's use Montessori Monday to gain inspiration/ideas and to encourage each other! If you would leave an encouraging comment on the post linked up ahead of you (along with any other posts you're drawn to), that would be awesome! Thanks for participating!
Note: If you have a giveaway on your blog, please add it to my Family-Friendly Giveaway Linky Page! If you enjoy entering giveaways, you'll always find some great giveaways there! There are 3 Montessori giveaways linked up right now! 🙂



Linked to AfterSchool Linky Party, The Mommy Club Resources and Solutions at Milk and Cuddles and Crystal & Co. , What's on the Tray Wednesday, Thrifty Thursday, The Weekly Kid's Co-op, Fun Stuff Fridays, Living Life Intentionally Linky Party, The Weekly Kid's Co-op, Preschool Corner, Show-and-Share Saturday, The Sunday Showcase at Mom to 2 Posh Lil Divas and Classified: Mom, and Link & Learn.