Do you study the U.S. Presidents at home or in the classroom? Whether or not you've planned Presidents' Day activities, there are many that can be put together easily. Others could be started this week, using Presidents' Day as a springboard for discussion.
Some natural themes for Presidents' Day are money, individual presidents (such as George Washington or Abraham Lincoln), naming and sequencing presidents, timelines of Presidents, and elections.
Disclosure: This post contains affiliate links (at no cost to you).
Here are some posts with ideas that work well for Montessori-inspired activities:
Presidents' Day Posts and Resources
George Washington's Birthday/Presidents' Day US, February 21, 2012 from North American Montessori Center
A Timeline of Abraham Lincoln (photo at the top of this post) and Updated Timeline of Abraham Lincoln's Life from Little Wonders' Days
Coin Polishing for Presidents' Day (a great version for toddlers/young preschoolers) from Parenting in the Moment
Montessori-Inspired Activities Teaching about Money and Presidents (my post from last year, which includes a coin polishing science activity for older preschoolers)
Montessori Homeschooling Tip: Presidents' Day, including using President Nomenclature Cards from NAMC's 3-6 Montessori Homeschool Program
American President Cards, Age 3 to 6 (available for purchase) from Montessori Helper
American President Cards, Age 6 to 9 (available for purchase) from Montessori Helper
Counting to 44 – Presidents' Day Sequencing Activity (including link to free printables) from Toddler Approved
Historic Figures Sets for George Washington and Abraham Lincoln (available for purchase) from Montessori for Everyone
Celebrating the Personal Life of George Washington (including George Washington's courtesy lessons) from Montessori 21st Century's Weblog and American Montessori Consulting
2012 United States Presidential Election Unit Study from American Montessori Consulting
Presidents Day Activities from Carrots Are Orange
UPDATE: Free Printables and Montessori-Inspired Presidents' Day Activities
Free President Songs and Rhymes for Circle Time (songs for a variety of ages)
Kids' Presidents' Day Activities Pinterest Board
Follow Deb @ Living Montessori Now's board Kids' Presidents' Day Activities on Pinterest.
I have a Kids' Presidents' Day Activities Pinterest board filled with activities of all types and for many levels. They aren't necessarily Montessori activities, but there are lots of wonderful ideas for homeschools, schools, and afterschool activities.
How are you studying the U.S. Presidents?


Montessori Monday Link-Up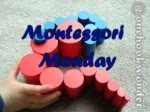 If you have some Montessori activity trays/lessons to share, please link up below. It's fine to link up a post from your archives – and you may link up anytime during the week! Please place the Montessori Monday button (using the code from the right sidebar) in your post or put a link back to this post.
Let's use Montessori Monday to gain inspiration/ideas and to encourage each other! If you would leave an encouraging comment on the post linked up ahead of you (along with any other posts you're drawn to), that would be awesome!
Thanks for participating! (Note: If you have a giveaway on your blog, please add it to my Family-Friendly Giveaway Linky Page! If you enjoy entering giveaways, you'll always find some great giveaways there!)

Linked to AfterSchool Linky Party, Pinterest Tuesday, The Mommy Club Resources and Solutions at Milk and Cuddles and Crystal & Co. , What's on the Tray Wednesday, Thrifty Thursday, Living Life Intentionally Linky Party, Preschool Corner, Fun Stuff Fridays, Show-and-Share Saturday, Link & Learn, and The Sunday Showcase at Mom to 2 Posh Lil Divas and Classified: Mom.