Autumn is a beautiful season, and creating Montessori-inspired autumn activities can help preschoolers enjoy and learn from the season. Squirrels and nuts can make a great autumn theme.
If you don't celebrate Halloween in your family, you might want to create some squirrel and nut activity trays now. But squirrel and nut activities work well anytime in the autumn.

Here are some Montessori-inspired activities I found online:
Activities using oak leaves and/or oak trees from a Montessori-Inspired Autumn Leaf Unit would work well.
Little Wonders' Days has a number of activities with a squirrel theme, including transferring acorns with a strawberry huller.
Montessori Materials has free 3-part nut cards.
Montessori Mom has a squirrel newsletter with links to a number of activities and materials, including free squirrel anatomy nomenclature cards and squirrel food 3-part cards.
One Hook Wonder has a fall nature tray, acorn transfer using tongs, addition and subtraction work using acorn caps (along with beads and other objects), and squirrel observation.
Pirate Ships and Sealing Wax has a squirrel unit.
Leptir has numbers and counters using hazelnuts. I featured this activity as part of DIY Cards and Counters. You can easily substitute acorns or any nut and use it for a squirrel and nut theme. Notice how the nuts are laid out in rows of two with an extra acorn centered below. That's the traditional Montessori way of introducing cards and counters to give a hands-on understanding of odd and even.
Leptir has a number of nut activities, including cracking and grinding nuts. Leptir also has a squirrel grid game using a Squirrel Grid Game printable from PreKinders.
PreKinders has nut sorting and nature walk checklist in addition to the squirrel grid game.
To the Lesson! has an acorn math game and stringing acorn buttons.
Note: The Raising Genius Fish blog is no longer available.
Outdoor Acorn Math Activities (my post)
Squirrel and Nut Activities on Pinterest


I have a Squirrel and Nut Activities board on Pinterest that I'll be adding to throughout the autumn with all sorts of squirrel and nut activities and printables.
Have you done any autumn activities with a squirrel and/or nut theme?
Montessori Monday Link-Up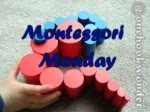 If you have some Montessori activity trays/lessons to share, please link up below. Please also place the Montessori Monday button (using the code from the right sidebar) in your post or put a link back to this post.
My co-host (and founder of Montessori Monday), Nicole from One Hook Wonder, is feeling better but is very busy and still taking some time off from blogging.
Thanks for participating! (Note: If you have a giveaway on your blog, please add it to my Family-Friendly Giveaway Linky Page.)



Linked to AfterSchool Linky Party, Living Life Intentionally Linky Party, The Mommy Club Resources and Solutions at Milk and Cuddles and Crystal & Co. , Pinterest Tuesday, Show-and-Share Saturday, Link & Learn, The Sunday Showcase at Mom to 2 Posh Lil Divas, All Year Round Blog Carnival: Autumn, and Autumn Blog Hop.