I love preparing Montessori spaces in the home. I've been lucky to take care of my 21-month-old granddaughter a few afternoons a week since she was a baby. I've prepared a number of Montessori spaces for her in my home.
When Zoey was 15-18 months, I gradually adapted the Montessori spaces for a toddler.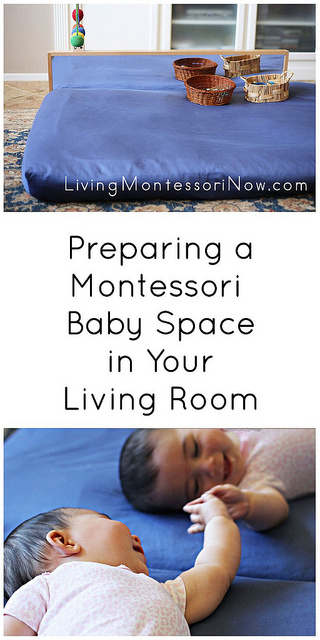 Many of the Montessori spaces were started in my post about "Preparing a Montessori Baby Space in Your Living Room."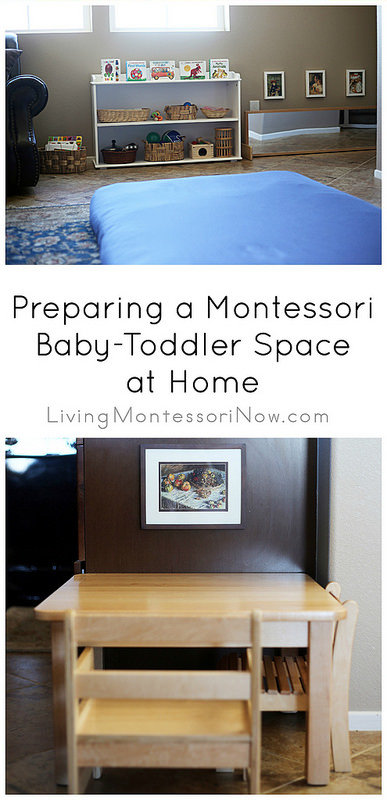 The transformation continued with my post about "Preparing a Montessori Baby-Toddler Space at Home."
If you go to those posts, you'll find many of the resources I used to set up our Montessori spaces.
Disclosure: This post contains affiliate links (at no cost to you).
Preparing Montessori Toddler Spaces at Home
I've added an extra shelf now that Zoey is a toddler. The materials are obviously geared toward her age as well. I've added a line for Montessori walking on the line activities. I'll have a post about about walking on the line on Thursday!
I've added a flower arranging activity. Now, Zoey always has flowers on her table that she can arrange whenever she wishes. I store the Little Partners Learning Tower near Zoey's cleaning materials, and we bring it out whenever we're planning activities in the kitchen.
I have two lower shelves in my kitchen cabinet that have become Zoey's snack area. Many of the materials are shown in my "Cutting a Banana Practical Life Activity for Toddlers." Zoey's mom typically sends snacks and dinner, which are often stored in my refrigerator. My refrigerator door is too heavy for Zoey to open without help, but I've taught her to say, "Please," whenever she needs my help opening the refrigerator.
The cloths are for washing the table, using the sprayer from our window washing activity. Update: In my "Simple Montessori Table Washing for Toddlers," you'll see our current table-washing tray.
Zoey's mom and I are using Montessori toilet learning. Zoey knows how to use the toilet, and I keep a book basket with toileting books available for her. I read to her whenever she asks to use the potty. Zoey does that at least once most days that she's at my house, but I don't worry about it if she doesn't. We're allowing Zoey to become comfortable using the toilet at her own time table. We do plan to make a more focused effort when Zoey is 2 1/2 so she's ready to attend Montessori school that fall.
For a toilet-learning system, I consider a stand-alone potty or attached potty seat a personal preference. Of course, some toddlers have a definite preference. I've never liked the idea of having to clean out stand-alone potty chairs, so I've always used an attached potty seat. I'm using a Squatty Potty as the stepstool, but you might prefer different kind.
Our bathroom book basket has Montessori-friendly books for girls (My Big Girl Potty by Joanna Cole and My Big Girl Undies by Karen Katz). There's also a version of the Joanna Cole book for boys: My Big Boy Potty. I also have the gender-neutral books by William Sears, M.D., Martha Sears., R.N., and Christie Watts Kelly You Can Go to the Potty, Fred Rogers' Going to the Potty, the very silly and very well-loved Potty by Leslie Patricelli, and the absolute favorite book Everyone Poops!
A simple attached potty seat, step stool next to the toilet, and books nearby worked well for my now-adult kids when they were toddlers. They're working well for Zoey, too!
Zoey and I both love the Little Partners 3-in-1 Growing Step Stool. I have it set up near the cold-water faucet. Zoey is able to reach the faucet, soap, and hand towel to complete here handwashing independently.
I have some lovely Alison's Montessori materials that I've reviewed. I keep them in my office along with a book basket, Spielgaben materials, and music activities. Zoey will be attending a Montessori school for preschool and elementary school, so I minimize the time using traditional Montessori materials. If your child attends a Montessori school, you don't need to have any traditional Montessori materials at home. It's best to have materials that are a bit different to keep school a special place. Of course, I recommend buying or making traditional Montessori materials if you're planning to be a Montessori homeschooler.
I used to have a futon in our living room. Because Zoey typically doesn't take a nap at my house now, I keep the futon rolled up in my office where it's available if needed.
Preparing Montessori Spaces at Home
There are many different ways you prepare Montessori spaces according to how you've decided to use Montessori principles in your home. (See "How to Create a Montessori-Friendly Home" for ideas for a number of levels.) Here are some posts with inspiration from many other Montessori homes: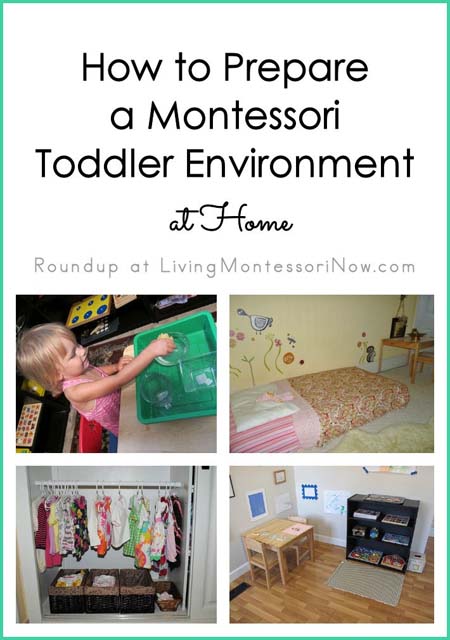 Montessori toddler environment
Montessori homeschool classroom.
Have fun preparing your Montessori spaces! 🙂
Preparing Montessori Spaces in Your Home
See "How to Create a Montessori-Friendly Home" for ideas for a number of levels. Here are some of my main home environment posts here: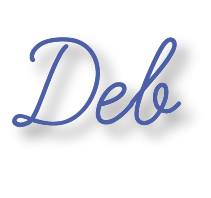 Learn more about my eBook Montessori at Home or School: How to. Teach Grace and Courtesy!
If this is your first time visiting Living Montessori Now, welcome! If you haven't already, please join us on our Living Montessori Now Facebook page where you'll find a Free Printable of the Day and lots of inspiration and ideas for parenting and teaching! And please follow me on Instagram, Pinterest (lots of Montessori-, holiday-, and theme-related boards), and YouTube. While you're here, please check out the Living Montessori Now shop.
And don't forget one of the best ways to follow me by signing up for my weekly newsletter. You'll receive some awesome freebies in the process!
This post is part of the 12 Months of Montessori Learning series!
Natural Beach Living ~ The Natural Homeschool ~ Living Montessori Now
The Kavanaugh Report ~ Mama's Happy Hive ~ Study at Home Mama
Child Led Life ~ Every Star Is Different ~ Grace and Green Pastures