I love preparing Montessori spaces in the home. I've been lucky to take care of my 21-month-old granddaughter a few afternoons a week since she was a baby. I've prepared a number of Montessori spaces for her in my home.
When Zoey was 15-18 months, I gradually adapted the Montessori spaces for a toddler.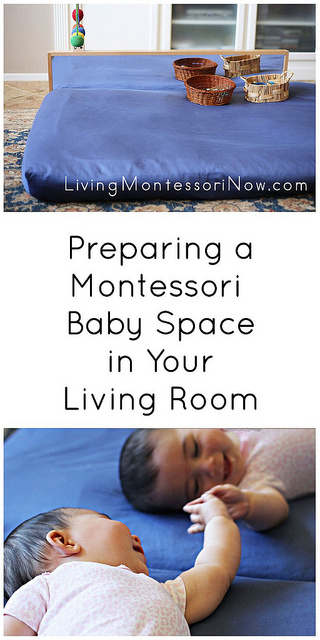 Many of the Montessori spaces were started in my post about "Preparing a Montessori Baby Space in Your Living Room."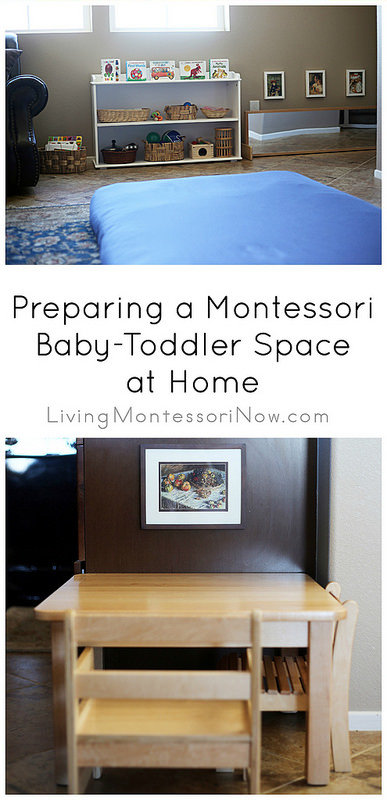 The transformation continued with my post about "Preparing a Montessori Baby-Toddler Space at Home."
If you go to those posts, you'll find many of the resources I used to set up our Montessori spaces.
Disclosure: This post contains affiliate links (at no cost to you).
Preparing Montessori Toddler Spaces at Home
I've added an extra shelf now that Zoey is a toddler. The materials are obviously geared toward her age as well. I've added a line for Montessori walking on the line activities. I'll have a post about about walking on the line on Thursday!
I've added a flower arranging activity. Now, Zoey always has flowers on her table that she can arrange whenever she wishes. I store the Little Partners Learning Tower near Zoey's cleaning materials, and we bring it out whenever we're planning activities in the kitchen.
I have two lower shelves in my kitchen cabinet that have become Zoey's snack area. Many of the materials are shown in my "Cutting a Banana Practical Life Activity for Toddlers." Zoey's mom typically sends snacks and dinner, which are often stored in my refrigerator. My refrigerator door is too heavy for Zoey to open without help, but I've taught her to say, "Please," whenever she needs my help opening the refrigerator.
The cloths are for washing the table, using the sprayer from our window washing activity. Update: In my "Simple Montessori Table Washing for Toddlers," you'll see our current table-washing tray.
Zoey's mom and I are using Montessori toilet learning. Zoey knows how to use the toilet, and I keep a book basket with toileting books available for her. I read to her whenever she asks to use the potty. Zoey does that at least once most days that she's at my house, but I don't worry about it if she doesn't. We're allowing Zoey to become comfortable using the toilet at her own time table. We do plan to make a more focused effort when Zoey is 2 1/2 so she's ready to attend Montessori school that fall.
As far as our toilet learning system, a stand-alone potty or attached potty seat is personal preference. I've never liked the idea of having to clean out stand-alone potty chairs, so I've always used an attached potty seat. I also used the Squatty Potty as the stepstool.
Zoey and I both love the Little Partners 3-in-1 Growing Step Stool. I have it set up near the cold-water faucet. Zoey is able to reach the faucet, soap, and hand towel to complete here handwashing independently.
I have some lovely Alison's Montessori materials that I've reviewed. I keep them in my office along with a book basket, Spielgaben materials, and music activities. Zoey will be attending a Montessori school for preschool and elementary school, so I minimize the time using traditional Montessori materials. If your child attends a Montessori school, you don't need to have any traditional Montessori materials at home. It's best to have materials that are a bit different to keep school a special place. Of course, I recommend buying or making traditional Montessori materials if you're planning to be a Montessori homeschooler.
I used to have a futon in our living room. Because Zoey typically doesn't take a nap at my house now, I keep the futon rolled up in my office where it's available if needed.
Preparing Montessori Spaces at Home
There are many different ways you prepare Montessori spaces according to how you've decided to use Montessori principles in your home. (See "How to Create a Montessori-Friendly Home" for ideas for a number of levels.) Here are some posts with inspiration from many other Montessori homes: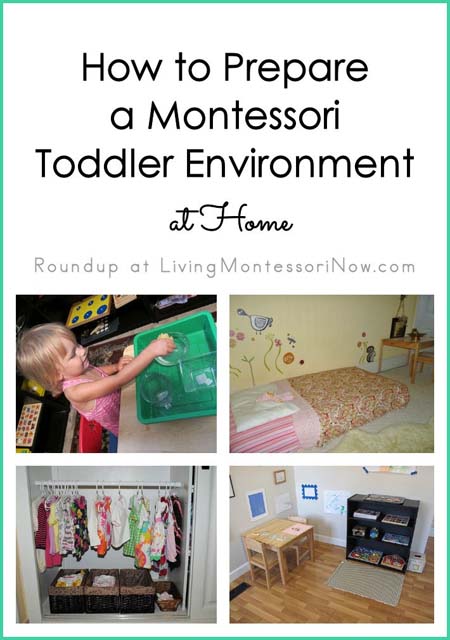 Montessori toddler environment
Montessori homeschool classroom.
Have fun preparing your Montessori spaces! 🙂
This post is part of the 12 Months of Montessori Learning series!
Natural Beach Living ~ The Natural Homeschool ~ Living Montessori Now
The Kavanaugh Report ~ Mama's Happy Hive ~ Study at Home Mama
Child Led Life ~ Every Star Is Different ~ Grace and Green Pastures
Montessori Monday Link-Up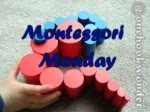 If you have some Montessori activity trays/lessons to share, please link up below. It's fine to link up a post from your archives – and you may link up anytime during the week! Your post may be any Montessori-inspired activity or idea. It doesn't need to be related to my Montessori Monday post.
If you're wondering what's considered "Montessori inspired" and what to link up (or not link up), check out my "What Is Montessori Inspired?" post. Link up your exact post URL so that we can find your activity if we return to the linky at a later date (which I often do when I'm looking for activities for a roundup post). Don't link to giveaway posts (unless the giveaway is only part of a Montessori-inspired post). Giveaways in general should go on my giveaway linky. Also, don't link directly to products. You can link up a review of a Montessori product or activity post related to a Montessori product.
I publish the Montessori Monday post and linky each Monday morning and keep the linky open throughout the week.Please place the Montessori Monday button (using the code from the right sidebar) in your post or put a link back to this post. I do a lot of pinning on Pinterest and sharing on the Living Montessori Now Facebook page from the Montessori Monday link-up.Thanks for participating!
Notes For community discussions, please join us at the Living Montessori Now Facebook page. And don't forget the Saturday/Sunday weekend sharing days where you may share a kid-related activity of any kind at the Living Montessori Now Facebook page!
It's also Motivational Monday on Mondays! I invite you to share something positive on the Bits of Positivity Facebook page (Bits of Positivity is my other blog) to help us all get a good start on the work/school week. You might share an inspirational or motivational quote, positive graphic, or post about finding balance or simplifying your life. Or you might share a post on organizing, an encouraging post, a post about making a difference in the world, or a positive parenting post. Just go ahead and share on the Bits of Positivity wall any time today! (Please "like" the Bits of Positivity Facebook page if you haven't already.) I'll be pinning a number of ideas to my regular Pinterest boards.
If you have a giveaway on your blog, please add it to my Family-Friendly Giveaway Linky Page! If you enjoy entering giveaways, you'll always find some great giveaways there.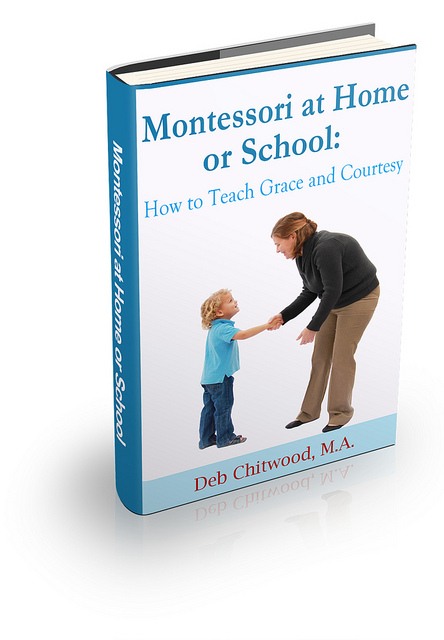 Learn more about my eBook Montessori at Home or School: How to Teach Grace and Courtesy! I'm also one of the coauthors of the book Learn with Play – 150+ Activities for Year-round Fun & Learning!
Also, if you've ever been linked to in one of my roundup posts, please feel free to grab the
"Featured on" badge
.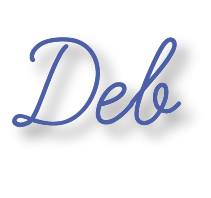 May be linked to Afterschool Express, Thoughtful Spot, Hip Homeschool Hop, The Mommy Club Resources and Solutions, Mom's Library, A Little Bird Told Me Linky Party, Learn and Play, Homeschool Link-up, TGIF Linky Party, Preschool Corner, Ultimate Homeschool Pinterest Party,Sharing Saturday, Share It Saturday, Tot School Gathering Place.