For this Montessori Services review, I requested some of the most frequently used items in a Montessori home or classroom … trays, baskets, and practical life activities.
Disclosure: I was given Montessori Services materials to review for this post. I was never required to write a positive review for Montessori Services, and any opinions expressed are my own. This post contains Montessori Services affiliate links (at no cost to you).
From the time I was a Montessori teacher in the 1970s and owned a Montessori preschool in the 1980s, Montessori Services was always one of my favorite Montessori suppliers. Almost all my school's rugs and trays were from Montessori Services along with a number of practical life activities and card materials. I was never disappointed with Montessori Services as a school owner or Montessori homeschooler. Almost all the materials were in close-to-new condition after years of happy use by young children.
Since I've started blogging, I've hosted a number of Montessori Services reviews and giveaways. I've still never been disappointed with the quality of Montessori Services materials. Be sure to check out each of my review posts to find out more about some of the Montessori Services materials that are wonderful for schools and homeschools. Parents using Montessori principles at home will also find much to offer through Montessori Services or its partner site, For Small Hands, which specializes in child-size tools and materials for families.
My Montessori Services Review

I love pretty much everything from Montessori Services. For this review, I requested some of the most frequently used items in a Montessori home or classroom … trays, baskets, and practical life activities. If you follow my activity posts, you know how often I use Montessori Services trays, rugs, and practical life items. My PreK + K Sharing posts typically have a number of Montessori Services items in each post.
Large Tongs Activities
Today, I want to review the items I recently received and tell you about some of my other favorite Montessori Services items for organizing activities on trays and shelves.
I'm reviewing the Montessori Services Large Tongs Activities.
The set includes:
This package had everything included, so it only took five minutes or so to prepare each activity. You'll notice that the materials are also available for purchase individually if you'd prefer to prepare your own activity. Either way, there are numerous ways these materials can be used.
Every time I've reviewed a set, I've used each of the individual items in many different activities. I often add tonging activities to math or language activities as well as practical life activities. And the medium-size trays are always a favorite of mine. I loved those as a Montessori teacher and as a Montessori homeschooler, too.
Trays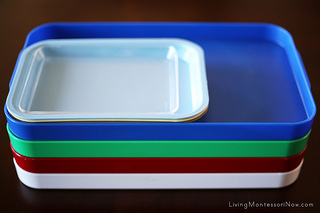 In the photo, I show the four colors of the large plastic tray, some medium-size trays, and a clear acrylic tray (another tray that I use a LOT for a variety of activities). I'm often frustrated if I use trays that aren't Montessori Services trays because they aren't as durable, and they just don't stack as easily. You'll notice in my photo that my Montessori Services trays take up a minimal amount of space since they're designed to be stackable.
Baskets
Baskets are great for organizing materials in any Montessori classroom or homeschool. Montessori Services baskets come in a variety of sizes. I received the small willow basket (K15), bamboo potato basket (K27), and elliptical bamboo basket (K16) for my review. Those are often difficult sizes to find otherwise, so I appreciate that Montessori Services carries them. You'll notice again that they're very stackable.
Bowls

My activities typically have a number of smaller containers on the tray to organize small pieces. I often use Montessori Services bowls to organize a variety of materials on trays.
Boxes and Other Containers
Montessori Services clear plastic boxes and other containers are also perfect for organizing items on a tray. You'll often see these on activity trays I create. I like to keep activity trays as organized as possible, and I like that these are so versatile. Again, many of the items can be stored in a minimal amount of space. I often store boxes inside other boxes as in the photo.
For a list of my previous Montessori Services review posts, see my Montessori Services Reviews.
If you win the giveaway, you could use the $50 gift certificate to choose from among these items or one or more of the 2500 items Montessori Services offers!
Now for the Giveaway:
The giveaway is now closed. See the announcement of the winner just below the Rafflecopter form. Be sure to check out this post for links to reviews of Montessori Services materials and posts with activity ideas!
I'm very happy to host a giveaway of a $50 gift certificate from Montessori Services, one of my very favorite Montessori suppliers for home or school! And it's just in time for the holidays! If you're from the U.S. or Canada, this is a great time to have fun checking out the amazing online catalog at Montessori Services.
What You Will Win: 1 lucky winner in the U.S. or Canada will win a $50 Montessori Services Gift Certificate!!!
Who is Eligible:
This giveaway is open to anyone 18 and older in the U.S. and Canada. The first entry is mandatory. You must leave a blog post comment telling why you want to win the $50 Montessori Services gift certificate (and be sure to click the green "ENTER" on the Rafflecopter form to let me know you left your blog post comment and to open up the optional entries)! After you've completed your mandatory entry, there are lots of optional entries. You have many chances to win! (Note: For the extra entries, you may count ways of following that you already do. For example, if you previously "liked" Living Montessori Now on Facebook, you may still count that for your "like" Living Montessori Now on Facebook entry!)
It's easy to enter giveaways with Rafflecopter! Just follow the directions to enter.If you still have questions about the Rafflecopter form, here's a 52-second video with quick directions for entering through Rafflecopter.

You must complete the Mandatory Entry to qualify for any additional entries. The giveaway closes 10:00pm MST on Tuesday, December 3. Best of luck!

(Note: If you have any problems with the Rafflecopter form, you can sign up on the Rafflecopter form at the Living Montessori Now Facebook page. Just be sure to leave your blog comment here! Both Rafflecopter forms are the same, so it doesn't matter which one you sign up on.)
a Rafflecopter giveaway

UPDATE:
It's Wednesday morning, December 4. I really appreciated all your comments and the 2,060 entries! A winner has been selected using Random.org through Rafflecopter!
The winner of the $50 Gift Certificate for Montessori Services is Rachel W!
I'm so happy for Rachel! (Note: Rachel, you have 48 hours to respond to my email, or a new winner will be chosen.)
The comment for Rachel's mandatory entry (why she wanted to win the gift certificate) said:
"Their catalogs have such great ideas and great prices!"
CONGRATULATIONS, Rachel!!! A HUGE THANK YOU to Montessori Servicesfor sponsoring this fabulous giveaway – and thank you to everyone who entered!
And, always, thanks so much to all my blog sponsors!
Montessori Print Shop
Montessori Compass
Montessori at Home
Spielgaben
Maestro Classics

Linked with Contest Girl and Free Sweepstakes and Contests