Last month, I shared Montessori-inspired activities using the Shells and Starfish Toolbox from Montessori By Mom. Today, I'm sharing activities using the materials from the Montessori By Mom Shoots and Sprouts Toolbox and a free printable. I prepared some activities for babies through early elementary. Just choose the activities that fit the ages and skill level of your child or children.
Disclosure: I'm a Montessori By Mom affiliate. I was given the Shoots and Sprouts package for this review/activity post.
Montessori By Mom
Montessori By Mom is a small business started by Nathan and Teresa Hadsall, two teachers who wanted to empower parents to teach their own children using Montessori principles and activities. Nathan and Teresa offer a subscription service, sending a box of themed Montessori materials and activities for 3-5 year olds each month. Everything you need for teaching your child with the materials is included in the monthly subscription. With each box, you'll get
Video instruction for 6-8 activities (The videos are wonderful! Parents with no Montessori experience can feel comfortable introducing the Montessori activities after watching the video instructions.)
Video instruction about basic Montessori principles and teaching techniques
All the materials needed for the 6-8 activities
Bonus activities and ideas for more activities using materials at home
Access to an online forum where you can ask questions and connect with other parents
Montessori By Mom now has a Montessori By Mom store where you can buy single toolboxes, activity sets, single items and refills, and printables and videos.
Shoots and Sprouts Box and Activities
The Shoots and Sprouts Toolbox will continue to be available in the Montessori By Mom store. In the Shoots and Sprouts Toolbox, you'll receive:
Montessori Tree Puzzle ($19.95)
Nature Study and Mystery Bag Set ($12.95) canvas mystery bag, nature items (real cotton boll, reindeer moss, a lotus pod, and pine cones), and a miniature magnifying glass
Bean Growing Kit – 3 plastic bags, bean packet, 5 absorbent paper sheets, Expanding water bead packet ($1.45)
"Hummingbird Zinnias" Growing Kit – 4 WonderSoil pellets, 2 biodegradable pots, and Zinnia seed packet
Bamboo Mat
Instructional Videos ($7.95)
I already had the Safari Ltd. Life Cycle of a Bean Plant, but it would be a great matching activity to match the two sets.
Free Printable Fruit Preschool Number Sequence Puzzle from Montessori By Mom
Montessori By Mom has a free printable Fruit Preschool Number Sequence Puzzle! It's a beautiful high-quality printable. Because of the beauty of the printable, I printed mine out on high-quality photo paper rather than cardstock. You can laminate either photo paper or cardstock to extend the life of the puzzle.
Shoots and Sprouts Activities Using the Montessori By Mom Materials
Exploring Fruits Activity
This is an activity that works well for an older baby or toddler. I love that it gives parents a way to include a baby or toddler in the theme of the toolbox. It was perfect for my 9 1/2 month-old granddaughter, Zoey. It's definitely helpful to laminate the puzzle for babies and toddlers. I cut off the numbers to focus solely on the fruits. I didn't cut apart the puzzle but used it only for the fruit photos.
I used the white tray that I had from the Shells and Starfish Toolbox for this and a number of the activities in this post. First, I just placed the fruits from the puzzle on the tray and allowed Zoey to explore them. Because the blueberry is a choking hazard, I very carefully watched Zoey and didn't allow her to put a whole blueberry in her mouth. (I put the blueberry away as soon as Zoey was finished exploring the fruits.)
Next, I placed the fruits below the puzzle picture and allowed Zoey to explore the fruits while I said the name of each fruit.
When we were finished with the activity, I invited Zoey to eat some of the fruit.
Fruit Number-Sequence Puzzle with Counters
I prepared this activity to extend the Montessori By Mom materials using the beautiful printable puzzle Nathan created. I placed exactly 55 black beans (the number of counters needed for the activity) on the dish for an additional counting activity. You could use fruit seeds or whatever you prefer for counters. Younger children could just put the puzzle together.
Nature Table
This is an activity that's appealing and adaptable for a wide range of ages. The bamboo mat, magnifying glass, and mystery bag are all included along with the objects from nature. In the online resource area, you'll find information about the pinecone, reindeer moss, lotus pod, and cotton boll along with vocabulary for introducing other concepts in the toolbox. I love that there's a mystery bag included because it has so many uses for a variety of ages.
Growing Plants Plus Life Cycle of a Bean Plant and Observation Experiment
There are many extensions you can use for this activity! The materials in the toolbox are great. They're easy to use and very inviting. A child can grow a bean plant using absorbent paper in a small plastic bag which is taped to a window. There's an alternative version using water beads. I tried both and taped them to my patio door. I moved them down so that Zoey could feel the bags before moving the plants back up for them to grow undisturbed.
There are also WonderSoil pellets (very cool!) and biodegradable pots for planting the zinnia seeds that come with the toolbox for growing "hummingbird zinnias." There are resources online that give clear directions for all the plant-growing activities. The Safari Ltd. Life Cycle of a Bean Plant is a fun way to reinforce the concepts children will learn by watching the plants grow. Advanced preschoolers through early elementary can use the plant observation experiment (printable pictured) from the resource area to explore what a plant needs to grow. Another extension suggested by Montessori By Mom was to grow things from scraps in the kitchen. My son-in-law, fit, enjoys growing avocado trees. Thanks to Tom and his avocado trees, here are some images of various stages of an avocado plant:
Parts of a Plant Activities
I used ideas from the video to prepare a parts-of-a-plant table. I simply added a whole basil plant along with part of the plant that I dug up to explore. Nathan and Teresa suggest digging up grass or a plant from your yard or getting a plant from a nursery or elsewhere if you don't have a plant to dig up. A lovely Montessori tree puzzle comes in the toolbox. Teresa and Nathan give ideas for a number of extensions for using the puzzle. For all the materials in the Shoots and Sprouts Toolbox, there are extensions suggested. The extensions could easily expand the ages of the activities to early elementary. If you'd like free Montessori botany materials to go with the extensions Teresa and Nathan suggest, you can find them in my "Free Montessori Botany Materials for a Gardening Unit."
Montessori By Mom Toolboxes + Toolbox Review and Activity Posts
(Update) Here are all the Montessori By Mom toolbox review and activity posts I've published here at Living Montessori Now: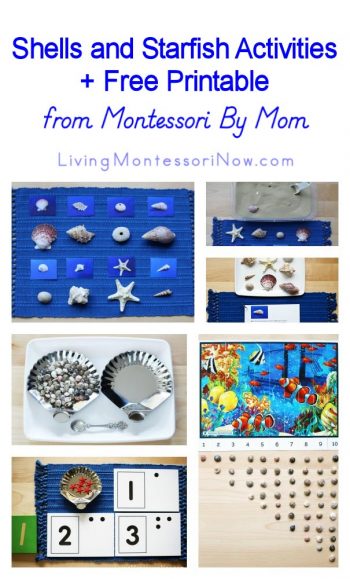 Shells and Starfish Activities + Free Printable from Montessori By Mom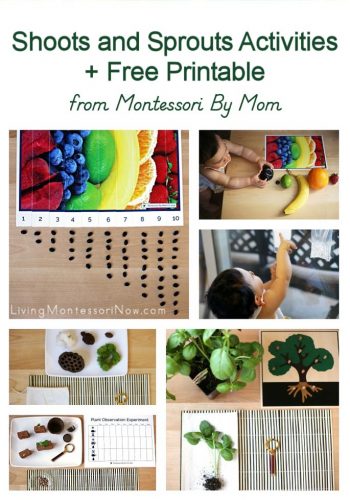 Shoots and Sprouts Activities + Free Printable from Montessori By Mom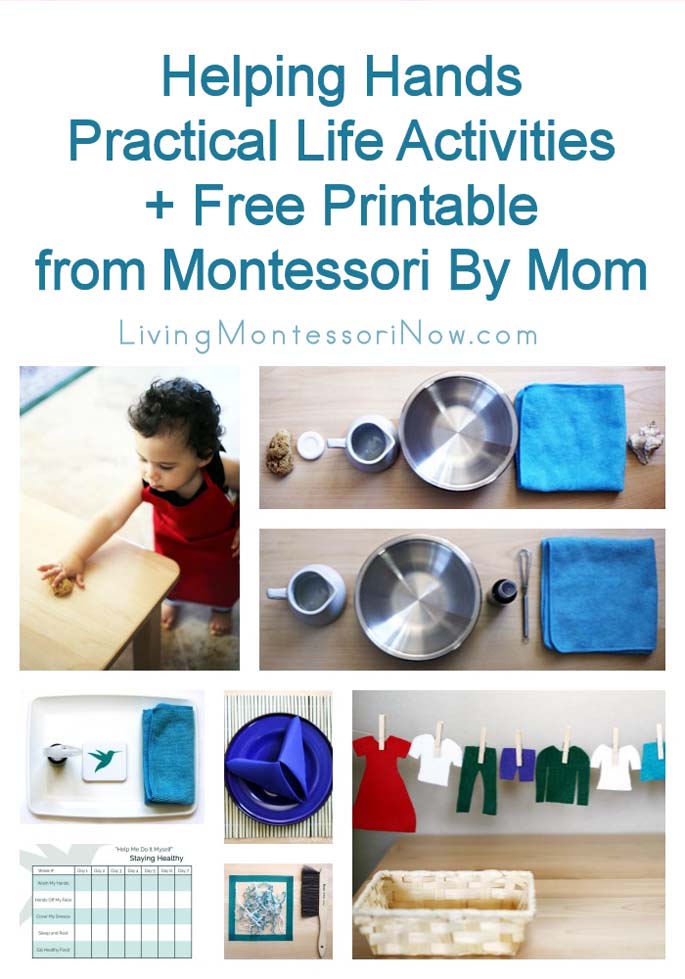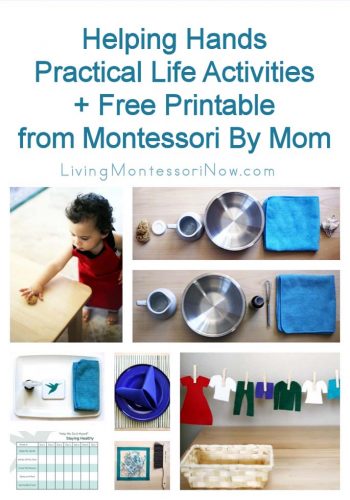 Practical Life Activities + Free Printable from Montessori By Mom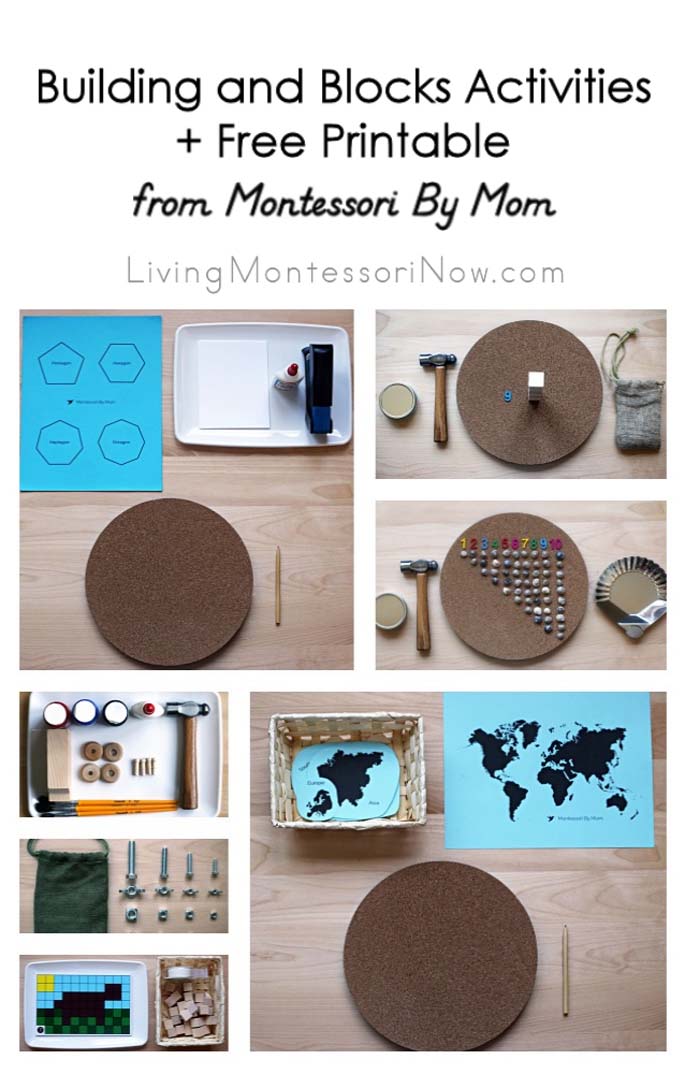 Building and Blocks Activities + Free Printable from Montessori By Mom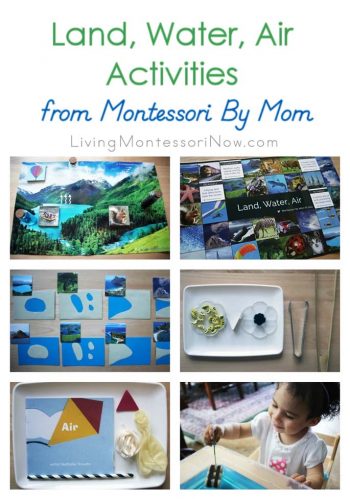 Land, Water, Air Activities from Montessori By Mom
Art Appreciation Activities from Montessori By Mom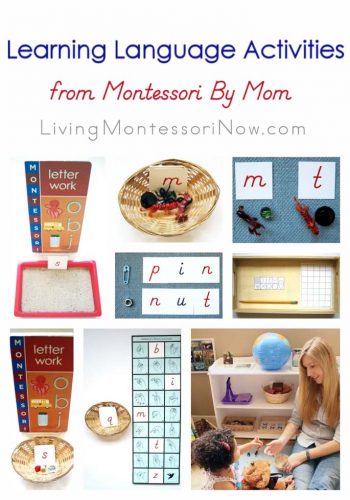 Learning Language Activities from Montessori By Mom
Making Music Activities from Montessori By Mom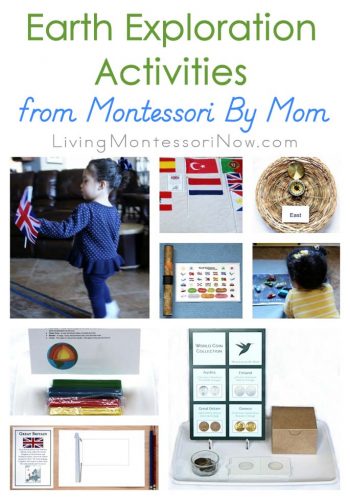 Earth Exploration Activities from Montessori By Mom
Montessori By Mom has a few other Toolboxes, too: Mad Scientist (for skills such as pouring, color mixing, volume, and measurement), Space Explorer Toolbox, Movement and Motion, Caves and Caverns, Journey to Japan, Dinosaur Discovery, Delicious Discoveries, and Kings, Queens, and Castles.
I'll be adding my review and activity posts to this post as I publish them. Montessori By Mom is actively working to restock several of their Toolboxes, so there should be more available every month.
MONTESSORI BY MOM SPECIAL OFFER FOR NEW SUBSCRIBERS!
I really love the Montessori By Mom materials and curriculum. I definitely recommend Montessori By Mom for parents looking for a simple and fun way to start using Montessori at home.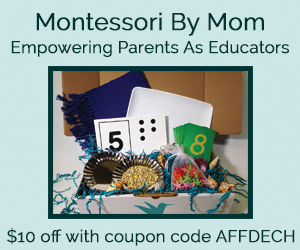 Montessori By Mom offers $10 off to new subscribers with the coupon code AFFDECH at checkout.
Montessori By Mom is based in the U.S., but there's even international shipping! Montessori By Mom also has a Montessori By Mom store where you can buy single toolboxes, activity sets, single items and refills, and printables and videos! You can connect with Nathan and Teresa on Facebook, Twitter, and YouTube (where you can see their public videos, including a Montessori By Mom subscription sample). They also have a blog with more helpful information. Montessori By Mom runs the Montessori By Mom Family (Facebook group), too, "as a way way to support anyone interested in providing children with a Montessori experience. We also want our customers and fans to be able to connect with us and each other!"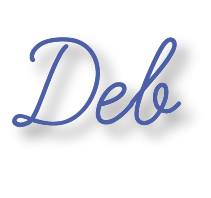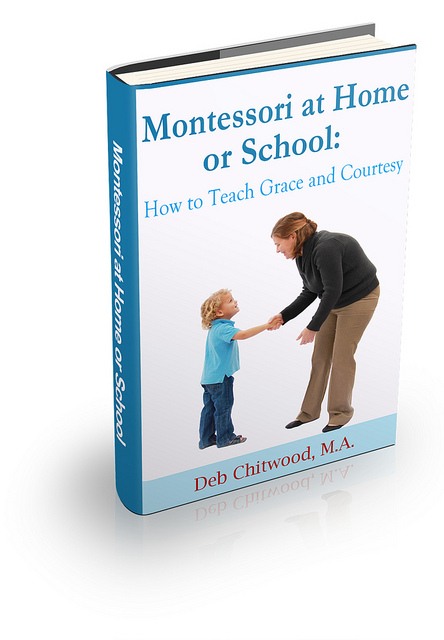 Learn more about my eBook Montessori at Home or School: How to. Teach Grace and Courtesy!
The Montessori at Home! eBook and Montessori at Home! eBook and Materials Bundle are AMAZING resources! You can learn more about them here. Buy them in the Living Montessori Now shop.
If this is your first time visiting Living Montessori Now, welcome! If you haven't already, please join us on our Living Montessori Now Facebook page where you'll find a Free Printable of the Day and lots of inspiration and ideas for parenting and teaching! And please follow me on Pinterest (lots of Montessori-, holiday-, and theme-related boards), Instagram, and YouTube. You can find me on bloglovin' and Twitter, too.
And don't forget one of the best ways to follow me by signing up for my weekly newsletter. You'll receive some awesome freebies in the process!