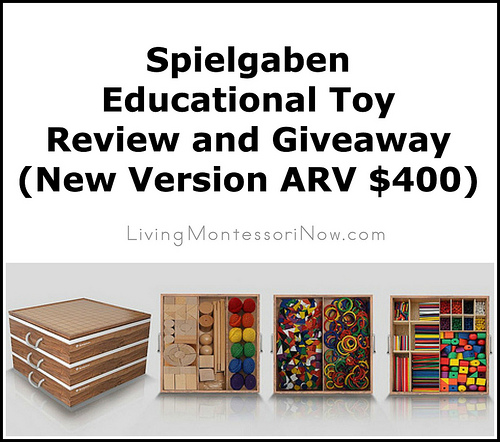 I'm in love with Spielgaben educational toys!

Disclosure: Spielgaben gave me the first version of Spielgaben toys minus the lids and trolley to facilitate my review. (The contents of the 2nd version are the same, but the storage unit in the 2nd version makes it simpler for children to independently return the individual pieces to their storage unit.) Instead of my receiving a new version, Spielgaben will send a complete set of the new version to the lucky giveaway winner when the 2nd version becomes available in November. I wasn't required to give a positive review, and all opinions are my own.
Update: Now Version 4 is available! (See bottom of post!)
This post contains Montessori Services affiliate links at no cost to you.
About Spielgaben Toys
When I opened the package of Spielgaben toys, I felt as if I had just opened a package of Nienhuis materials (the highest-quality Montessori materials, which I loved and used as a Montessori teacher and when I owned a Montessori school). The Spielgaben toys use high-quality wood and finishes and have the same smooth and precise feel as Nienhuis materials. Wooden, open-ended toys like Spielgaben toys are the best kinds of toys for children and are a perfect complement to Montessori education.
The 1st version of Spielgaben is available in Australia, but the improved 2nd version will be available in the U.S. and the UK as well – just in time for Christmas shopping! The complete set has 3 storage trays made of American Walnut that fit on top of each other. The Spielgaben toys are recommended for ages 3-12 and are ideal for families, grandparents, and classrooms. I think the complete set of Spielgaben toys is the ultimate Christmas present!
The Spielgaben toys come with playguides, interactive worksheets, and inspiration cards. These provide LOTS AND LOTS of ideas for extending open-ended play, which offers unlimited possibilities in itself.
The inspiration cards can be used to create hands-on experiments, such as the pictured spinning cube card. Other inspiration cards are for creating shapes and designs for various ages.
Many of the cards and worksheet activities could be used with themes or various unit studies as well.
Ideas of Montessori-Inspired Spielgaben Activities
There are endless Montessori-inspired activities that can be prepared for children ages 3-12 for home or school using the Spielgaben toys. I prepared just a small number of activities to give some examples of how easy it is to create Montessori-inspired activities with Spielgaben toys.
Montessori-inspired baskets or trays of Spielgaben toys could be added to low shelves in a home or classroom environment. That way, it would be simple for the child to choose an activity and return it to the shelf when finished with the activity. You could just rotate baskets and trays of Spielgaben toys for interest and to add new challenges as needed.
Lacing Beads Activity
This is an extremely simple activity to prepare, as are many possible Montessori-inspired Spielgaben activities. I just placed the lace and some of the wooden beads that are part of the complete set on a bamboo paper plate holder.
Yarn Balls and Shape Creation Cards Basket
Many of the worksheets could be used as is to create hands-on activities. Worksheets with activities such as drawing lines to match objects can typically be printed out and cut apart to create hands-on activities. For this, I cut apart a worksheet with shapes that can be created using the woolen yarn balls to be matched with pictures in the same shapes. The child would create the shapes and match each shape to the card with a picture of an object in the same shape.
Build-a-Cube Activity
This was from another worksheet. It could be further cut apart so the child could place the stages of building a cube in the proper order. This activity is great for both mathematical awareness and fine-motor development. I placed the pieces on an inexpensive wooden tray from a hobby store.
Building and Matching Objects Activity
This is another activity for building shapes and matching the shapes to pictures. It could be placed on an activity tray or on a table as in the photo. Many parents and teachers like to set up an activity such as this as an "invitation to play."
Inspiration Card Crab with Sticks Tray
This is one example of an inspiration card. There are simple activities and complex scenes that can be created with various inspiration cards. I used a large plastic tray from Montessori Services.
Constructive Triangles Extension Activity
This is an extension of the Montessori constructive triangles. I used the free constructive triangles printables from Livable Learning. Not every constructive triangle works with the Spielgaben toys, but enough do to provide an amazing extension activity.
For the layout, I used a large hemmed work rug from Montessori Services. Rugs such as the Montessori Services rugs are used in Montessori education to define a child's work space. That can be helpful at home or in the classroom.
More about Spielgaben
Spielgaben was developed in the early 1800s by Friedrich Froebel, the inventor of kindergarten. Spielgaben toys are a subset of Froebel's "gifts" and "occupations." In addition to the Spielgaben site in Australia, there's now a Spielgaben U.S. site.
You can follow Spielgaben on Facebook, Twitter, Pinterest, Google+, and YouTube. You'll also receive 3 gifts by subscribing to the Spielgaben newsletter (when you register interest in the new version of Spielgaben toys on the main page of the Spielgaben site). The gifts are the Smarter Play, Smarter Child eBook; brochure; and Intro Playguide. The various ways of following Spielgaben are optional entries in the giveaway.
UPDATE:
VERSION 4 OF SPIELGABEN EDUCATIONAL TOYS
I highly recommend Spielgaben as an amazing educational material for home or school. Even though the toys aren't inexpensive, they're definitely worth the price because of the high quality of materials and number of years your children or students can use them.
All you need to do to claim your discount is send an email to

[email protected]

mentioning Living Montessori Now.
(Note: UK has extra $20 shipping fee and AU has some states with extra shipping fees.)
Now for the Giveaway:
What You Will Win: 1 lucky winner from the U.S. or UK will win a complete set of the new version of Spielgaben toys (ARV $400)!!!

Who is Eligible:
This giveaway is open to anyone 18 and older in the U.S. and UK. Spielgaben will pay for shipping.The first entry is mandatory. You must leave a blog post comment telling why you want to win the Spielgaben toys (and be sure to click the green "ENTER" on the Rafflecopter form to let me know you left your blog post comment and to open up the optional entries)! After you've completed your mandatory entry, there are lots of optional entries. You have many chances to win! (Note: For the extra entries, you may count ways of following that you already do. For example, if you previously "liked" Living Montessori Now on Facebook, you may still count that for your "like" Living Montessori Now on Facebook entry!)
It's easy to enter giveaways with Rafflecopter! Just follow the directions to enter.If you still have questions about the Rafflecopter form, here's a 52-second video with quick directions for entering through Rafflecopter. (Note: If this form doesn't work for you, you can also sign up on the Rafflecopter form at the Living Montessori Now Facebook page. Just be sure to leave your blog comment here!)
You must complete the Mandatory Entry to qualify for any additional entries. The giveaway closes 10:00pm MST on Wednesday, July 31. Best of luck!

UPDATE:
It's Thursday morning, August 1. I really appreciated the 513 comments and the 6,436 entries! A winner has been selected using Random.org through Rafflecopter!
The winner of the complete set of the new version of Spielgaben toys is Stephanie S. from The Crafty Kitty!
I'm so happy for Stephanie, who had multiple entries! (Note: Stephanie, you have 48 hours to respond to my email, or a new winner will be chosen.)
The comment for Stephanie's mandatory entry (why she wanted to win the the Spielgaben toys) said:
"Oh wow! I would love to win this prize. I try to implement montessori activities in the home, but this would be a great help! I have two kids, a 4 year old and a 2 year old and they would both make such use of this! I love all the prompt cards as well. Fantastic"
CONGRATULATIONS, Stephanie!!! A HUGE THANK YOU to Spielgaben for sponsoring this fabulous giveaway – and thank you to everyone who entered!
All you need to do to claim your discount is send an email to

[email protected]

mentioning Living Montessori Now.
As always, thanks to all my sponsors:

If this is your first time visiting Living Montessori Now, welcome! If you haven't already, please join us on our Living Montessori Now Facebook page where you'll find a Free Printable of the Day and lots of inspiration and ideas for parenting and teaching! And please follow me on Pinterest (lots of Montessori-, holiday-, and theme-related boards), Twitter (blog posts by me and others along with the Parent/Teacher Daily and other interesting information), and Google+ (post updates and Montessori Community). You can find me on bloglovin' now, too. I'm also a Parenting Expert on Sulia. Thank you for following me there. And don't forget one of the best ways to follow me by signing up for my weekly newsletter in the right sidebar. You'll get two awesome freebies in the process!