Whenever possible, it's fun to take learning outdoors. Sometimes it's difficult to know how to do that, though. I found a fun way to take learning letter sounds outdoors with our tactile nature letters. My 2½-year-old granddaughter, Zoey, my daughter, Christina (Zoey's aunt), and I were able to combine a nature walk with work on fine-motor skills and learning phonetic letter sounds!
Disclosure: This post contains affiliate links (at no cost to you).
Free Printable Letter Templates for Tactile Letters
To download, click here and then click on the file image in the upper right corner of the PDF to save to your computer (just choose where you want it saved).
My daughter, Christina, and I designed these templates for you to print out on colored cardstock. I had colored cardstock for a number of years that I've been using, so I don't know which exact brand I used. I just used 67 lb. cardstock, although heavier would probably work even better if your printer can handle it. That said, my 67 lb. cardstock worked very well the way I used it, which was to print out the letters and then laminate the letters before adding the glue and textures.
We placed a, i, o, u, e, y first in the printable in case you want vowels in blue like the movable alphabet (or sandpaper letters + a blue y). Then we placed all the consonants (including y as a consonant) that you could print out in pink to introduce in an order used in many Montessori schools. This order allows children to quickly form as many words as possible when learning the letter sounds.
Our Nature Walk and Creation of Tactile Nature Letters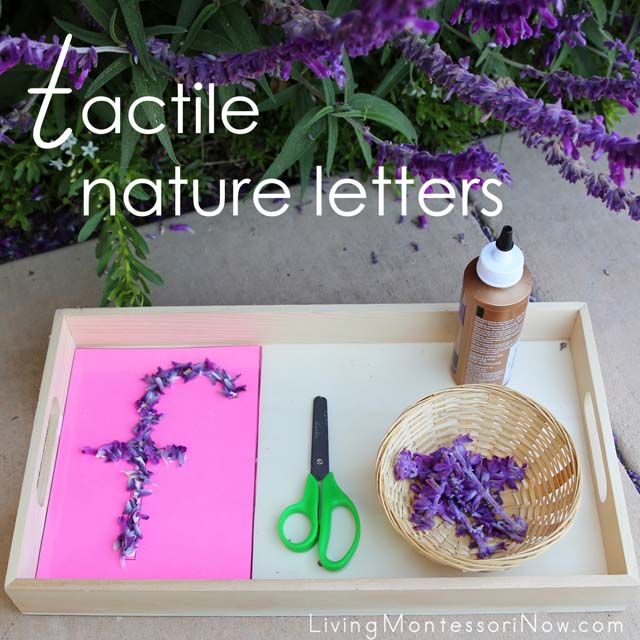 Our tactile nature letters tray includes the printed, laminated letters, Fiskar scissors, Aleene's Turbo Tacky Glue (which was awesome for this), a Montessori Services basket to hold the cuttings or nature objects until we finished with the letter, and a Multicraft tray to hold everything.
Our first stop was for /f/ as in flower. We introduce the letter sound rather than the letter name. (See this post and YouTube video on how to teach letter sounds using Montessori principles to learn how to pronounce each letter sound.)
Zoey is proud of her developing scissor skills, which she used to cut flowers for the letter.
Some of the tactile nature letters won't work exactly like sandpaper letters for tracing. Some, like the flower letter f, are simply for gently feeling the texture of the natural objects and adding extra interest to learning letter sounds.
Our next stop was for /p/ is for pebbles. Zoey has loved any type of rock since she was a baby, so this was a natural for our tactile nature letters.
This will definitely be a popular addition to our tactile letters!
Zoey got to use her scissor skills again for our next tactile nature letter.
We made /g/ for grass.
Finally, we made, of course, /s/ for sand. Zoey added the sand to the glue to make a real sand letter!
We're adding our nature tactile letters one at a time to our shelves when we want to focus on a particular sound. For example, we might add a sound basket with small objects, a sandpaper letter, and the tactile nature letter. See ideas for using language objects here.
We only made four tactile letters, but it would be easy to add to our collection on any of our nature walks. Choose whichever letters you want to focus on or whichever natural objects you want to collect for your letters.
Have fun! 🙂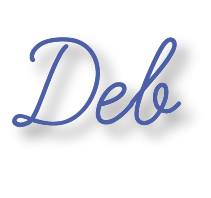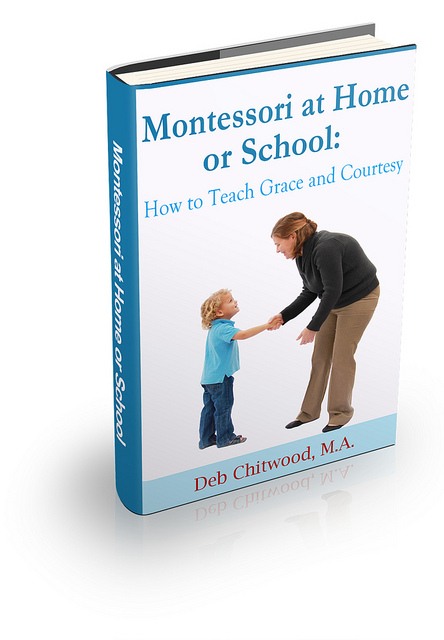 Learn more about my eBook Montessori at Home or School: How to. Teach Grace and Courtesy!
The Montessori at Home! eBook and Montessori at Home! eBook and Materials Bundle are AMAZING resources! You can learn more about them here. Buy them in the Living Montessori Now shop.
If this is your first time visiting Living Montessori Now, welcome! If you haven't already, please join us on our Living Montessori Now Facebook page where you'll find a Free Printable of the Day and lots of inspiration and ideas for parenting and teaching! And please follow me on Pinterest (lots of Montessori-, holiday-, and theme-related boards), Instagram, and YouTube. You can find me on bloglovin' and Twitter, too.
And don't forget one of the best ways to follow me by signing up for my weekly newsletter. You'll receive some awesome freebies in the process!
Montessori Monday Link-Up
Save