Eat-a-rainbow activities are perfect as a focus when planting a garden in the spring, gardening in the summer, or using a harvest theme in the fall. And healthy eating is perfect at any time of year! We've expanded our eat-a-rainbow printables and added our healthy eating printables for a special healthy food number and alphabet bundle in our shop!
Disclosure: This post contains some affiliate links (at no cost to you).
Important Message: Don't Buy This Bundle If You're Getting the Fabulous Montessori Fall Mega Bundle (It's in the bundle)!
You don't want to miss this! It's an ABSOLUTELY AMAZING deal for classroom or home! For one week only (through September 22), you can get the MONTESSORI FALL MEGA BUNDLE at 97% OFF! This bundle has 1,888 pages of Montessori-inspired printables plus eCourses and a subscription. Purchased individually, these products would cost over $600. But for one week, they're available in a bundle for only $25!!!
The bundle contains:
CARROTS ARE ORANGE
Montessori Fall Themed Activities (Apple, Owl, Pumpkin Units)
Chickie & Roo
Contellations of the Night Sky
Sun Study Unit
DIAMOND MONTESSORI
Fall Earth and Life Sciences Bundle
EVERY START IS DIFFERENT
Montessori-inspired Fall Harvest Printable Pack
Autumn Math Facts Clip Cards
FIDDLESTICKS KIDS
Poppy Pack
Pumpkin Pack
Beatrix Potter Literature Pack
GENERATION MINDFUL
Coloring Page for My Feelings Cards
My Feelings Bingo
GREEN URBAN MAMA
Autumn Collection Activity Bundle
Squirrel Collection Activity Bundle
Autumn Leaves Poster & 3-part Cards
Squirrel and Acorn Number & Counters
I BELIEVE IN MONTESSORI
September Printable Pack
October Printable Pack
Life, Abundantly
Watercolor ABC 4-Part Cards (with Sight Words + Blends)
LITTLE SPARK COMPANY
Fall Harvest Art Cursive Writing Bundle
Fall Harvest Art Printing Bundle
Living Montessori NOW
Fall-Themed, Editable Name and Word Tracing Pack
Montessori-Inspired Healthy Food Bundle
MAMAS HAPPY HIVE
Anatomy of the Human Body Bundle
MONTESSORI SOUL
Montessori Pink Series Bundle
Montessori Blue Series Bundle
Montessori Green Series Bundle
NATURAL BEACH LIVING
Apple Theme Lessons and Activities
Pumpkin Theme Lessons and Activities
Stephanie Hathaway Designs
Firefly Nature Study Bundle
Color Theory Unit Study
THE NATURAL HOMESCHOOL
Montessori-inspired Fall Printable Bundle
Twig & Moth
Welcome to mommyhood
Blackberry Life Cycle
Green Bean Life Cycle
Pear Life Cycle
Squirrel Life Cycle
Sunflower Life Cycle
Woodpecker Life Cycle
MONTESSORI E-COURSES & SUBSCRIPTION
E-course: Learn Numeration and Operations with Montessori Materials by Montessori Tube Academy
E-course: Toddler Play Spaces by The Prepared Environment
1 Month Free Access to Primo Art Club y The Prepared Environment
1 Month Free Access to Nature Study by Firefly Nature School
It is a pretty incredible line-up, I would say! 🙂
Don't forget there is a very limited time to grab these resources with the special Early Bird Extras at a 97% discount for only $25.
Learn more and get your bundle (and early bird bonuses) here.
Montessori-Inspired Printables at Living Montessori Now
My daughter, Christina (a former Montessori child), and I have partnered to bring you a series of Montessori-inspired printables. The printables are typically themed and use a number of Montessori principles (although you don't need to be a Montessori teacher or homeschooler to use them):
They use isolation of quality.
They use photographs or realistic images to emphasize reality.
They typically use traditional Montessori colors such as red for consonants and blue for vowels.
They use lowercase letters, which are what we introduce letter sounds with in Montessori education. (Children tend to pick up the uppercase letters without being introduced if they're introduced to the lowercase letter sounds.)
They often feature themed printable versions of Montessori materials.
What's in the Montessori-Inspired Healthy Food Number and Alphabet Bundle
The Montessori-Inspired Healthy Food Number and Alphabet Bundle contains:
$11.85 if the files are purchased individually. It's $7.95 when purchased as a bundle
Do-a-Dot and Connect-the-Dot Alphabet Packs
You'll find ideas for using the printables in these posts:
The first product in the Living Montessori Now shop was the Animal Alphabet Do-a-Dot Pack, which is generally for ages 2-5. We later added an Animal Alphabet Connect-the-Dots Pack and Animal Alphabet Maze Pack. Both of those are generally for ages 4-6. Since Montessori education is individualized, it's fine if a pack is appropriate for your child at a different age than one listed here.
We used a variety of common animals and unusual animals for interest and vocabulary building.
You can read about our Montessori-Inspired Animal Alphabet Packs and My Animal Alphabet Book here. If you'd like to know more about how to pronounce each letter sound, be sure to check out our YouTube video on how to teach letter sounds using Montessori principles.
The Healthy Food Alphabet Do-a-Dot Pack, reinforces both letter sounds and healthy eating for ages 2-5.
The Healthy Food Alphabet Connect-the-Dots Pack is generally for ages 4-5.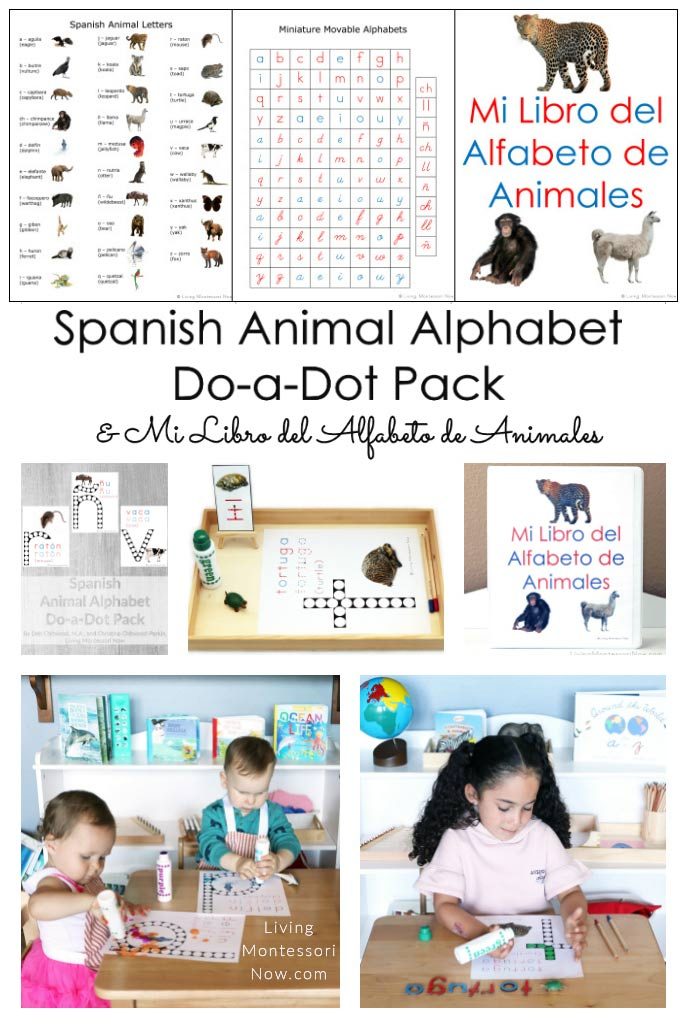 Thanks to Spanish translations by Maria Chavez, M.S., we have a Spanish Animal Alphabet Do-a-Dot Pack! Read about the Spanish Animal Alphabet Do-a-Dot Pack here. These 29 Montessori-inspired Spanish do-a-dot letters for toddlers and preschoolers feature a variety of animals, some common and others unusual. 
The pack also has a page with letters and miniature animal images along with 3 different miniature movable alphabets (in manuscript print, D'Nealian, and cursive). You can use the movable alphabet letters in a number of ways. You could use it with the animal letter sounds page by placing a movable alphabet letter on the matching letter in the letter sounds page.
A cover page is included for the child to make Mi Libro del Alfabeto de Animales (My Animal Alphabet Book). I like to complete the book gradually, adding the date as each page is completed. It's fine for it not to be in alphabetical order.
Other Ways to Use the Do-a-Dot Alphabet Pages
There's so much more that can be done with the pages than using do-a-dot markers. Check out my free do-a-dot printables for lots of different ideas for using do-a-dot pages.
Eat a Rainbow Printables and Activities
The Montessori-Inspired  Eat-a-Rainbow Number and Alphabet Pack expands on our previous eat-a-rainbow work by adding eat-a-rainbow numbers and math symbols, math spinners and labels, and eat-a-rainbow movable alphabet in manuscript and cursive. You can read about our previous eat-a-rainbow printables and activities here.
Montessori-Inspired Packs – Subscriber Freebies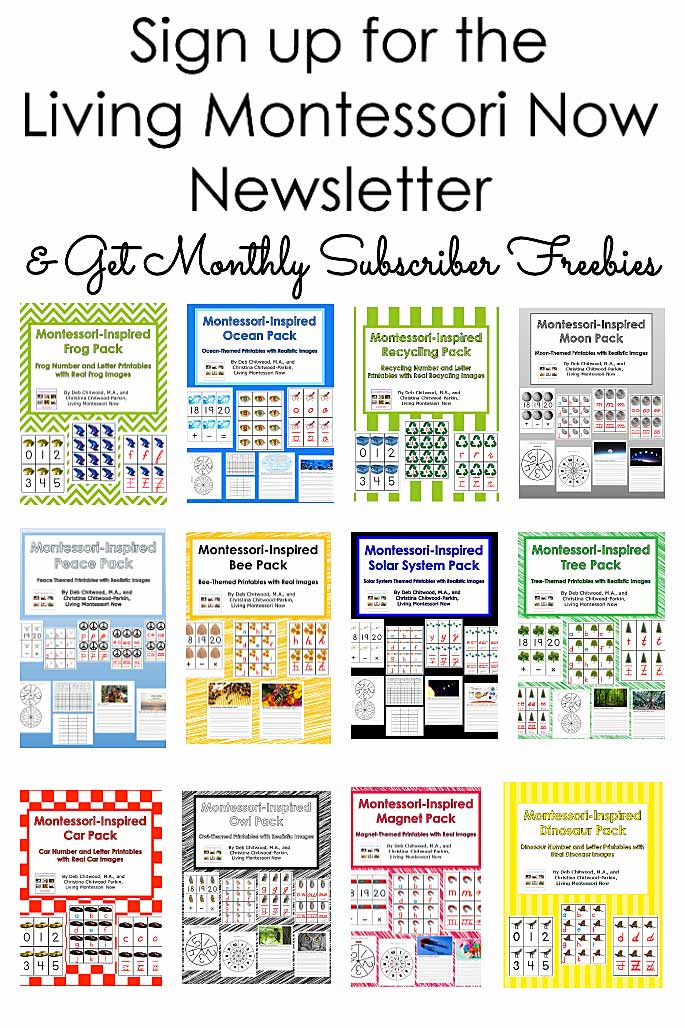 If you subscribe to my mailing list, you'll get the 177-page KHT Montessori geography album free! And you'll get the password each month to a new Montessori-inspired subscriber freebie! All previous months' packs are available in the Living Montessori Now subscriber resource library as well as the current month's pack. Just sign up for my email to get the link and password! See images of the available subscriber freebie packs here.
Thanks for being so awesome! 🙂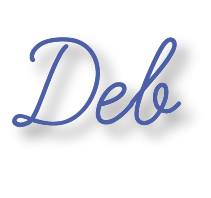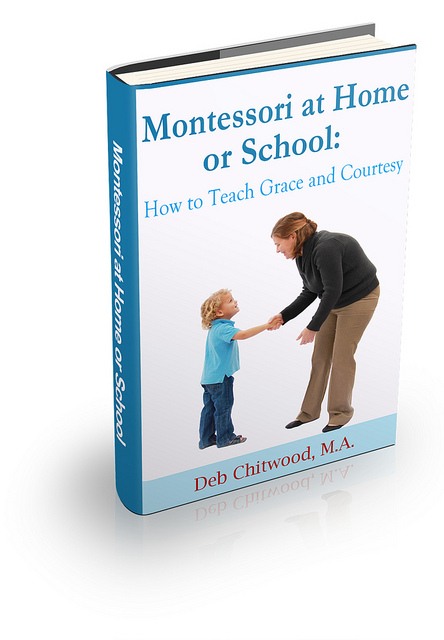 Learn more about my eBook Montessori at Home or School: How to. Teach Grace and Courtesy!
The Montessori at Home! eBook and Montessori at Home! eBook and Materials Bundle are AMAZING resources! You can learn more about them here. Buy them in the Living Montessori Now shop.
If this is your first time visiting Living Montessori Now, welcome! If you haven't already, please join us on our Living Montessori Now Facebook page where you'll find a Free Printable of the Day and lots of inspiration and ideas for parenting and teaching! And please follow me on Pinterest (lots of Montessori-, holiday-, and theme-related boards), and Twitter (blog posts by me and others along with the Parent/Teacher Daily and other interesting information). You can find me on bloglovin', Instagram, and YouTube, too.
And don't forget one of the best ways to follow me by signing up for my weekly newsletter. You'll receive some awesome freebies in the process!