I love an apple unit in the fall … or a mini apple unit … or a few apple books and activities as part of a general fall unit. However they're used, I love apple books for kids! Here are some of my favorites.
Disclosure: This post contains affiliate links (at no cost to you).
Just choose books based on your child's age and what you think will engage your child's interest. I recommend checking out the "Look Inside the Book" feature on Amazon and reading reviews there. Another place to learn about a book is on YouTube. You can typically see the entire book there. If you live outside the U.S., be sure to check out Book Depository for great prices and free worldwide delivery.
Montessori-friendly books use photos or realistic illustrations. They don't have talking animals or a lot of fantasy. But many books that have fantasy and talking animals are wonderful books, and I love sharing them with children who understand the difference between fantasy and reality. I typically have a majority of Montessori-friendly books for a theme, but I include a variety of books that might not be Montessori-style books but that are simply lots of fun or are classic books that I consider an important part of cultural literacy.
Favorite Apple Books for Kids
This is my toddler grandkids' favorite apple book … they love it and it's Montessori friendly!
This is a board book, but the content is actually best for preschoolers.
I always have related books available throughout a unit. On the top shelf, I have How Do Apples Grow? by Betsy Maestro and Apples by Gail Gibbons. How Do Apples Grow? by Betsy Maestro has fairly in-depth information on the apple life cycle. It's recommended for ages 4-8. I often have a book by Gail Gibbons as part of our unit. Her apple book is another great Montessori-friendly book for 4-8 year olds with a good amount of understandable information.
On the right side of the shelf (book on a wooden cookbook holder), I have the awesome I Spy: An Alphabet in Art. It has a wide variety of paintings, but I love that the cover photo (the page I have open) is the fascinating Son of Man by the surrealist artist René Magritte! The book is recommended for ages 4-8, but I love to adapt it for even toddlers. I also printed out and included an easel with Paul Cezanne's Still Life with Apples.
I have a book basket beside the shelf with a variety of apple books. Many (especially the non-fiction books are Montessori-friendly books with realistic images and stories). Look here for more apple book books for kids to see new books when they're published.
Simple text with National Geographic's gorgeous photos!
Clear photos with simple, easy-to-understand text.
Apple Fractions (Rookie Read-About Math) by Donna Townsend is a Montessori-friendly book that's very simple to understand. On Amazon, it's recommended for ages 6-8, although even young preschoolers can understand most of the concepts.
Apple Fractions by Jerry Pallotta isn't a Montessori-style book, since elves demonstrate how to divide apples into fractions. It's recommended for ages 4-8, so you'd have to decide whether your 4 or 5 year old would be ready for it. You'll find lots of helpful information in the book – even about varieties of apples. The book appears to be out of print, so a new book is expensive. I got a used book, which was reasonably priced.
A wonderful Montessori-friendly book by Gail Gibbons with information about an apple tree throughout the year in the context of the story of a boy named Arnold.

Beautiful illustrations with story of Johnny Appleseed's life written in poetry with a religious message.
Not a Montessori-style book, but a fun classic rhyming and counting book.
Obviously not a Montessori-style book, but such a fun counting book!
How to Make an Apple Pie and See the World has been a fun part of our apple unit! It isn't a Montessori-style book, but it's a fun, whimsical way to add some geography to our unit. There's a world map in the back of the book. I like to add the Montessori continents globe for preschoolers and a more detailed globe for elementary-age kids.
You can see the silliness of the book in this part about England: "Hitch a ride to England. Make the acquaintance of a cow. You'll know she's an English cow from her good manners and charming accent. Ask if you can borrow a cup or two of milk. Even better, bring the whole cow with you for the freshest possible results." The book is recommended for preschoolers through grade 2.
More Apple Resources
Free Apple Printables and Activities for a Montessori-Inspired Apple Unit
MONTESSORI-INSPIRED PACKS – SUBSCRIBER FREEBIES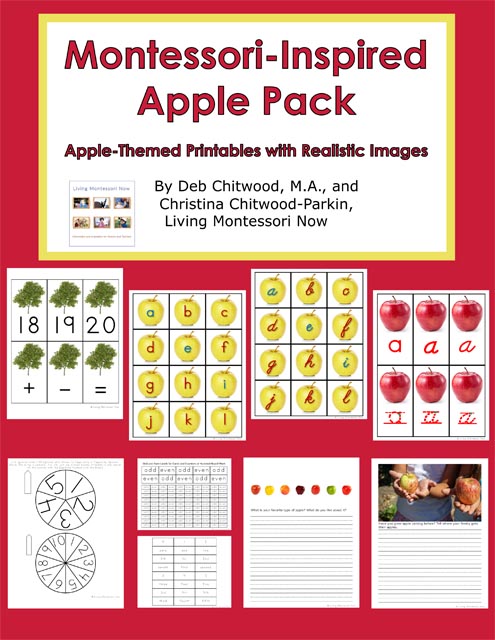 Don't miss our themed monthly packs! You'll get the link and password for the Living Montessori Now subscriber library with the current pack and all the past monthly packs if you subscribe to the Living Montessori Now weekly newsletter!
Happy reading! 🙂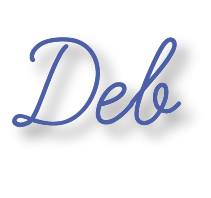 Learn more about my eBook Montessori at Home or School: How to. Teach Grace and Courtesy!
If this is your first time visiting Living Montessori Now, welcome! If you haven't already, please join us on our Living Montessori Now Facebook page where you'll find a Free Printable of the Day and lots of inspiration and ideas for parenting and teaching! And please follow me on Instagram, Pinterest (lots of Montessori-, holiday-, and theme-related boards), and YouTube. While you're here, please check out the Living Montessori Now shop.
And don't forget one of the best ways to follow me by signing up for my weekly newsletter. You'll receive some awesome freebies in the process!