Whether you're looking for Montessori materials for a Montessori school, traditional preschool, homeschool, or occasional use at home, there are plenty of materials to choose from online. And with so many online resources, there are now Montessori materials available for all budgets.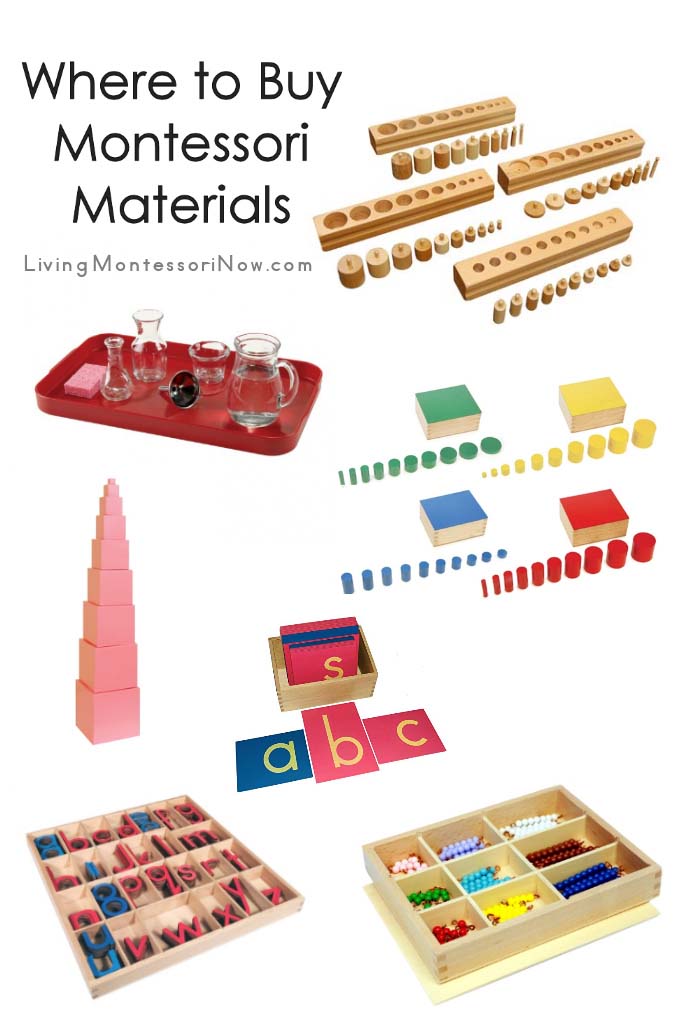 Disclosure: This post contains some affiliate links (at no cost to you).
Note: This post was originally published in August 2010. It was just updated, but it includes the original comments telling about readers' experiences with various Montessori suppliers.
The Materials You See in Many Montessori Schools
In pictures of Montessori schools, you'll often see lots of beautifully crafted wooden Montessori materials. Very often these are from Nienhuis Montessori. Nienhuis Montessori materials are available throughout the world for anyone to purchase.
Many Montessori schools also buy materials from Gonzagarredi. Both Nienhius and Gonzagarredi make their materials from Association Montessori Internationale (AMI)blueprints. The only other AMI approved Montessori material company is Matsumoto, a Japanese company.
In addition to parent subscriptions, Monti Kids has school programs with materials and videos at a number of age levels for classrooms with children ages 0-3.
Less Expensive Sources for Montessori Materials
If you're looking for materials for a traditional preschool or home setting, cost may be a primary consideration. There are still excellent options for Montessori materials that are practical for your setting.
Here are a number of companies you can check out for the type of materials and price range best for you and your situation:
Alison's Montessori (I reviewed these Alison's Montessori value-line materials: Pink Tower, Brown Stair, Red Rods and Stand, Natural Geometric Solids, Sandpaper Numbers, and Small Movable Alphabet – Alison's Montessori Review. I reviewed Alison's Montessori value-line Cylinder Blocks and Knobless Cylinders – Alison's Montessori Cylinder Blocks and Knobless Cylinders Review. I reviewed Alison's Montessori Pink Tower Stand, Plastic Insets and Templates, Wooden Box for Inset Paper, Binomial Cube, Trinomial Cube, Decanomial Box, and Golden Beads – Alison's Montessori Review.)
Kid Advance Montessori (A number of Kid Advance materials are available through Amazon
.)
FAC Montessori on Amazon
Leader Joy Montessori on Amazon
Affordable Montessori Materials
The Materials Company of Boston
Montessori Supplies (a UK company)
Absorbent Minds Montessori Absorbent Minds Montessori is a UK company with Montessori materials in three price ranges: premium (Nienhuis Montessori), standard (Absorbent Minds), and budget (Discount Montessori).
Teaching from a Tackle Box (small versions of Montessori materials for limited space)
Adena Montessori WARNING: See Tracey's, Pamela's, and Jennifer's comments below about Adena Montessori.
Specialized Montessori Materials (practical life, Montessori 3-part cards vocabulary cards, etc.).
Many of these materials are inexpensive and easy to add to any home.
For Small Hands (products specifically for Montessori at home)
Etsy (Once you're there, search for Montessori.)
Montessori by Mom (started in 2014 and offers monthly boxes of Montessori materials and activities by subscription) Get $10 off a new subscription with the code AFFDECH. Montessori By Mom also has a store with individual toolboxes, activity sets, and single items.
Montessori Print Shop (You'll also find a number of Montessori Print Shop materials along with John Bowman's Montessori at Home eBook available as the Montessori at Home bundle in the Living Montessori Now shop.)
The Montessori Company (Get 15% off with code LIVINGMONTESSORINOW)
Callie's Corner – sister site to Montessori n' Such (Some Callie's Corner items are available on Amazon.)
NAMC's Montessori 3-6 Homeschool Program (learn more about it and get link to a review in this post)
Montessori Research and Development
Polliwog (sandpaper letters and numerals)
There are many wonderful Montessori bloggers with Montessori printables for sale. It would be prohibitive to list them all. You'll find most of them at Teachers Pay Teachers.
My Experiences with Montessori Suppliers
When I owned my Montessori preschool in the 1980s, I purchased Montessori materials from Nienhius Montessori, Michael Olaf, and Montessori Services. During my children's elementary years, I purchased some materials from Montessori Research and Development. All my experiences with those companies were wonderful. When I needed Montessori materials to use in a day nursery in England for my master's degree school placement, I purchased materials inexpensively from Absorbent Minds Montessori, a Montessori Marketplace, and TTS (sandpaper letters). I had great experiences with those companies as well.
As a Montessori grandma, I have a number of wonderful companies I get materials from. I have reviews of a number of them.
Here are some of my review posts about my Montessori sponsors and affiliate products:
Here are a few of my product posts with gift guides and Montessori material recommendations: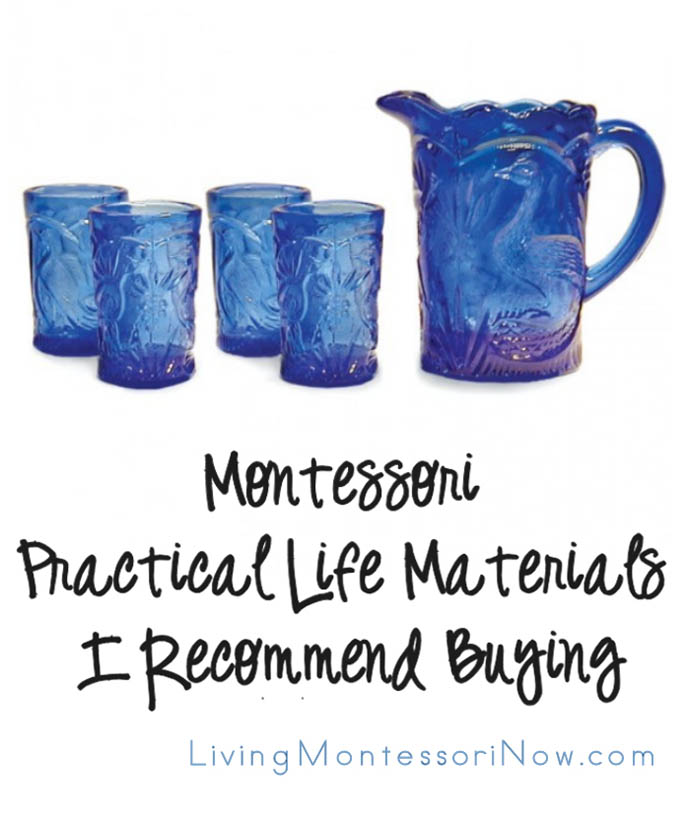 Montessori Practical Life Materials I Recommend Buying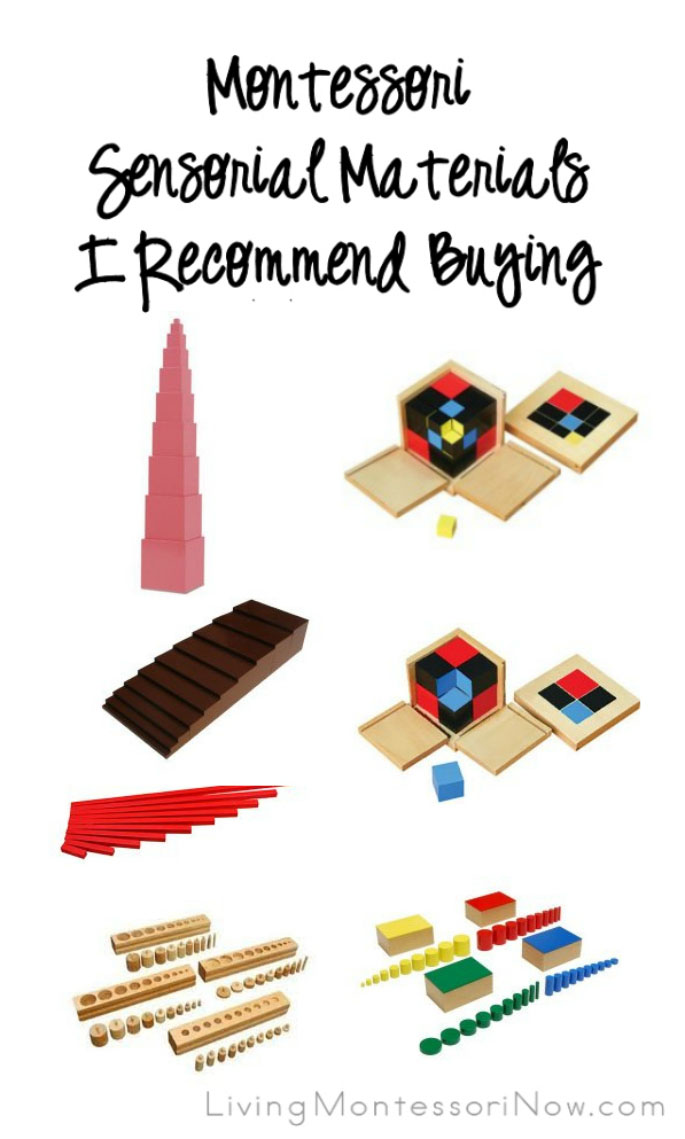 Montessori Sensorial Materials I Recommend Buying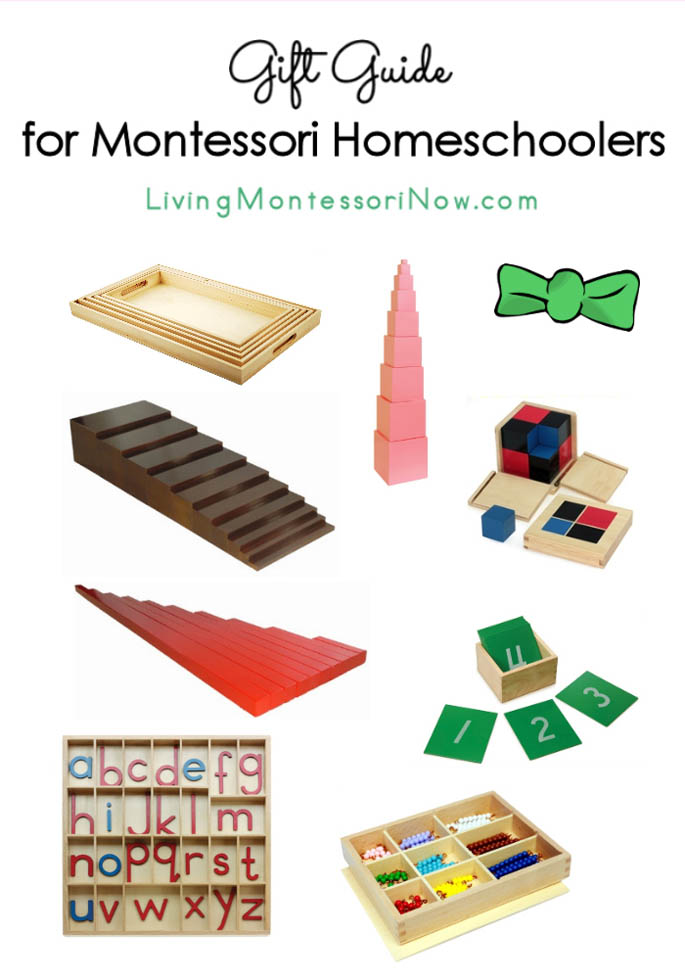 Gift Guide for Montessori Homeschoolers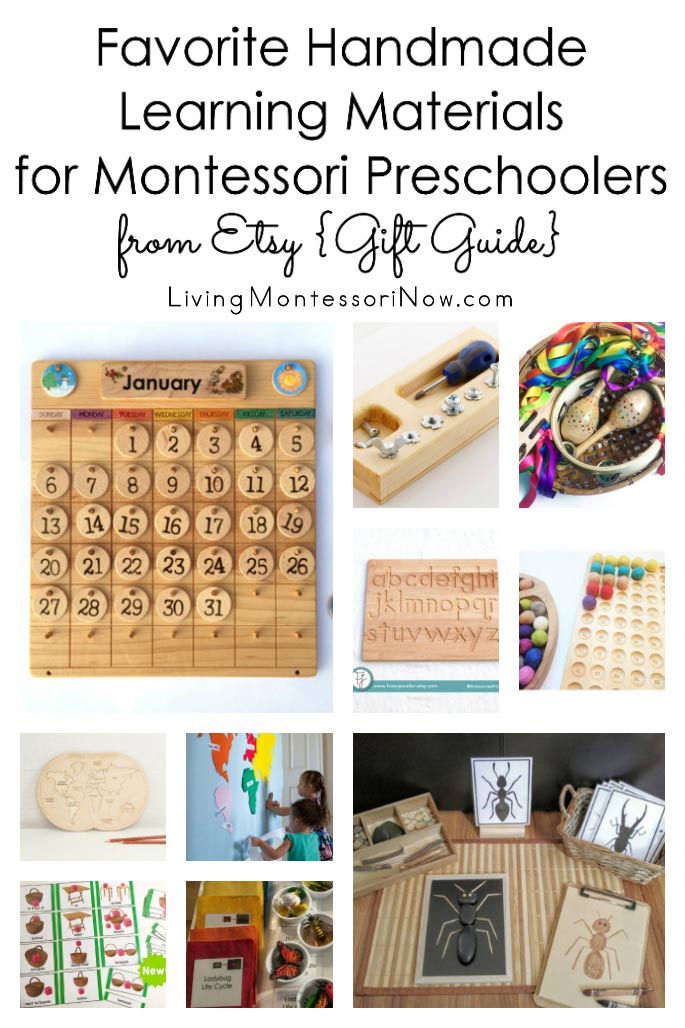 Favorite Handmade Learning Materials for Montessori Preschoolers from Etsy
Helpful Comments about Buying Montessori Materials
Check out the discussion at the Living Montessori Now Facebook page about where to buy materials if you live in Canada.
If you're wondering about the mini Montessori materials, check out the comments in this post for helpful information: How to Start Using Montessori at Home.
Check out the discussion at the Living Montessori Now Facebook page about Kid Advance and Montessori Outlet.
This post is a work in process as I discover new sources and gain feedback. The list of Montessori suppliers is long, so you'll have to do some comparison shopping for the current prices. Read the comments as well for recommendations from other Montessori homeschoolers!
Have you had experience with Montessori suppliers? I really appreciate hearing about your experiences and recommendations.
The fabulous Montessori-Inspired Back-to-School Bundle is on sale right now at 75% off (through August 9 only)!!! See everything in the bundle and order it here. See my review of the Ultimate Montessori Planner (included in the bundle) here.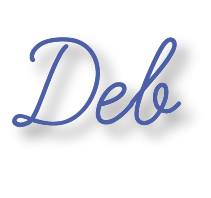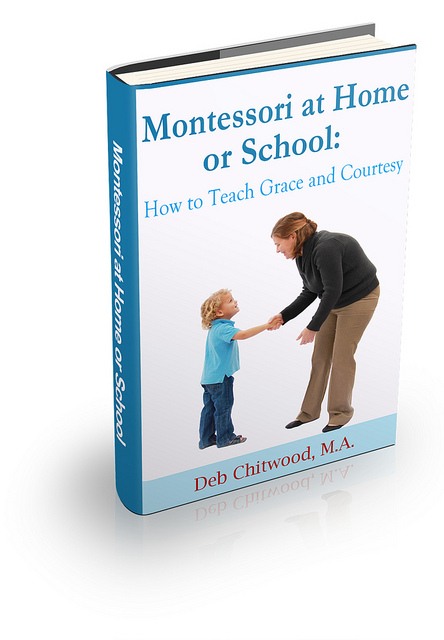 Learn more about my eBook Montessori at Home or School: How to. Teach Grace and Courtesy! I'm also one of the coauthors of the book Learn with Play – 150+ Activities for Year-round Fun & Learning!
The Montessori at Home! eBook and Montessori at Home! eBook and Materials Bundle are AMAZING resources! You can learn more about them here. Buy them in the Living Montessori Now shop.
If this is your first time visiting Living Montessori Now, welcome! If you haven't already, please join us on our Living Montessori Now Facebook pagewhere you'll find a Free Printable of the Day and lots of inspiration and ideas for parenting and teaching! And please follow me on Pinterest (lots of Montessori-, holiday-, and theme-related boards), Twitter (blog posts by me and others along with the Parent/Teacher Daily and other interesting information), and Google+ (post updates and Montessori Community). You can find me on bloglovin', Instagram, and YouTube now, too.
And don't forget one of the best ways to follow me by signing up for my weekly newsletter. You'll get two awesome freebies (and a monthly subscriber freebie) in the process!