The Montessori celebration of life ceremony is a very meaningful birthday celebration for young children … and can be as easily done at home as in the classroom. Many classrooms have a simple and inexpensive layout, while others have beautiful purchased or homemade mats for the layout.
You can purchase a mat for home use, or you can simply use printables to prepare your layout. I'm sharing links to the free printables I used for a Montessori birthday celebration at home (actually, at Grandma's house).
Disclosure: This post contains some affiliate links at no cost to you.
I've written before about the beautiful Montessori birthday celebration: "Montessori Birthday Celebration – A Lovely Celebration of Life Ceremony" (a roundup of ideas for a celebration of life) and "Free Celebration of Life Songs and Printables for a Montessori Birthday."
Materials for a Montessori Birthday at Home
Materials We Used:
Free sun printable from Clker.com
Candle to represent the sun (I used an LED candle as a tradition, especially for safety when I have babies and toddlers around. Preschoolers can use a real candle with close supervision or an LED candle.)
Free Month Labels by Ms Amy's Learning Toolbox at Teachers Pay Teachers
Free Seasons Cards by MOMtessori Life at Teachers Pay Teachers (seasons labels are optional for the birthday ceremony)
Montessori globe or another type of globe to represent the earth
Photo for birth and each birthday
Script starting with birth and telling about each year of the child's life
Note: I laid out the months (and Zoey did her birthday walk) counterclockwise … the same way the earth revolves around the sun.
Our Montessori Birthday Ceremony
We were lucky to have a Montessori family celebration recently for Zoey's 4th birthday. It was attended by Zoey's parents (my son, Will, and daughter-in-law, Chea), Zoey's aunt and uncle (my daughter, Christina, and son-in-law, Tom), and my husband, Terry, and me.
In a classroom, you'll typically see the children sitting in a large circle or ellipse around the outside of the layout with enough room for the birthday child to walk around the "sun." For a family birthday, the family members might be more comfortable sitting on the sofa and/or on chairs. That's fine. Both Chea and Christina are pregnant, so we decided to have everyone sit on the sofa and love seat while Zoey did her birthday walk.
Zoey's mom and dad had prepared a script to read. They also had a photo for each year. You could just spontaneously talk about each year if you prefer not to prepare a script.
You really can do this part however you wish. You'll find free printables that can be used in my "Free Celebration of Life Songs and Printables for a Montessori Birthday."
Although the picture shows the photos of Zoey, we didn't have the photos laid out. Typically, you'll want to show a photo for each year during its time in the birthday celebration.
First Zoey was described as a baby. Then Zoey walked once around the "sun" as we all sang to the tune of "The Farmer in the Dell":
The Earth goes around the sun,
The Earth goes around the sun,
It takes a year to go around,
The Earth goes around the sun! (You'll find variations in my posts linked below.)
After Zoey walked around the sun, the script was read for her first birthday. For each year of life, there will be walking and singing, script reading, and photo showing before doing the process again for each additional year.
At the end, we sang the traditional "Happy Birthday" song and had time for presents and food. I think the Montessori celebration of life made Zoey's birthday extra special for each of us … and especially for Zoey.
More Montessori Birthday Resources
You'll find a variety of ideas for a Montessori birthday celebration in my "Montessori Birthday Celebration – A Lovely Celebration of Life Ceremony."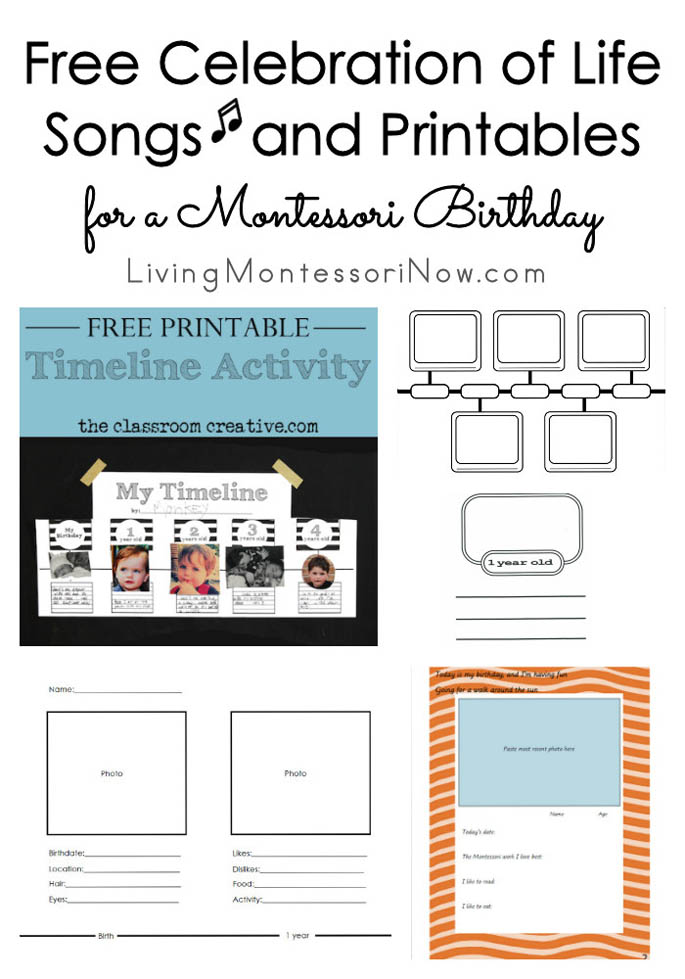 See my "Free Celebration of Life Songs and Printables for a Montessori Birthday" for more resources.
If you'd like to add a book to your celebration, this one is commonly used for Montessori birthday celebrations and is lovely: On the Day You Were Born by Debra Frasier
Watch for an upcoming post about the follow-up activities we've done related to seasons and months.
I'd love to hear about any Montessori birthdays you've had or are planning! 🙂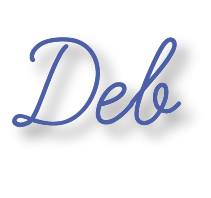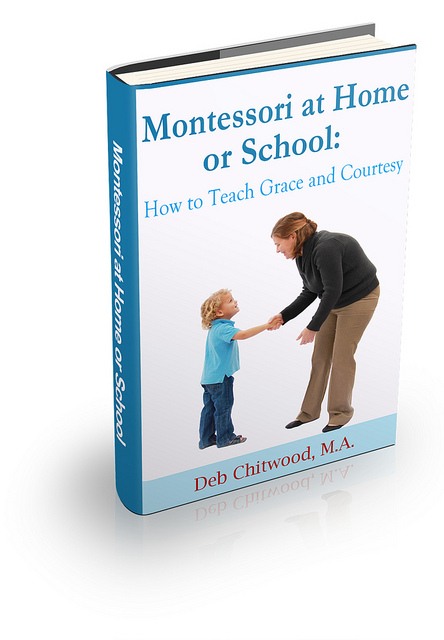 Learn more about my eBook Montessori at Home or School: How to. Teach Grace and Courtesy! I'm also one of the coauthors of the book Learn with Play – 150+ Activities for Year-round Fun & Learning!
The Montessori at Home! eBook and Montessori at Home! eBook and Materials Bundle are AMAZING resources! You can learn more about them here. Buy them in the Living Montessori Now shop.
If this is your first time visiting Living Montessori Now, welcome! If you haven't already, please join us on our Living Montessori Now Facebook pagewhere you'll find a Free Printable of the Day and lots of inspiration and ideas for parenting and teaching! And please follow me on Pinterest (lots of Montessori-, holiday-, and theme-related boards), Twitter (blog posts by me and others along with the Parent/Teacher Daily and other interesting information), and Google+ (post updates and Montessori Community). You can find me on bloglovin', Instagram, and YouTube now, too.
And don't forget one of the best ways to follow me by signing up for my weekly newsletter. You'll get two awesome freebies (and a monthly subscriber freebie) in the process!
May be linked to Practical Mondays Link Up, LouLou Girls, Tasty Tuesdays, A Little Bird Told Me Linky Party, Link-ups at Squishable Baby, Sharing Saturday