It seems overwhelming, I know. There are so many amazing Montessori activities and resources online, books to buy, and materials to make and buy. So, what should you do first? What's the best way to start using Montessori at home?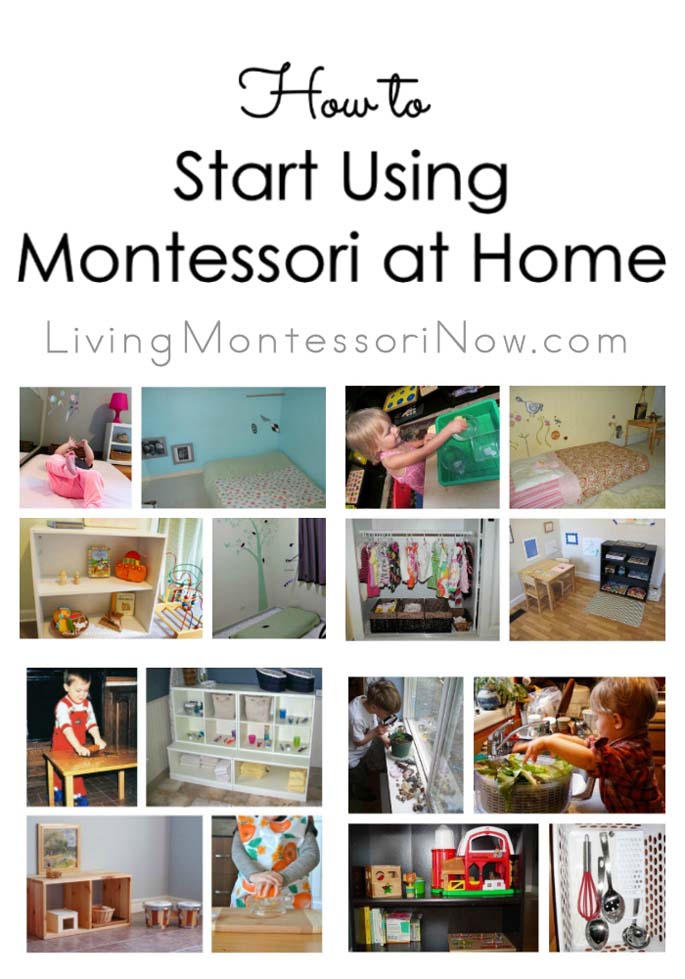 I am sometimes amazed at how many resources are available on my site alone – and I link to TONS more. It becomes difficult to find them all among the many blog posts after awhile. So, here, I'll try to put an order to some of the posts I think are most helpful if you're trying to get started using Montessori at home for a child from birth-6. This applies to parents, grandparents, and anyone who has a special role in a child's life.
Disclosure: This post contains affiliate links (at no cost to you).
First, read this post:
Top 10 Montessori Principles for Natural Learning
Next, if you have an infant or are expecting an infant, read these posts:
How to Prepare a Montessori Baby Room
How to Set Up Your Home for an Infant by Using Montessori Principles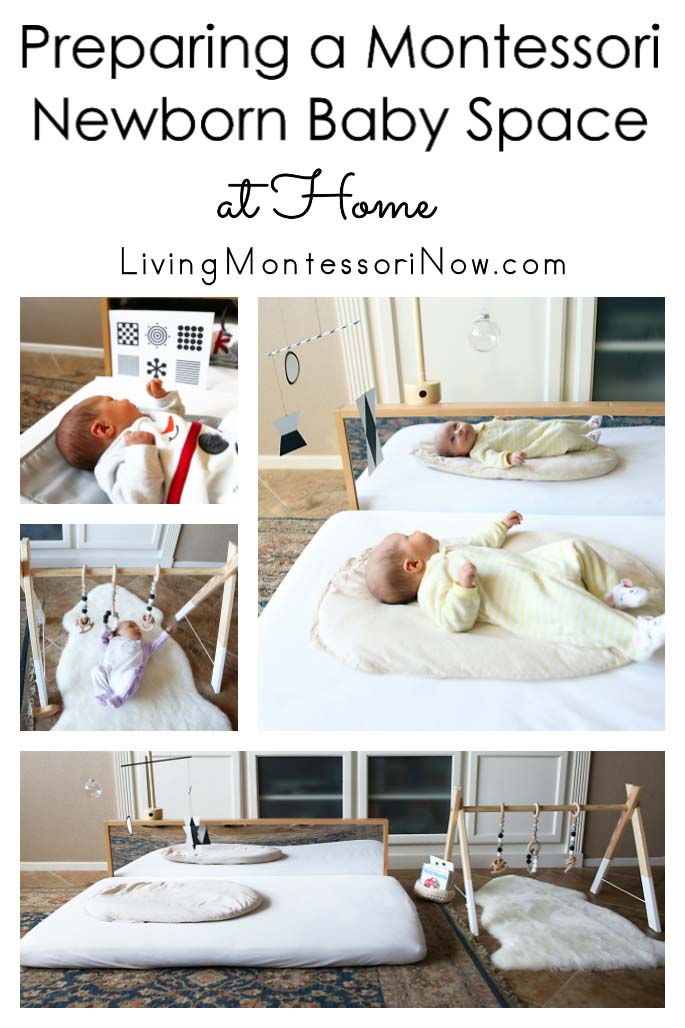 Preparing a Montessori Newborn Baby Space at Home
How to Use Montessori Mobiles to Encourage a Newborn Baby's Development and Delight
Preparing a Montessori Baby Space with Shelves at Home
Prepare a Montessori Baby Space in Your Living Room
How to Make a Treasure Basket for Your Baby
Variety of posts about babies (choose which are most relevant for you right now)
If you have a toddler, read this post: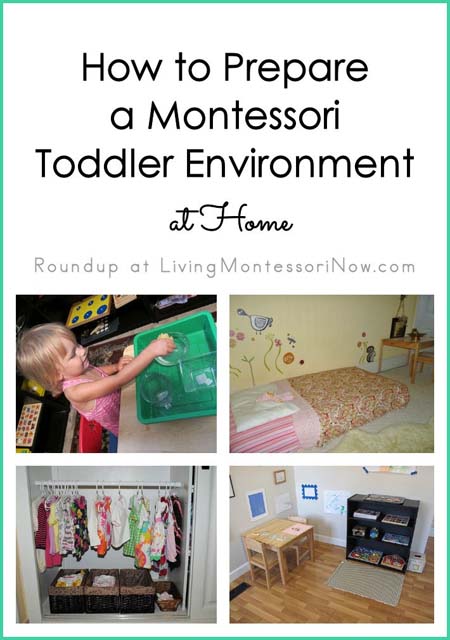 How to Prepare a Montessori Toddler Environment at Home
Variety of posts about toddlers (choose which are most relevant for you right now)
If you have a preschooler, read this post: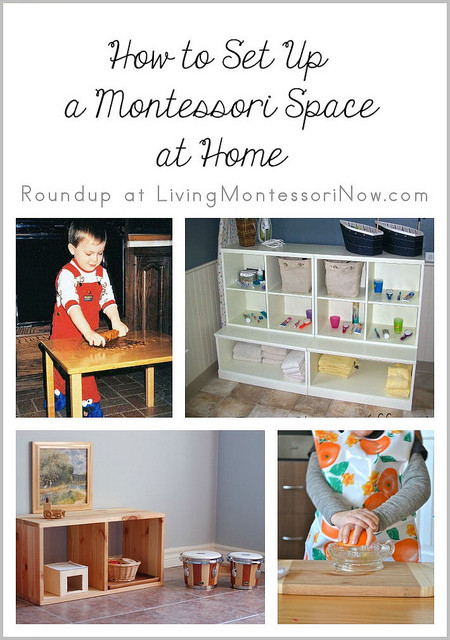 How to Set Up a Montessori Space at Home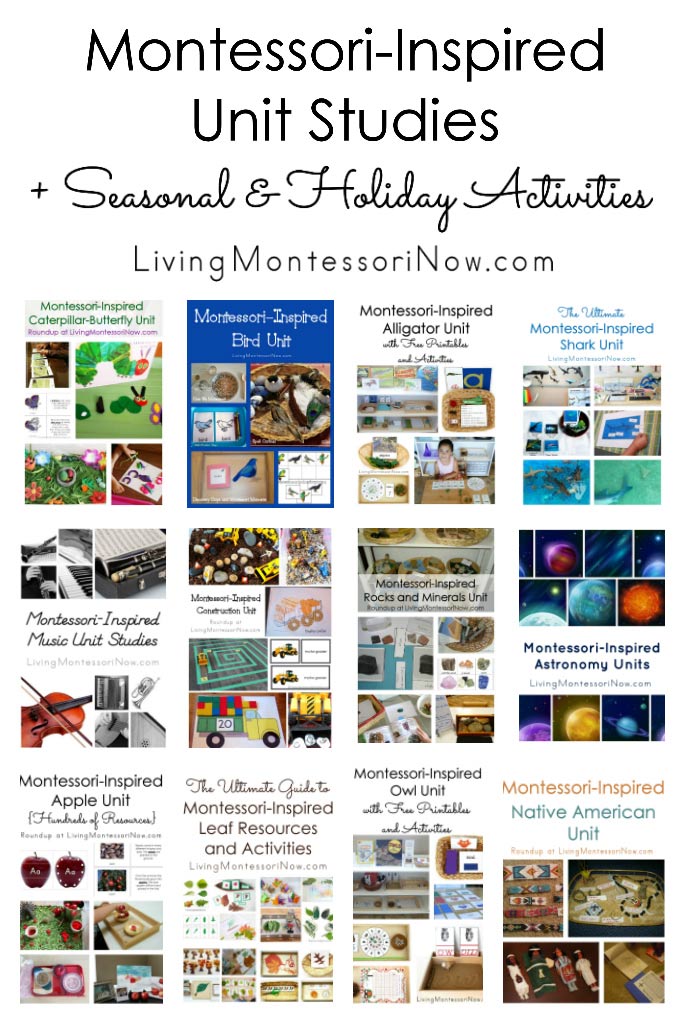 Here you'll find lots of activities and unit studies that are especially good for preschoolers through early elementary
Now, try to follow at least one of the Montessori principles that works for your child's age and developmental level. Do it today. Don't wait to start using Montessori at home.
Next, add to your knowledge, materials, and activities.
Gradually, start using more of the Montessori principles and activities. Add any Montessori-inspired activities online that you feel drawn to.
It's impossible to do every wonderful Montessori idea available, so pick activities you think will be interesting and meet your child's developmental needs. Often, you'll feel drawn to preparing certain activities but not others.
For an infant, check out my baby posts.
For activities for infants or toddlers, check out the posts and links in my infant and toddler category.
For a toddler, check out my toddler posts.
If you're interested in starting a Montessori homeschool or just in using a number of Montessori-inspired activities at home, you'll find lots of ideas and links to resources in these posts:
How to Set Up a Montessori Preschool Classroom at Home
How to Set Up a Montessori Homeschool Classroom (with lots and lots of resources and links within links!)
Montessori-Inspired Outdoor Environment
Buy and start using activities from Montessori books:
Books by Maria Montessori are wonderful, but they are more abstract than many parents want in the beginning. To start using Montessori at home, my two favorite books for parents are below. You can't go wrong in buying both:
How To Raise An Amazing Child the Montessori Way by Tim Seldin (for birth-age 6). Here's a review I wrote: How to Raise an Amazing Child the Montessori Way (Book Review).
More Helpful Resources

The Montessori at Home eBook and Materials Bundle are available exclusively at Living Montessori Now! You can learn more here.
If you'd like actual Montessori teaching manuals and a clear, systematic Montessori teaching approach from Association Montessori International teacher training, I recommend Montessori Print Shop's primary teaching manuals for ages 2½ -6. You'll find my review of them here: Montessori Print Shop Primary Teaching Manuals Review.
You'll find lots of free Montessori scope and sequence resources for planning and record keeping here.
You'll find free Montessori materials online here
You'll find free Montessori elementary materials online here.
Just start doing some activities and add on as you're able. Again, you don't need to have a perfect setup to start. As the slogan goes: Just do it!
If you're still feeling overwhelmed, read Don't Be Afraid to Start Using Montessori at Home.
Preparing Montessori Spaces in Your Home
See "How to Create a Montessori-Friendly Home" for ideas for a number of levels. Here are some of my main home environment posts here:
I'd love to hear how you started or plan to start using Montessori at home! 🙂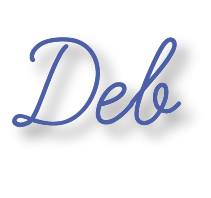 Learn more about my eBook Montessori at Home or School: How to. Teach Grace and Courtesy!
If this is your first time visiting Living Montessori Now, welcome! If you haven't already, please join us on our Living Montessori Now Facebook page where you'll find a Free Printable of the Day and lots of inspiration and ideas for parenting and teaching! And please follow me on Instagram, Pinterest (lots of Montessori-, holiday-, and theme-related boards), and YouTube. While you're here, please check out the Living Montessori Now shop.
And don't forget one of the best ways to follow me by signing up for my weekly newsletter. You'll receive some awesome freebies in the process!