There are lots of Montessori sensorial materials you can make at home inexpensively. Color tablets are some of my favorite DIY Montessori materials.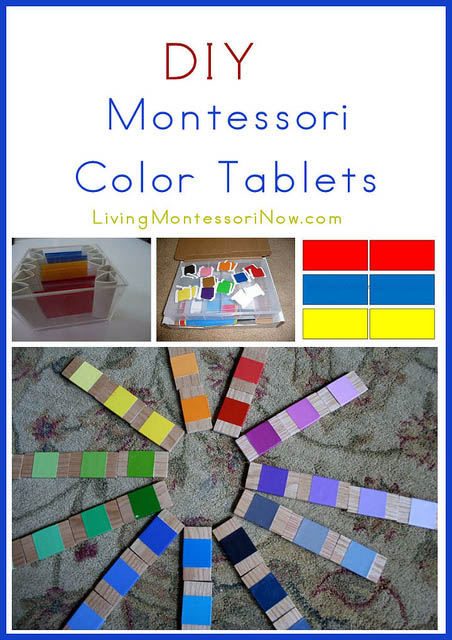 DIY Color Tablets for Home Use
You'll notice that Montessori color tablets (purchased or homemade) don't vary in size or shape – only color. That isolation of difficulty makes it easier for preschoolers to understand the difference in colors. For home use, you really don't need to purchase color tablets. Here are some lovely ideas for making color tablets for a homeschool.
Teacher Weena made color tablets from laminated paint samples and folder slides.
Pink and Green Mama (blog no longer available) made color tablets from red oak sticks, paint samples, and Mod Podge. These did require help cutting the wood into rectangles. The photo is a variation of Color Box 3 for grading colors from darkest to lightest.
Life is Bella, using the NAMC Montessori 3-6 Homeschool Program, made color tablets from embroidery floss holders and paint samples.
Wise Owl Factory made color tablets using plastic embroidery bobbins and origami paper.
Living With My Little Love made color tablets with wood pieces (cut from a tree branch) and paint samples.
Chestnut Grove Academy also made color tablets for Color Boxes 1 and 2 and Color Box 3 using embroidery floss holders and paint samples.
Tinkerbean made a Color Gradient Matching activity using paint samples and clothespins.
DIY Corporate Mom used Jenga blocks and poster paints to make color tablets for grading colors.
Merrilee Liddiard shared a tutorial for DIY Wooden Gradient Blocks at Handmade Charlotte.
Montessori Album has free printable color box 2 and color box 3 tablets.
lily fadliah at Teachers Pay Teachers also has free printable color box 3 tablets.
Montessori Print Shop has inexpensive color cards that can be simply printed out, laminated, and cut apart. You can even print them out on photo paper or cardstock and skip the lamination.
Montessori Primary Guide has directions for presenting the three color boxes.
Leptir has detailed directions for presenting the three color boxes along with photos of the school-quality color boxes.
Here are two helpful videos about presenting color tablets:
Note: for home use, you would only need to make Color Box 2 and Color Box 3. For younger children, you could have an extra box or basket for the red, blue, and yellow pairs of tablets (Color Box 1) until your child is ready for the 11 pairs of color tablets in Color Box 2.
My post on "How to Make Your Own Montessori Materials" has resources for making lots of other Montessori materials.
Amazon Affiliate:
If you'd prefer to buy color tablets, you can find a variety of color tablets on Amazon.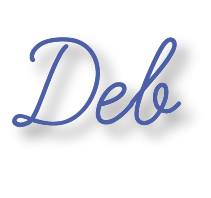 Learn more about my eBook Montessori at Home or School: How to. Teach Grace and Courtesy!
If this is your first time visiting Living Montessori Now, welcome! If you haven't already, please join us on our Living Montessori Now Facebook page where you'll find a Free Printable of the Day and lots of inspiration and ideas for parenting and teaching! And please follow me on Instagram, Pinterest (lots of Montessori-, holiday-, and theme-related boards), and YouTube. While you're here, please check out the Living Montessori Now shop.
And don't forget one of the best ways to follow me by signing up for my weekly newsletter. You'll receive some awesome freebies in the process!