I LOVE Thanksgiving! My kids used to say that they didn't know which was their favorite holiday – Thanksgiving or Christmas. Thanksgiving's emphasis on gratitude, family, and special meal memories is priceless.
There are lots of amazing activities online that can make the holiday even more fun in the days leading up to it. Here are some Montessori-inspired Thanksgiving activities that can work well at home or school:
Montessori Printables
Montessori Print Shop has inexpensive Thanksgiving printables.
Montessori for Everyone has free Thanksgiving Matching Cards.
Motherwell Montessori has free Montessori Thanksgiving Noun Sorting Work.
Montessori Workjobs has Turkey Nomenclature Free 3-Part Cards and Book and Montessori Turkey Activities.
Montessori-Inspired Activities
UPDATE: You'll find links to all my Thanksgiving posts here: Montessori-Inspired Thanksgiving Ideas.
Little Wonders' Days had a Thanksgiving story bracelet, but the blog is no longer available. You can see other examples of Thanksgiving bracelets at Just Reed and Ramblings of a Crazy Woman.
Simply Montessori has Free Downloads and Activities for Thanksgiving.
Counting Coconuts has a Button Turkey (photo), On Our Shelves – November and Pumpkin Pie Counting.
H is for Homeschooling has a Thanksgiving sensory bin.
We Can Do All Things has a Thanksgiving sensory box with tong and ladle activities added.
To the Lesson! has November activities including clothespin turkey feathers and table setting.
Montessori Mom has Thanksgiving Activities for Kids.
The Adventures of Bear has a number of Thanksgiving posts and activities, including writing with a quill like the Pilgrims might have written letters.
North American Montessori Center has Celebrating Thanksgiving in the Montessori Classroom, Montessori Practical Life Activity: Napkin Folding, Thanksgiving in Canada Touches Many Areas of the Montessori Classroom, Montessori Musings: Lasting Impressions on the Meaning of Thanksgiving, and Exploring the U.S. History of Thanksgiving in the Montessori Classroom.
The Work Plan has Some Seasonal Language Works, Pumpkin Bread, and Practical Life (spooning cranberries photo).
My Montessori Journey has Thanksgiving Story Bracelets, Thanksgiving Festivities at School, Thanksgiving Songs, Our November Song List, Thanksgiving Lapbooks–Part 1, Thanksgiving Lapbooks–Part 2, Our November Poetry Basket, and November Poem.
Kids' Thanksgiving Activities Pinterest Board
I have a Kids' Thanksgiving Activities Pinterest board that I'm filling with Thanksgiving activities of all types and for many levels.
Does your child have a favorite Thanksgiving activity?
Montessori Monday Link-Up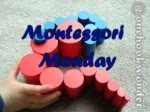 If you have some Montessori activity trays/lessons to share, please link up below. Please also place the Montessori Monday button (using the code from the right sidebar) in your post or put a link back to this post.
And don't forget to visit my co-host, Nicole, at One Hook Wonder! Nicole is the one who started Montessori Monday!
Thanks for participating! (Note: If you have a giveaway on your blog, please add it to my Family-Friendly Giveaway Linky Page – and check out all the great Christmas gift giveaways!)



Linked to AfterSchool Linky Party, Living Life Intentionally Linky Party, The Mommy Club Resources and Solutions at Milk and Cuddles and Crystal & Co. , Pinterest Tuesday, Show-and-Share Saturday, Link & Learn, The Sunday Showcase at Mom to 2 Posh Lil Divas and Classified: Mom, and Thanksgiving Traditions Link Up.